Yoder Newsletter Online
Issue Number 4 - - - October, 1984
Index to Main Articles:
OLD WORLD ORIGINS FOR ANOTHER YODER BRANCH
In tracing the ancestry of any American family, one of the hardest steps to take is one that bridges the ocean to the Old World. Only a few of the various Yoder lines have their links established to generations in Europe. It now appears that the contributions and efforts of our readers have made it possible to add another branch of our family to this category.
Joseph Yoder was born June 5, 1807 in France. He farmed with his parents and on his own. He married Anna Klopenstein (b. Oct. 9, 1810) in 1829. On Mar. 19, 1833 they embarked for America arriving in May of that year. His original farm was near Utica NY, but after two years he moved to Stark Co., OH. There he farmed until 1844 at which time he moved his family to Darke Co., OH where he spent his remaining years.
Their children were: Joseph (d.Feb. 13, 1848), Catherine (b. Mar. 7, 1832), Barbara (d. May 18, 1852), John (b. Feb. 10, 1847) and Mary M. (b. July 7, 1849).(1) This family appears in the 1850 Ohio Census, Darke Co., page 313 (Wayne Twp). Joseph Yoder died Feb. 11, 1886 and his wife Anna died May 26, 1892. Both were buried in the Yoder cemetery in Wayne Twp.(2)
Newsletter subscriber Mrs. Paul Wade, of Sterling IL, has graciously shared Alsatian Yoder research sent to her by Helen Widmer during May of this year. Among these notes are the following family lineage from archives of Belfort, France: Yuste Yoder (1753) married Elizabeth Guemann (1758- ) -farmer in Grandvillars.
Their son Christian Yoder (1780) married Elizabeth Klopfenstein (dau. of Christ Klopfenstein and A. M. Wenger of Rougement.
Their children: Christian (1804) who married Catherine Klopfenstein (1805) , and Marie Anne (1838) wife of Jean Riche. Joseph (1808) who married Anne Klopfenstein (dau. of Christ Klopfenstein and Anne Gerigue of Eguereigue). The only listed child of the latter is Joseph Yoder (1829) (3).
Cemetery records for Joseph, son of Joseph and Anne, record that when he died on Feb. 13, 1848 - he was 18 years old--matching an 1829 birth date. It would certainly appear that the French origins of this family has been determined. Many thanks to Mrs. Wade, Widmer, and Whitlock!
_______________________________________
l. A biographical directory of Darke Co., OH, page 621, published about 1880. Copy located at Dayton Public Library, Historical Collection, Dayton OH.
2. Cemetery records for Darke Co. OH furnished by Linda (Yoder) Whitlock, Greenville OH, July,1984.
3. Data provided by Mrs. Paul Wade, June 1984.
===========================================
---
to top of file
---
COMING ATTRACTION IN NEXT ISSUE!!!
A major article, especially for the Yoder Newsletter on THE ORIGINS OF THE YODERS OF THE OLEY VALLEY, by the noted historian an author Dr. Don Yoder. Included will be exciting new findings from his recent research in Germany !!!
**********************************************************
GREAT MYSTERY REVEALED!
WHATEVER HAPPENED TO ADOLPH YODER??
Not long ago, a safe from the sunken ocean liner the Andrea Doria was opened with much fanfare on national television. What was to be found? Gold? Cash? Jewels?
We at the newsletter can't compete with the publicity build-up of the Andrea Doria, but we are glad to be able to reveal a secret which has also been"buried" for many years.
In a "Yoder Family History" furnished by Col. George M. Yoder in 1920, he sketches the descent of the Conrad Yoder family of North Carolina. Col. Yoder's notes were supplemented by Mrs. W.Earle Bates and a copy furnished to the Library of Congress in 1956. His records formed a large part of the background for subsequent published histories of this line.
Under ther section on the offspring of Conrad's son David, he wrote of David's second son,Adolph: "He was a soldier in the War of 1812 under Gen. Jackson. When his time expired he enlisted in the regular United States Army and all traces of him were lost".(emphasis added).
Did Adolph die in Indian Wars? Did he complete his service in some distant western territory? Did he leave descendants, some of whom may be among those reading this today? We will answer the first two of these questions in the words of Adolph himself, written 113 years ago !!!
A few months ago, it was determined that both Adolph and his brother Conrad Yoder have pension files at the National Archives in Washington. Conrad Yoder married his cousin Polly Yoder and settled with a large family in Andrews County of northwest Missouri. From Adolph's pension files:
On this 24th day of August A.D. 1871 personally appeared before me Wm.E.McGready Clerk of the Circuit Court...aforesaid Adolph Yoder aged 79 years, a resident of Harmony, County of Washington,State of Missouri, who being duly sworn according to law, declares that he is married, that his wife's name was Sarah Gilham, to whom he was married at, or near Harmony, on the 16h day of November 1855; that he served the full period of 60 days in the Military Service of the United States in the War Or 1812; that he is the identical Adolph Yoder who enlisted in Captain Blunt's Company third Rifles regiment, at Salisbury in the State of North Carolina on the 1st day of March A.D. 1814, and was honorably discharged at Prairie Du Chian now state of Wisconsin on the 1st day of March A.D. 1814; that he went to Richmond in the state of Virginia, to Washington City,D.C., to Carlisle in the State of Pennsylvania, to Pittsburgh in the same state, and came down the Ohio River to its mouth and then up the Mississippi River to St. Louis in the State of Missouri and was stationed at Belle Fountain near St. Louis...from the 23rd of Dec. 1815 to the 6th day of May 1816, and then went to Prairie DuChian and remained at the latter place until he was discharged; that he at no time during the late rebellion against the authority of the United States adhered to the causes of the enemies of the government...

Adolph Yoder
Adolph died Apr.3,1876 in or near Patosi,Mo. about 45 miles southwest of St. Louis. At this point we do not know whether he left any children. He was a widower when he married Sarah Gilham in 1855. Perhaps our readers can complete his story??
---
to top of file
---
For those of you who are descendants of Amish Yoder lines, it may be of interest to know that the initial generations of the 18th century immigrant lines were recorded in a 10 page article which appeared in the Amish monthly, "The Diary" in March of 1982. This information summarizes a portion of the monumental work by Dr. Hugh Gingerich and Rachel Kreider now in final stages of production. We have been advised that back issues are available for $1.25 and may be ordered from The Diary, 398l East Newport Road,Gordonville, PA. 17529. Ask for Vol.14,No.3,March 1982 edition.
---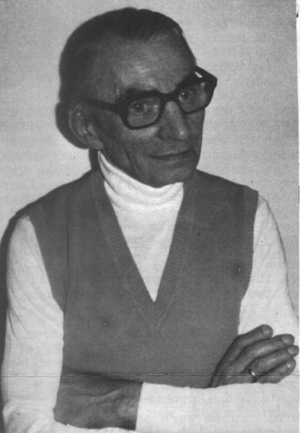 Wir nahmen Abshied von Herrn
Karl Joder

In Liebe und Dankbarkeit,

Paula Joder geb. Anton

und Kinder
6700 Ludwigshafen-Oggersheim in Juli 1984
---
Herr Karl Joder, of Ludwigshafen-Oggersheim, West Germany, a great friend of Yoders everywhere and noted researcher of our European Heritage, passed away in July...For more on this sad news see obituary.
Obituary
We were much disturbed and grieved to be made aware of the passing of Karl Joder, of West Germany during the month of July, 1984.
Karl was one of our original supporters and had sent much valued contributions to the Yoder Newsletter. He was certainly unselfish with both his time and research findings. After much effort he unearthed considerable unknown information about the Joders in Europe, both past and present.
We are indeed grieving over the news, but can remember him as an enthusiastic, pleasant and generous co-worker. We'd hoped for many years of rewarding contact and pleasant cooperation, but such things are not controlled by us. We hope he was not in great pain or discomfort and did not have to experience prolonged suffering.
The last letter received from him said as printed in German:
Liebe Familie Yoder,

Aus der Pfalz, die alte Heimat in West Germany, senden wie wiele liebe Gruze.

Karl & Paula Joder
---
---
to top of file
---
LETTERS FROM READERS - FROM THE EDITORS
Chris Yoder, Battle Creek, Michigan Ben F. Yoder, Goshen, Indiana Contributing Editor, Rachel Kreider, Goshen, Indiana.
Many thanks to you for your support for your prompt response, In your sixth issue you'll get a reminder to resubscribe and the rest is up to you. Extra notices take money and time. We will strive to make each copy worth your time and money.
****************************************************************
CHRISTMAS IS A COMING!
Can you think of a more family-type Christmas gift to give a Yoder than a subscription fo the YODER NEWSLETTER? For $6.oo we will send issues 1,2,3,and 4 and 5 and 6 will be sent on issue. A nice stocking stuffer!
****************************************************************
READER CHALLENGE
In the last issue we included a "challenge" about a gravestone in Eplers Churchyard, Berne Twp., Berks Co., PA. It reads (in German) "Here lies Johan Nicholas Yoder, is born 5th day of February, 1698, died 16 October 1759". The only answer was from Mrs. Dorothy Coffman of Malvern PA who indicated the churchyard serves both Lutheran and Reformed congregations. She was not, however, able to identify Johan Yoder. We since had occasion to visit the churchyard. Although the cited stone could not be found, there was a John Soder/Souder from a subsequent generation who had served in the Revolution. Perhaps the early name was misread? The mystery continues
Our "Challenge" for this issue is based on information provided by C.J. Kurtz of Elverson, PA. He cites the book Annals of the Penn Square by J. Bennet Nolan which states "It is the barn of Caspar Yoder on the Tulpechocken. The red devils have burned his home and scalped the family. Woe to us that remain here for a like fates" Caspar is a name known to appear among the Mennonite Yoders (see issue #3, YNL's "Hans Joder of Great Swamp" by Ken Hottle ).
Can any of our readers tell us more about this massacre and identify this Yoder family?
****************************************************************
ADAMS COUNTY, INDIANA YODER RESEARCH
We'd like to thank Mr. Doyle Winteregg of Berne IN for sending a copy of his Raymond Winteregg and Pearl Yoder Familv Record which traces the descendants of Joshua Yoder (1868-1946) and Anna Rich.
Also thanks to Mrs. Beulah Kreutzman of Decatur IN who shared her family notes on Alsatian immigrant Jonathon Yoder (3/11/1795-4/28/1878) husband of Mary Schmucker. Jonathon (grandfather of Joshua cited above) was a member of the Evangelical Mennonite Church.
****************************************************************
"I recently read the newsletter you sent my father, and enjoyed your article about the Yoder history in the canton Bern. While in the U. S. Army-Europe, I had the opportunity to visit Switzerland. At that time I did not know about the information given about Joderhebel, Huttwil, or Steffisburg, although I passed through Steffisburg and Thun enroute to Bern from Florence, Itaty, where I studied architecture for a few days.
I researched at random looking for Yoders in Luzern, Olten, Basel, Bern, and Zurich, because I did not know where else to start. Of course, I was not successful.
I noticed the crest of Bern (city & canton) you have pictured in your newsletter. I was able to find a Joder (Jotter) crest--two black ravens, or perhaps, falcons, and a tree with red heart shaped fruit on a shield-shaped background. I will send you a copy if you want it.
As president of the Oley Valley Historical Society, I have some data on the Oley Yoders. The "Annals of Oley Valley" states that the brothers Yost and Hans arrived at the headwaters of the Manatawny Creek sometime before 1714. The Lancaster County Yoders recently found documentation stating that the actual date they settled was 1710.
In your newsletter you mentioned the village of Lobach--it is Lobachsville. Jost and Hans never settled Lobachsville. That tract of land was claimed by Johannes Keim, an Alsace-Lorraine turned Palatinate Huguenot in 1698. Later generation Yoders settled a farm near Lobachsville much later.
The area between Jost's homestead and Hans' homestead was gradually developed into a village known as Yodersville, or Jottersburg, and was later re-named Pleasantville. A few years ago, the village Was renamed after the creek that flows past it-Manatawny.
My mother has an article stating that the reason a tree appears on the family crest is because the Yoder family was granted a tract of woodland for services rendered during one of the Crusades. How can I find out to what degree this could be true?
I looked for Joderhuebel on a map of Switzerland, but found nothing--could that name also have been changed?
Is there any relation between the settlement at Joderheubel and the original settlement of the Helvetii (Heveetians), the original Swiss settlers? (Is there a Yoder historian who can tell me this?) I believe the name of this early colony was named Aventicum.
Please find enclosed check for $3.00 and my business card. I make museum reproduction redware (pottery). I am also a descendant of the first Oley Valley potter, George Adam Weidner, and am reviving his trade after it was forgotten for 200 years. I make only museum type tulipware sgraffito pottery --the type the Penna. Germans used in 1683 when they first arrived from Europe, 300 years ago. My work is sold in museum gift shops. Prior to this I was an instructor at East Stroudsburg University.
I live in a partly restored log and stone farm house on a hilltop above the Oley Valley.
It was a pleasure to read your newsletter." (This informative letter was received from Gerald H. Yoder of F'leetwood PA)
****************************************************************
FROM LETTERS TO THE EDITORS
"Your newsletter contains a wealth of information. It has made many Yoders happy." Helen Yoder, Venice FI,.
"I really appreciate the "Places Named Yoder" series. I was always curious about the place called Yoder in central eastern Wyoming," Andrew Yoder, Smithville OH. (Editors' note)-We'd like to thank once more, Daniel Luthy and the Amish Historical Library, RR#4, Aylmer Ontario N51 2R3, Canada, for sharing this series with us.
"Wish my father, Paul, were alive to enjoy the newsletter, too." Carolyn Yoder Dupree, Metairie LA.
"The new John T. Yoder family Record 1983 shows the descendants of John T. Yoder and Anna Bontrager, married Jan. 11, 1863. They had 12 children and a total of 5925 descendants to date--of whom 5648 are living. I don't know if this is breaking any records or not. Are there any other Yoders with more descendants in this length of time? My father was Daniel, the oldest of their children." Ben D. Yoder, RR#1, Box 210, Stuarts Draft VA 24477. (Editors' note)--Family Record of John T. Yoder and Anna Bontrager, hardback, 472 pages @ $8.50 + 86¢ postage. Order from Katie Burkholder, RR#3, 30580 C.R. 56, Nappanee IN 46550.
****************************************************************
Yoder, Colorado
By David Luthy
In the east-central part of Colorado is a tiny town named ''Yoder''. Located in El Paso County it is on Highway #94, sixteen miles straight east from the county seat of Colorado Springs. It is named after an early settler, Abner F. Yoder.
Abner Yoder was born February 10, 1957 near Middlebury, Indiana. He was the son of Joseph J. Yoder who was Old Order Amish. Abner, however, did not join the Old Order. He was likely a member of the progressive Amish-Mennonites, for in 1881 he was married to Susan Eash by Bishop Jonas D. Troyer of the Clinton frame Amish-Mennonite Church. He and his bride settled in Lagrange County and had a family of six children. In 1901 Abner decided to move to El Faso County, Colorado. His two oldest children stayed behind in Indiana. The oldest to go with him was Ira, aged sixteen.
The Yoders settled 14 miles south of Calhan, Colorado. Here they wandered away from the Amish-Mennonite faith and lived like their neighbors. They never joined any church after leaving Indiana, even though they lived to be over 60 years old. Abner is said to have been more of a dreamer than a farmer and make the round trip of 28 miles to Calhan to get the mail for himself and the neighbors. He enjoyed this trip as he could read the whole way, letting the horse go on its own speed.
Postal records show that in 1904 (others say 1907) a Post office was established in the Yoder home. The post office was named "Yoder" after Abner Yoder. He wrote several letters from there during 1908 to 1910 to the "Sugarcreek Budget" in Ohio, keeping in touch with some of his Amish- Mennonite friends. In the January 23, 1908 issue he wrote :
"To the oft repeated question, What church privileges have you? will say that within seven miles of where we live there are four places where there is preaching and Sunday School, the same literature and Bible being used that the Amish Mennonites use. There are no idols worshipped and Preachers help with their hands to bring about that for which they pray.
"There is absolutely not an Amish or Mennonite church within fifty miles of us but am satisfied that had two or three families made the start two or three years ago, then there would be at least fifty families of our faith living here now."
In 1910 Abner Yoder decided to move to Oregon where his wife had relatives. His son, Ira, stayed in Colorado as he had taken out a homestead. When Abner left, the post office went to another house, but the name "Yoder" was retained. Later two rural routes were added to the post office, covering over 100 miles of the sparsely settled county.
The peak in population for Yoder, Colorado came to 1937 when there were 700 people receiving mail from the post office. Most of these people lived on the two long rural routes. Actually the town never had more than 3 or 4 houses, one of which was a combination dwelling, grocery stove and post office. There also was a small school.'
The land around Yoder, Colorado is 7,000 feet high and quite dry. By 1930 the pastures had been eaten off and dust storms arose. People began leaving the area. By 1956 the population was only 40. Today the town is not listed in the index to the Rand McNallv Road Atlas, but it does yet appear on the Colorado road map. And it still has a US post office, using Zip Code 80864. A former resident who visited it recently reports that it is the same as ever--three or four houses, a small school, and the combination post office, dwelling, grocery store. There are no traces which would indicate that it is a part of Amish history, except the familiar name, "Yoder," which it bears.
1. Letter to the author dated Jan- 1, 1973 from Gladys Spencer Johnson, Hughson CA.
2, IBID. (The article above originally appeared in the July 1973 issue of "Family Life")
---
to top of file
---
EXCELLENT ANABAPTIST RESEARCH TOOL AT GOSHEN COLLEGE
The Mennonite Historical Library at Goshen College, Goshen IN, has an extensive collection of genealogies and other historical references of value to the Anabaptist Yoder researcher. One particularly valuable resource is a handscribed card index of obituaries appearing in the "Herald of Truth" (1864-1908) and its sucessor "The Gospel Herald". These obituaries include a significant number of Amish, Amish-mennonite, or Mennonite Yoders. Many of these for the 20th century identify names and locations of surviving family members. Inquiries by mail will be answered as staff time permits. Correspondence should be addressed to: Mennonite Historical Library, Goshen College, Goshen IN 46526. Of course send a SASE with any request.
****************************************************************
The Christian Yoder Legacy and Familv Record,1983, by Thomas Yoder.
This 80 page paperback (typeset) provides in detail the descendants of David M. Yoder (1849-1914) who married Catherine Miller. The introductory chapter traces the descent from Christian ("Schweitzer") Yoder (1726-1816) through his son David, grandson Joshua and great grandson Moses J. (David's father). Also provided in this nicely done booklet is a general Amish history, several photographs of farms, documents and gravestones. Copies available from Thomas Yoder, 1717 Branden Drive, Normal IL 61761 for $f.50 postpaid. The noted Amish historian Leroy Beachy provided some input to this work.
*****************************************************************
CEMETERY RESTORATION IN PROCESS
Bishop Christian Yoder Jr (1790-1844) was the second Amish Bishop of the Glades Congregation in Somerset Co.,PA. His cemetery shown on the map above, is now unmarked ground and strip mining has oommenceFin the immediate area. Thomas Olen Yoder of 20 Oxford Dr.,Coraopolis,PA l51O8, has started fund raising to restore this plot with a marker and stone wall. For a flier on this effort and Bishop Yoder's descendants, drop him a line. Bishop Yoder's wives were Elizabeth Miller (1787-1816) and Catherine Miller (1796-1849)
******************************************************************
ALSATIAN AND GERMAN-BIRTH YODERS OF 1850 CENSUS
Many of our Yoder/Yother ancestors arrived in the United States during the early and middle 1700s. Another major wave of Yoder immigrants occurred in 19th century from the 1810s through 1860s. The l850 Census was the first which listed all family members. Those listed as having a foreign birthplace in the census are much more likely to be identifiable as fas as old-world origins and could well have grandchildren or great-grandchildren still living. They are also prime candidates for additional Yoder genealogies in that the passing generations are fewer and documentation, obituaries, etc. are likely to be more available.
The following data have been extracted from the 1850 Census Yoder index being prepared by members of your newsletter staff and, while it is known that there were other foreign-born Yoders who should have been in America at that time, it is believed to be a fairly complete portrayal of those recorded. A key is provided at the conclusion.
Darke Co., Wayne TWP. p. 313 (YA5) Joseph Yoder, age 42, b. France; Ann, age 40, b. France; Catherine-17, Christian-15, Ann-12, Eli-l0, Barbara-7, John-4, Mary M.-1 (all b. OH)
Holmes Co., Wa. Twp., page 226 (YRC81) Jacob Yoder, age 18, b. Germany: Barbara, 21, b. OH, Holmes Co., Salt Creek Twp.
Holmes Co., Wa. Twp., page 204 (YRC8) Michael Yoder, age 60; --?-- age 57; John C., 23; Daniel, 21; Catherine, 19 (all born Germany)
Holmes Co., Salt Creek Twp., page 242 (YRC6) Barbara Yoder, age 65 in family of John and Jane Knaff (all b. Germany)
Stark Co., Ws. Twp., page 376, Christian Yoder age 65; Ann, age 31 (both b. Germany); Catherine 13; Joseph-11; Lewis-1 (all born OH)
Stark Co., Ws. Twp., page 376 (YA1) Joseph Yoder age 707 Barbary, age 60; Christopher-30 (all born Switzerland); Peter-27 (b. France); Daniel-18, Philip= 15, Barbary-13 (all born OH)
Stark Co., Ws. Twp., page 376 (YA11) Joseph Yodder, age 31 (b. France)- Leah, age 32; Catherine-5, Barbary-3, Joseph-3/12 (all b. OH)
Stark, Ws. Twp., page 376 (YA14) Andrew Yodder, age 25 (born Switzerland); Mancy age 22; Joseph -9/16, (YA15) Eli-20 (all born OH)
Stark, Ni. Twp., page 486 Christ Yodder, age 39; Anna, age 39 (both b. France); Christ-15, Anna-13, Barbara-11, Peter, 9, Maria-5 (all born OH)
Stark, Ni. Twp., page 484 Catherine Yodder, age 70; Barbary, age 50 (both b. France) in family of Peter and Fanny Swartz (sp?)
Tuscarawas Co., Fa. Twp., page 326 John Yetter, age 7 (b. Germany) in family of Joseph Neal, age 68 (born PA), Elizabeth, age 28 (born Germany), Ellen-1 (born OH)
Wayne Co., Green Twp., page 190 (YA3) Christly Yoder, age 52; Mary, age 58 (both born Germany) Christly-22, Johathon-20 (both born OH)
Wayne Co., Green Twp., page 194 Catherine Yoder, age 23 (born France) in family of Peter Klopfenstein, age 70; Barbara, age 74 (both b. France)
Wayne Co., Green Twp., page 194 Mary Yoder, age 50 (born Germany); Joseph-21, Barbara-30 (both b. OH), John 52 (b. Germany) (family includes three Moffet (sp) children)
Wayne Co., Green Twp., page 194 Amiena (sp?) Yotter, age 33 (b. Switzerland) in family of Daniel Weldy-39, Matty-32 (both b. Switzerland)
INDIANA:
Adams Co . , French Twp. Simon Yutter, age 62; Mary, age 53, with Barbara Stuckey-50 and Christian Slaghter (all born Germany)
Adams Co., French Twp. John Yutter, age 25 (born Germany)
Adams Co., Wabash Twp., (YA41) Joseph Yutter, age 25 (born Germany)
ILLINOIS:
Bureau Co., page 291, (YI1) Joseph Yoder, age 44; Barbara, age 45; Catherine-18, Jacob-17, John-14 (all born Germany), Daniel-12, Joseph-8, Louisa-6, William-2 (all born IL)
As a word of warning, the birth locations and ages cited in the 1850 Census cannot be automatically assumed as accurate. The same family between census years has often been seen to provide differing data.
The coding key used above is to facilitate identification and corresponds to that within the family group sheets maintained by the newsletter "research staff". Taken in the sequence presented
YA5 is Joseph Yoder who married Anna Klopfenstein (mentioned elsewhere in this issue)
YRCB is Amish immigrant Michael Yoder, 1825 immigrant from Hessen Darmstadt (Germany) who married Magdalena Eash. His family has been covered in Descendants of Michael Yoder 1788- 1978, revised and republished by Roy A. Yoder of Millersburg OH within the last several years, YRC81 is his oldest son and YRCb his sister.
YAt is Capt. Joseph Yodder, 1825 Amish immigrant from around Belfort France, who married Barbara Weiss. A part of his history and descent appears in Brief Record of Pour Pioneer Familes of St. Joseph Countv, Indiana by the late Charles M. Yoder of South Bend IN. This work is currently out of print. YAtl, YA14, YA15 are some of his sons.
YA3 is Christian Yoder who married Mary--?--, His son Christian married Catherine Becker, and son Jonathan married Anna Swartz.
YA41 is apparently Joseph Yoder who married Katherine Stuckey. He was the son of Jonathan Yoder, (YA4) and Mary Schmucker who settled with his children in the Adams Co., Indiana area. It could be assumed that the other Adams County's "Yutters" are a part of this family, but further research is needed.
YT1 is Joseph Ioder, born in Bavaria in 1805 and married Barbara Albrecht. He is said to have come to Bureau Co. in 1837 and was a Mennonite. His descendants have kept the "Ioder" spelling and some of them are among our readers.
Any reader who can help identify these Yoder families and contribute ancestral or descendant information are asked to write to: Chris Yoder, 203 Lakeshire Road, Battle Creek MI 49015
---
to top of file
---
************READER SERVICE**********************
A reminder to our readers that we have been working on family group sheets for various Yoder lines and have close to 2,500 from the last century and before indexed. Also have been copying over Yoder data from the l850 Census and are close to completion. We will gladly check our files for you on request. Can also put you in touch with other researchers on some families. If you are working on a Yoder descendant directory or geneology,we'd be glad to help with advice and cousins names n and addresses if possible. Any volunteers to help the newsletter research efforts, let us know what sources you have access to, and we'll be glad to get your assistance.
****************YODER INQUIRIES******************
The YNL will publish Yoder-related inquiries or exchanges at no charge. Flease limit to 30 words or so, but provide all dates, names,places in supporting data and we will check against our records to see if the newsletter can help too. Address your inquiries tol Chris Yoder, The Yoder Newsletter, 203 Lakeshire RD.,Battle Creek,MI 49015
***************************************************
Need info on parents of Daniel Yoder, b ca 1808 PA m. Nancy Durbin. Was in Greene Co. PA 1850. Known ch, James m. Barbara Griffith; Elizabeth m. Samuel Oliver; John m. ? Whitlatch; Zachariah m. Lucinda Ott; George m. Hannah Hinerman; Mary m. Jesse Hinerman; and Nancy. Reply to Maxine Jones 975 Garden St., Warren OH 44485.
***************************************************
Who was Eva Catherine ? (c 1710-c1792) wife of l)(Hans?) Peter Y/Jetter (Sr: 1704-54) and 2) John Adam Stohr/Steer (1719-1801) of (now) Lebaron Co., PA? Did she have PA siblings/kin? Reply to Jean A. Larson, 1323-12th Ave.#2, San Francisco CA 94122.
***************************************************
Peter Yetter (1704-1754) m. Eva Catherine. Lutherans at Lebanon PA. Ch.: Peter (Anna Marie Strever), Maria (John Seiler): Eva Margaretta (Jacob Bickel), George (?). Is this the same as Hans Petter Jotter on ship Albany, Sept 2, 1749, with Johanes Jotter? Reply to: Thomas Lehman, RR#1, Box 827, Annville PA 17003.
***************************************************
Would like to exchange info. or. the following line: Joseph Yoder (d. ca 1928, Goshen IN) s/o Isaac (1825-1905) and Sarah Mishler Yoder. Isaac s/o Jacob (1760-1829) and Elizabeth Yoder Yoder. Jacob s/o Christian (1728-1816) Yoder. Elizabeth d/o Yost Yoder. Reply to Margaret Kwadrat, 11676 Post Mills Lane, Reston VA 22090.
***************************************************
Would like to correspond-with descendants or anyone concerning Samuel S. Yoder, b. Aug. 16, 1841, Berlin, Holmes Co. OH, s/o Yost and Nancy (Hostetler) Yoder and grandson of Abraham Yoder, native of Lancaster Co. PA (came to Oh 1816). Bro, and sis. Moses F., Jacob T., Josyln, Noah W., Aaron Y. Miller, Rachel, Tina, Mary, Elizabeth and Catherine and Anna, both died young. M. Oct. 6, 1870, Minerva Maxwell, dXo Abner Maxwell near Berlin OH. Children, Early D., Effie A. Was mayor of Bluffton OH, 1874-1876, also practiced medicine in Bluffton. Reply to Mrs. Robert L. Ferrell, 12432-T168, Findlay OH 45840.
****************************************************
Who was the wife of my immigrant ancestor Stephen Kurtz. Her name was Veronica, or Franey, and may have been a Yoder. Christian Yoder,the younger, was one of Stephen's executors-was he a bro-in-law? What was his wife's name-maybe the tie was on that side of the family? Reply to C. J. Kurtz, RR#3, Box 49, Elverson PA 19520.
****************************************************
Would like info on family of Christian Yotter b. Bavaria, 1831. 1850 immigrant to U.S., m. in Erie Co. NY, Katherine Boyer. He was a Mennonite. Settled in Lee Co., IA by 1859. Buried West Point IA. m2 Sarah Schmidt. Children: John b. 1855, Mary b. 1859, Henry b. 1862, Anna b. 1864, Lizzie b. 1866, Emma b. 1868, Clara b. 1871, Sarah b. 1871, Christ C. b. 1875, Edward b. 1876, Charles b. 1879 and Olie, b. 1885. Reply to Donna Meszaros, 8416 N.31st Dr.,,Phoenix,AZ ,85051
*****************************************************
Would like info on family of John Yoder, b. Green Co PA, 1839, m. Martha Whitlatch. Resident of Moundsville WV to 1883. Buried in Fountain Cem. Fostoria OH. Reply to Emily Davis, 5605 North US 27, RR#3, St. Johns MI 48879. (Ed. notes Ms Davis has been put in touch with Ms Jones of related inquiry above)
*****************************************************
Who were the parents of Emanuel Yoder d. 8/28/ 1904, Darke Co. OH age 56 y 11m 1 d, b. in PA, loc. unk. Left home after family fight, m. Sarah Crist. Reply to Linda Whitlock, 9275 Greenville, St. Marys Road, Greenville OH 45331.
******************************************************
Wanted: Info. on Abraham Yoder, Amish, the father of Mary, b. Oct.9,1817,Holmes Co.,OH. She married Samuel S. Weaver :b.Mar.13,1819,Berlin OH. Reply to: Janet Welter, R2 Box 368,Knox,IN.44534.
******************************************************
Would like info. on ancestry of Catherine Yoder, born l798 in Pennsylvania, married 1821 in Berks Co PA to Martin Landis Jr. Died Waterloo, MI 1858. Reply Paula Talbot, 209 2nd St. S.E., Crosby, ME. 56441
******************************************************
Who was Katherine Yoder b. ca 1812 France, d. June 7,l883, Archbold,OH. m. Peter Stucky b. Dec.l9, 1808, Grandvillars,Haut Rhine France,d.June 2f, 1892. Glad to exchange info. Reply to Roy C. Pressler, 1107 W 3rd, North Platte,NE. 69101.
******************************************************
Who were the parents of Martha Yoder b.1/15/1820 m. 12/1/184l in OH to Jacob Miller (son of Jonas Christian Miller); died Wiota;Cass Co.,IA 5/20/l895 Reply to: Nancy Hartman,P.O.Box 74,Rising City, NE. 68658.
******************************************************
By some sources Jacob Stutzman married a Barbara Yoder (other say she was a Fouts). Jacob, born 1727 in Germany, arrived in Philadelphia on the "Nancy" Sep.1752. Went to Chester Co.,PA, then MD, then about 1764 to North Carolina around present Davidson Co. Moved to Clark Co. IN about 1801 (Washington Twp) and died 1813. Can anyone confirm this Barbara Yoder? Reply to: Martha Wells, 2417 Beeler St.,New Albany,IN. 47150 (Editors Noter This route of migration closely follows that of parts of the Conrad Yoder line. Could he have had a sister Barbara?)
********************************************************
I'm researching Conrad Yoder family. Had Jacob b.ca.l767. Jacob had Henry b.15 Aug.1804 in NC m.Ruth Ann Radar May 23,1830, Bloomington,IN. Moved to Floyd Co.,IA where both are buried at Nona Springs. Dau. of Henry,Mary Catherine born Jan.30,1852 m. Thomas Sullivan, died 1533 in Longmont,CO. Reply to Virginia M. Hutchins, 1548 Bowen St.,Longmont, CO 80501.
*********************************************************
WANTED:WANTED!WANTED! Info on ANY of the Yoder branches from SCHUYLKILL Co.,PA. To augment our family grour sheets so we may better assist readers with their ancestry-searching. Reply to: Chris Yoder,203 Lakeshire Rd,Battle Creek,MI 49015
*********************************************************
YODER GENEALOGIES IN PRINT
We are happy to identify Yoder related books currently available for purchase. Most of these deal with one specific branch and may not be of interest outside of the immediate family involved. We will attempt to provide sufficient data for you to guage your interest. Further details can be obtained from addresses indicated. Send us full details of any books available.
----------------------------------------------------
Descendants of Jacob Yothers, Bucks Co., PA., by Richard J. Yothers Jr., 1984. Hardback, 210 pages. Jacob Yothers (1742-1828) was a grandson of Mennonite Hans Joder "Of Great Swamp" (see Yoder Newsletter #3). He changed the spelling of his last name to Yothers. In addition to being a directory of many of the descendants of Jacob Yothers (with some photographs), the book includes estate records and some Property maps for early generations of this line. The book rnay be bought for $22.00 (postage included) from the author: Richard J. Yothers Jr., 259 West Newton St., Boston MA 02116.
---
to top of file
---
We are indebted to the late C. Z. Mast of Elverson PA for a collection of interesting tales about one of our Amish Yoder immigrants. Mast, in turn, credited C. Z. Yoder of Wayne Co., OH, and the oral tradition handed down in the communities where descendants of this prolific family have settled.
Jacob Yoder, who arrived Sept. 21, 1742, on the Francis and Elizabeth, must have had a powerful physique to have soon acquired the nickname of "Stark" (Strong) Jacob. We also find that his son Christian was known as "der Dick Christel" (literally thick-through), and his grandson was Big Dan Yoder. Jacob lived at first among his close relatives in northern Berks County but before 1750 he had bought land in Lancaster County in the Morgantown area. His farmstead can be seen from the Conestoga Pike, the "King's Highway" now known as Route 23. He had been "entrusted with funds from the British Crown" to help maintain this highway, and he was a prominent citizen in this community, the locale of the "stories".
Mast relates that Jacob delighted in the "participation of athletic sports on his farm. They (generally took place among the hired men after being hurried from the fields to the barn for shelter from an approaching shower..." On one occasion Strong Jacob was challenged by a husky Irishman who ad never been defeated. "Yoder, however, in a spirit of good humor, took up the course of action and it was decided to have one or the other thrust into a 3-bushel grain bag. The task was quite difficult for either party but after some considerable muscular exertion was expended..., the Irishman and his temper were bagged at the hands of Yoder."
Another oft-repeated incident occurred when Strong Jacob and two of his sons had hauled a load of wheat to a merchant mill. In those days the grain had to be carried up several flights of stairs. Jacob would set up the full three bushel sacks of grain at the rear of the wagon bed and the boys were to carry them up to the third floor of the mill. At the head of the first flight of stairs a stout young fellow reached out from a hiding place and pulled their beards as they were carrying their loads. They complained to their father, who said he would carry the next sack. As he came to the head of the stairs, the hand came out again and pulled his beard. "Strong Jacob" quickly caught the mischief-maker around his waist and carried him up the remaining stairs along with the three bushels of wheat. The more the young man kicked and struggled, the tighter Jacob held him. Arriving at the top, Jacob dropped him to the floor, where he lay limp and docile for a time. The sons carried the rest of the load unmolested.
On another occasion Strong Jacob was hauling a load of wheat to market in Philadelphia. On the way he came to a stream where the bridge had been recently washed away. There was only a good "foot-log" across the river. Unhitching his four horses, he made them swim through the water. Then he carried the sacks of grain across. He then took the wagon apart and took the pieces aeross the foot-log, last of all dragging the wagon bed to the other side. "When all this was done, he put the wagon together again, loaded the wheat, hitched up his team, and drove off as though nothing unusual had happened."
"My father loved to tell stories about Strong Jacob Yoder," wrote C. Z. Yoder in about 1930, and Mast repeats how "once upon a time a certain strong man in Virginia, hearing about this Strong Yoder, had a desire to meet him and try his strength. When he came into the Morganown community he boasted that he was the strongest man an his own community and he had come to whip this rival. He was told that Yoder was a peaceful man and 'had better be left alone', but the Virginian went on, arriving at the Yoder homestead after dark. When Yoder opened the door, the stranger seized him, expecting to take advantage of the situation, but Jacob held him down to the floor and called for a rope. He tied the man securely, dragged him to the fireplace, and let him lie there till morning, when he was released and sent home."
"While General Washington was encamping at Valley Forge during the severe winter of 1777-8 with the Continental Army, he through some source learned that Strong Jacob Yoder was posted on recent projects of the British. General Washington immediately commissioned two distinguished officers to ride on horseback to Morgantown and make inquiry as to the location of the Yoder farm....Here some wakeful hours were spent in council with the Amishman." We wonder where this pacifist Amish man learned of British plans (if that is indeed why he was consulted). Mast speculates that perhaps some important papers had been accidently dropped by the British officers whom Jacob had met on the King's Highway. While on horseback on that road, he saw several British soldiers riding toward him. "touched with fright, he suddenly gained sufficient nerve to dinge his broad-rimmed Amish hat to the three-corned style of the British. When he saluted in the twilight of the setting sun, he was accorded the same courtesy...and thus his cunning enabled him to escape King George's warriors."
How true are these stories?---Probably quite credible in broad outline, and it is hardly necessary to "prove" the details in these entertainment-stories in our PennsylvaniaDutch folklore: (Do you, reader, know who is researching Strong Jacob? Some unkown person is supposed to be and we would appreciate an answer to the question.)
---
to top of file
---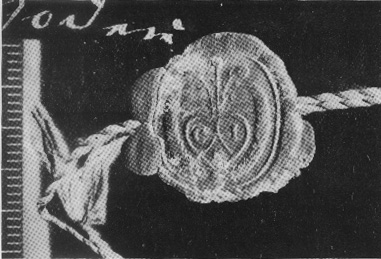 Karl Joder has once more shown his last kindness by sending us this picture of the well preserved wax seal of Christian Yoder, resident of the Palatinate of Germany in 1742. A part of Christian's signature is shown. Christian was a Mennonite minister, weaver of linen and farmer. This print was also shown in the April, 1984 issue of the "Mennonite Famity History".
We surely appreciate Karl's generous cooperation and feel a great loss at his passing (see obituary in this issue). His forebears settled around the Ludwigshafen-am-Rhine area of Germany in the early 1700s from Switzerland.
---
Michael Yoder (1799-1879)-His Roots and his "Froots" by the late Raymond Mark Yoder of Goshen IN. 8 1/2 x 11" paperback, 236 pages. Includes a scholarly account by Dr. Paton W. Yoder on Michael's father (Jacob Yoder, b. 1762-d. 1837) who married Barbara Hooley (1767-1832). Many family photographs. A limited number of copies are still available for $4.00 postpaid) and can be ordered from Silas S. Smucker, 1304 South 14th St., Goshen IN 46526. (Raymond passed away before he had proofread this book and there are many uncorrected errors present. It also has many unconfirmed stories that are questioned by the family. With this in mind, it still is worth reading.)
**********************************************************
We were informed by Sylvia Martin that she has extra copies of Poppy's Dozen for sale. This is an interesting story of Peter A. Yoder and Nancy Yoder Yoder who were homesteaders in North Dakota in the 1890s and raised a family of twelve chilren. This is almost a solid Yoder group with many double Yoders as forebears. Reading Poppy's Dozen gives one an outlook on the hard life of these later pioneers who helped develop our West along with interesting family developments.Copies are $5.00 each and can be ordered from the author Sylvia Martin, c/o Hickory Homes, Hesston KS 67062.
***********************************************************
YODER REUNIONS
IMPORTANT NOTICE!-If you'd like your Yoder reunion mentioned in advance in the Yoder Newsletter, please advise early. Due to our semi-annual publication schedule, information should be in by early March for such events. They can then be printed in the April edition.
***********************************************************
The Simon Peter Yoder and Mary Metzlar Yoder Reunion was held August l7 & 18, 1984, at the Massanetta Springs Conference Center, Harrisonburg VA. For information on future reunions contact Mary F. Shenk, 850 Parkwood Drive, Harrisonburg VA 22801.
************************************************************
The Samuel R. Yoder (1856-1927) and Emma Lupold Yoder Reunion was held August 4, 1984 at Willowdale Park, Elkhart, IN
************************************************************
200 At Reunion Of Yoder Family
Approxlmately 200 people attended the 34th annual Yoder family reunion Sunday at the Zion Lutheran Church near Hickory.
Following the picnic lunch, Richard Yoder conducted a memorial Service for deceased members.
Family members also heard a report on the memorial to Dr. Robert Anderson Yoder at Lenoir-Rhyne College and were asked to designate any gifts to the college for the memorial.Yoder was the college's first president. It was reported that the Yoder Family Newsletter, a national publication, has a story about Conrad Yoder, ancestor of the North Carolina Yoders, in the current issue.
Albert Yoder, principal of the Conover Scheol, was elected to a three year term as president. Richard Yoder was elected vice president. Neal Wilfong was reselected secretary and Gerald Yoder was reelected treasurer
**************************************************************
QUERY
Would like info on family of Christian Yotter b. Bavaria 1831. 1850 immigrant to U.S. m. in Erie Co., NY to Katherine Boyer. He was a Mennonite. Settled in Lee Co., IA by 1859; buried in West Point IA. m2 Sarah Schmidt. Children: John b. 1855, Mary b. 1859, Henry b. 1862, Anna b. 1864, Lizzie b. l866, Emma b. 1888, Clara b. 1871, Sarah b. 187l, Christ C. b. 1875, Edward b. 1876, Charles b. 1879 and Olie b. 1885. Reply to Donna Meszaros, 2123 North Madelyn Ave, Tucson, AZ 85712
***************************************************************
OBITUARY
OLEN YODER was the oldest son of Menno R. Yoder, who built the round concrete barn west of Shipshewana, Indiana. Olen's grandparents, Reuben and Harriet Riehl Yoder, came to LaGrange County IN in l85l as newlyweds from Stony Creek Twp., Somerset Co., PA. Olen, a charter subscriber to this newsletter, leaves behind a large family and many friends richer in spirit for having known him,
****************************************************************
(picture here)
Signature of Yost Yoder and wife Elizabeth (Stutzman?) of Stoney Creek Twp., Somerset Co., PA, on and Indenture between them and David Lyman of Brothers Valley Two dated March 6 ,1817. Complements of Jean Yonai, Berlin, Pa.
****************************************************************
Received from Alverna Y Hunsberger, Perkasie PA -
NEWS-HERALD,Perkasie, Pa., Wednesday,July4, 1984
Yothers Family Holds Annual Reunion
The 61st annual Yothers Reunion was held on Father's Day, June 17, with 54 people present, at the St. John's Evangelical Lutheran Church picnic grove near Spinnerstown.
The Hi-Light of the afternoon was the introduction to the YoderYothers family genealogy, which was printed the beginning of June. The pioneer ancestor of this family was a Mennonite, Hans or John Yoder, sometime spelled Hans Joder, most of the Yoder's who migrated to America were Amish. It is believed that Hans Yoder and his wife Anna, migrated from Switzerland about 1718 or 1719. They bought property in Lower Milford Township, Bucks County in 1720 from Joseph Growden for 15 pounds current silver money, it was then known as "The Great Swamp."
John (Hans) Yoder and his son John Yoder, Jr., applied for naturalization in 1734. In 1750 Hans Yoder and wife Anna sold their farm to their son Casper Yoder for 20 pounds current money.
Hans and Anna Yoder likely worshiped at the Swamp Mennonite Log Meeting House. Their place of burial has never been located. It is not known whether they had more children than Hans Jr. and Casper Yoder.
Jacob Yoder (the son of Casper) Yoder, born in 1742-1828 changed his name to Yothers. Jacob Yothers owned a farm of 131 acres in New Britain Township, Bucks County. Jacob Yothers and his second wife Barbara (Fretz) Yothers, are both buried in the Doylestown Mennonite Cemetery.
The Yothers from Bucks County are all decendants of Jacob and Barbara (Fretz) Yothers. After a Pa. Dutch Supper, Dan Hunsberger, president, Apple Butter Rd., Perkasie, welcomed everyone and awarded prizes to the following: Oldest member present, Pastor Abram W. Yothers, 81, Deep Run Road, Perkasie, Joann Beth Hunsberger, 7; daughter of John and Kathryn Hunsberger, Smiths School Road, Perhasie, was the youngest. Wendi Yothers, Hatboro and John (Yothers) Hunsberger, Perkasie was the guessing game prizes.
The following officers were elected: President John (Yothers) Hunsberger, Perkasie; vice president, Robert Lee Yothers, Glenside, secretary-treasurer Alverna (Yothers) Hunsberger Perkasie; historian, Richard J. Yothers, Jr, Boston, Mass.
One birth was reported for the year, a son, Jason Daniel Hunsberger, to Jerold (Yothers) and Susan (Bryan) Hunsberger on January 27, 1984.
The 1985 reunion will be held on Father's Day at the same location.
---
to top of file
---
---
Yoder Newsletter - © Christopher K. Yoder, 1992, 1994