Yoder Newsletter Online
Issue Number 20 - - - October 1992
YODER NEWSLETTER- 10TH ANNIVERSARY ISSUE
A BONUS EDITION
*******************************************************
YNL Newsletter Founder Dies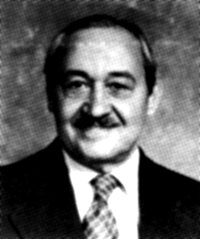 We are deeply saddened to announce the death of YNL founder Ben F Yoder. He passed away suddenly May 15, 1992 in Goshen Indiana. A special tribute, written by his children, appears below.
*******************************************************
250th Anniversary of Amish Yoder Arrival
Two Hundred and fifty years ago, on Sept. 21, 1742, the following record was made at the Courthouse in Philadelphia, List 94C, witnessed by William Till and Robert Strettell, Esquire:
"The Foriegners whose names are underwritten, imported in the Ship Francis and Elizabeth, George North, Master, from Roterdam, but last from Deal, did this day take the usual Qualifications to the Government, viz.,"
Among the passengers whose names appeared on this registry were three who are now seen as representing the families of the first Amish Yoder arrivals in America. The first listed was Christian JOTTER, believed to be YR2. Next was a Jacob YODER (marked with an "X" and signed by the English clerk) and lastly a Christian YODER. The latter two folks are now believed to be sons of "the widow Barbara" and her husband who died at sea (YR1).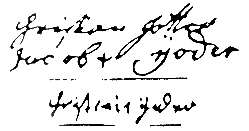 C.Z. Mast, a well known genealogist of the Amish, maintains that Jacob Yoder was ill at the time of landing and the "X" was due not to lack of education, but to his not being available to sign in person.
There are several different works which present listings of the names in the registry. It is known that the Yoder names appear in sequence in the actual handscribed listing. The one source which seems to follow this sequence is the book "Pennsylvania German Pioneers".
Three interesting features appear in this copy of the list. First, the group of most recognizable Amish passengers have their names together (although "Johanes Qnag" marks the beginning of the "B list"). It could well be imagined that the Amish heads of household all hung together as they went to the Courthouse to make the official registry. The second item for some interest is that Christian Jotter is at the head of the Amish group. Does this signify some particular leadership of the group? It's possible. And third, the first Yoder to sign wrote his name "Jotter", followed by the English clerk signing for Jacob as "Yoder" (the sound in English). Did the last of the three Yoders on the list (believed to be Christian, son of the "widow Barbara") really spell his name with a "Y" and a "d"? Or did he just copy the spelling used on the line above him for his (presumedly absent) brother?
Here are the names as they appear in "Pennsylvania German Pioneers" (with AAMG codes added when known or suspected):
----------Christian-Jotter-(YR2)---
----------Jacob-(x)-Yoder--(YR14)---
----------Christian-Yoder--(YR12)----
----------Fredri-(K)-Meyer--
----------Christian-(+)-Miller-
----------Johanes-Qnag-
----------Moritz-Zug-
----------Christian-Zug-
----------Johannes-Gerber-
----------Jacob-Kurtz-(KZA2)-
----------Johannes-Zug-
----------Uhllerich-(+)-Stally-(SAB?)-
*******************************************************
The Yoder Newsletter- Founded 1983 by
Ben F Yoder, Goshen, IN (1913-1992); Chris Yoder; and Rachel Kreider.
*******************************************************
FROM THE EDITORS
Chris Yoder, Editor, Riyadh,Saudi Arabia; John W Yoder, Circulation
Manager, Middlebury, IN; Fred C. Yoder, Distribution; Rachel Kreider,
Senior Contributing Editor; Other Contributors: Fred C. Yoder, Goshen,
IN; John W. Yoder, Middlebury, IN; Richard H. Yoder, Bechtelsville,
PA; Hubert A. Yoder, Charlotte, NC; Dorothy Yoder Coffman, Malvern,
PA; H. Harold Hartzler, Goshen, IN; Dr. Don Yoder, Devon, PA
*******************************************************
Reflections on the YNL 10th Anniversary:
Ben Yoder and I first met ten years ago in the Goshen, in kitchen of long-time Yoder historian Rachel Kreider. Rachel brought us together because each of us was interested in putting out a Yoder family newsletter. Each of us had a slightly different focus to our interests. My focus was more on the uncovering, sharing and exchange of family history information. Ben was a bit more oriented toward general lore, humor, human interest and a vehicle for increased Yoder family fellowship.
The resulting product has been one from which we both have taken a lot of satisfaction. We've helped hundreds of families with their family trees. We've helped cousins meet cousins. The YNL has stimulated the holding of family reunions and the assembly of family history booklets. We've researched, deciphered and published information which has expanded the bounds of knowledge about many different branches of the Yoder family. On a personal level, Ben and I each have made many good friends among the readers and correspondents to the YNL.
Little did we realize ten years ago that the YNL would still be going strong this far into the future. And little did we realize this spring that the celebration of our 10th Anniversary milestone would be one reached without Ben. Thanks to John and Fred Yoder and to Rachel Kreider for picking up most of the responsibilities Ben took care of. The YNL will continue to function, and we hope will be around for a 20th Anniversary.
Ben has been my partner and more importantly my friend for these 10 years. It won't be the same without him. He was a man who loved people. His was a keen sense of humor. The twinkle in his eyes could be felt in his conversations, his letters and also in the text of the YNL. The YNL family all extends our sympathy to his widow Nell, to his children and grandchildren. We truly share in their loss.
--- Chris Yoder
*******************************************************
The last issue announced the addition to the newsletter staff of Fred and John Yoder. Ben thought ahead in enlisting these fellows, and he chose well.. both have jumped aboard willingly with their contributions. For the next several issues, the YNL will be composed in Riyadh, Saudi Arabia, but still printed and mailed from Goshen, Indiana.
*******************************************************
CHANGES OF ADDRESS: Please review your YNL address label carefully, and send any corrections to the Yoder Newsletter... we don't want to lose you, of for you to miss out on any issues!
*******************************************************
SEND YNL CORRESPONDENCE:
-Dealing with circulation issues such as new or renewed subscriptions, changes of addresses, back issues to : Yoder Newsletter, P.O.Box 594, Goshen, IN 46526.
-Dealing with ancestral queries or data intended to go into the Yoder Newsletter or archives (such as reunion notices, letters to the Editor, copies of Bible records or other Historical information) to :
Chris Yoder, Unit 61306 Box 56, APO AE 09803-1306 (allow 3-4 weeks for reply)
*******************************************************
YNL PRICE INFORMATION:
The YNL subscription is on an annual basis and the rate is $3. As the YNL is not-for-profit, we have generally been able to offer a free bonus issue to each subscription period. YOU WILL BE SENT A RENEWAL ENVELOPE WHEN YOUR SUBSCRIPTION IS DUE (it will accompany your last issue). Back issues of the YNL are $1.00 per issue ($20 for a complete set of issue 1-20). These may be ordered from the Goshen YNL address.
*******************************************************
YODER MAVERICK TAKES TWO HIGH PROFILE CASES
John C Yoder of Harpers Ferry has recently taken on two high profile West Virginia court cases. As readers may recall, John was the U S Senate nominee against millionaire Senator John D Rockefeller IV two years ago. (See YNL #17).
In one case, Yoder represents the city of Harpers Ferry as it takes on the National Park Service. The charge is that the Park service closed down a local celebration at the last moment. This Christmas event, called an "Old Tyme Christmas" had been a city tradition for 20 years. The park service reportedly blocked off the parade route through some park-owned land without any advance notice.
In the other case, he represents a tax-payers group which has filed a conflict-of-interest lawsuit against 21 public school teachers who are members of the state legislature. The legislature sets teacher benefits and working conditions, and the case is based on a state law which restricts state employees from serving in the state legislature. Major newspaper editorials in the state have endorsed bringing this issue into the open.
*******************************************************
CASSELMAN RIVER HISTORIANS YODER SESSION
FULL REPORT IN NEXT YNL
The annual meeting of the Casselman River Amish and Mennonite Historians was held at the Maple Glen Church, Grantsville, MD on Sept. 4 & 5, 1992. In honor of the 250th anniversary of the arrival of the Amish Yoders, this annual meeting featured "The History of the Joder/ Yoder Family".
We at the newsletter had been encouraging folks to commemorate this anniversary. When we heard the details of this session, we felt it was important enough to send out a special notice to all readers. John W Yoder and Rachel Kreider of the YNL both participated in this meeting, and a detailed article will be prepared for the April 93 YNL.
*******************************************************
CLINTON CO, PA and STEPHENSON CO, IL YODER RESEARCH:
Peter Yoder, son of Jacob Yoder of Lewisburg, PA (1783-1864), was in Clinton Co, PA as of the 1840 census. He married Eve Best, and moved to Stephenson Co, Il. He bought 80 acres in Dakota Township Jul 10, 1848, and later served as the first village president of Dakota Village. Eve died, and he married as his second wife Mrs. Eliza A Elliott Apr 23, 1866 in Freeport, IL.
Research by Mr and Mrs Terry Yoder, 8242 Potter Rd, Davison, MI 48423 has added the following information: "We found Eve Best Yoders will in the Clinton County Court House. She died in Stephenson Co, IL, but the will was in PA. Possibly because Peter Yoder owed his father-in-law Peter Best estate money and he was unable to pay it back. Eve was still alive when her father died in 1857, but died before the estate was settled." Peter Best (1778-1857) was married to Maria M. Haver (1784-1865).
*******************************************************
GLEN YODER REUNION
A reunion of the descendants of Glen Yoder was held in Conconully, Washington (the community that Glen and his family first settled in when they moved to Washington state from Missouri) on July 24, 25, and 26, 1992. Attending were: Von and Marge Yoder, Joseph and Florence Yoder from Tigard, Oregon; Grace (Yoder) and John Robert from Newberg, Oregon; Irma (Yoder) and Relton Carpenter from Omak, Washington; Ena (Yoder) and Orville Barnes from Stanwood, Washington; as well as many grandchildren, great-grandchildren and great-great-grandchildren of Glen and Allie Yoder. Also attending were descendants of Clarence Yoder, John and Frances Yoder, Ruth (Yoder) and Earl Courtney from Holden, Missouri and Lois (Yoder) Wilson from Marshal, Missouri. The event allowed time to get acquainted and reacquainted with family and friends. Potluck picnic dinners were hosted on Friday and Saturday nights by Joe and Florence Yoder and Von and Marge Yoder. On Sunday morning some of the more adventurous hiked to the top of a small mountain before Sunday Morning Church services in Conconully United Methodist Church. A brunch was served after Church services. This concluded the reunion for 1992. Another reunion is planned in two years.--reported by Carla Burke, Spokane
*******************************************************
GEORGIA/OKLAHOMA YOTHER DATA GROWS:
Thanks to Mr. Eddie Robinson, 8115 Buford Dr, Dallas, TX 75241, the information on file about one branch of the Georgia Yother line has expanded significantly. (See YNL #11-- "Adam Yoder ..."moved to Tennessee and all traces of him were lost.."). Early data is presented as follows:
Con83---Adam-(aka-Edmund)--Yother--d-?--m.-Celia-Van-Buren-
(c1816NC---)-1840-&-1850-Lumpkin-Co-GA-
-----Con831---Laura-----b.--c1832--NC-
-----Con832---Elizabeth--b.-c1834--GA-
-----Con833---Eliza-----b.-May-10,1836--m.-Jan.-3,1856--
------------William-J.W.-Pike-d.-Mar.1,-1896-Snyder,-OK-
-----Con834---Nancy-----b.--c1837-GA-
----+Con835---Andrew-Jackson---b.-6/8/1839-GA-
-----Con836---Louisa----b.--c1842-GA-
-----Con837---Catherine--b.--c1844-GA-
----+Con838---John-Dallas---b-4/10/1846-Lumpkin-Co,-GA-
-----Con839---Jane-------b.--c1847-GA-
----+Con83a---William----b.--c1849-GA-
-----Con83b---Franklin---b.--c1852--
-----Con83c---Sarah-A.---b.--c1854--
-----Con83d---Adaline----b.--c1860-
---Cousin-?-
-----Con83e---Lester-William--b.--c1865--
-
Con835--Andrew-Jackson-VanBuren-Yother--d.-11/24/1913-Coalgate,-
OK--m.-6/12/1864-Dawson-Co.,GA-Nancy-Rebecca-Goss-(10/4/1846-
Dawson-Co,-GA--5/27/1919-Coalgate,-OK)-
1880-Forsyth-Co,GA;1900-Carroll-Co,GA;-1910-Coal-Co.,OK-
-----Con8351---John-Riley--b.--c1867-GA-
-----Con8352---George-C.--b.-12/17/1868-GA--d-4/26/1936---------
Coalgate,-OK-
----+Con8353---Franklin---b.-Feb.-1870-GA--m.-Mary-__-----------1900-
Carroll-Co.,GA;-1910-Pittsburg-OK-
-----Con8354---Arrena-(Aurena)-S--b.-c1873-GA-
----+Con8355---Charlie--A.--b.-c1874-GA--m.-Lizzie_____-
--------1910-Collins-Co.,OK-
----+Con8356---Alvin-R.--b.--c1875--GA--m.-?Amy--
--------(1910-Collins-Co.OK-as-"Riley")-
-----Con8357---Maranda---b.--c1877--GA-
----+Con8358---Jessie-Welburn-b-7/22/1879-GA-m------------------1/29/1908-
Lillie-Ora-White-d-12/11/1940-----------------Coalgate,-OK-
-
Con838---John-Dallas-Yoder---d-9/9/1915-Brush-Hill,-OK-bur.-Brush-Hill-
Cem.-m1-11/17/1867-Dawson-Co.,-GA--Sarah-Amanda-Heard-(b---1836-
Habersham-Co,-GA-------)-
m2-8/19/1900-Muskogee-Co,-OK-(h1)-Effie-Potts-(b-9/1/c1882-Harrison,-
Ark--11/29/1951-Muskogee,-OK-bur.-Greenhill-Cem)-res.-1880-Dawson-
Co.,GA;-1910-McIntosh-Co.,OK-
-w1-+Con8381---Jeptha-Calvin-"Boss"--b.-1/1/1869-Dawson---------Co,-GA-
m-2/15/1901-Muskogee-Co,-OK-to-Willie------------Reynolds-(c1887-Ark-
1914)-res.-1910-McIntosh------------Co.,OK-d-2/2/1949-Okla-City,-OK-
bur.Fairview------------Cemetary,-Shawnee,-OK--
-----Con8382---(Susan)-Isabella--b-1/3/1870-Dawson-Co,----------GA--m1-
9/3/1890-McKinney,-TX-W-Y-Rose-------------------m2-1/7/1904-Ardmore,-
OK-Joe-S-Findlay-------------------d-10/22/1945-Roff,-Pontiac-Co,-OK-
-----Con8383---(Emily)-Arabella-b-11/22/1871-Dawson-Co,---------GA-m-
2/6/1887-Dawson-Co,-GA-John-Riley-Goss-------------(1849-1920),-d-
10/20/1950-Muskogee,-OK)-
-----Con8384---John-Thomas-"Tommy"-b.-12/25/1875-Dawson---------Co,-
GA--m-10/9/1898-Muskogee-Co,-OK-Daisy---------------Thompson--d-
10/13/1899-Muskogee-Co,-OK-
-w2--Con8385---Effie---b.-7/12/1901-Brush-Hill,OK---------------m-4/2/1921--
Arthur-E-Gorman-Muskogee,-OK----------------d-4/2/1984-Muskogee,-OK-
bur.-Greenhill-Cem.,------------Muskogee-
-----Con8386---Nola----b.-11/8/1902-Brush-Hill,-OK-m1-----------Alfred-G-
Weaver----------m2-Mr-Platt-
-----Con8387---Adam-Theodore-b.-11/12/1904-Oktaha,-OK-----------single--
d-2/15/1962-OK--bur-National-Cemetery-----------Fort-Gibson,-OK-(WWII- vet)-
*******************************************************
Dear YNL,
I especially enjoyed reading the article about Lowell Yoder. He was an acquaintance of my dad and I had heard a lot about him. -- Linda Yoder
*******************--Queries--*************************
The YNL will publish Yoder-related inquiries at no charge. Please limit to 40-50 words plus full return address. All inquiries are checked against our extensive records to see if we can help too. Send to: Chris Yoder, Unit 61306, Box 56, APO AE 09803-1306
*******************************************************
My grandmother, Catherine Frances YOTTER, was born 11/27/1882 in Claypool, IN. Her parents were Jasper YOTTER (b 9/20/1857 or 1858 at Tifflin, OH) and Margaret M Shobe (b 9/11/1861 Noble Co, IN). Jasper moved to Montana in 1889 and lived in Whitehall from 1919 until his death in 1939. Jaspers parents were Jacob YOTTER (8/18/1836 Noble Co, IN-1/27/1860 Noble Co,IN) who m. 10/11/1855 in Seneca Co, OH Amanda Frances Williams (7/14/1835- 11/24/1874 Noble Co,IN). What is the ancestry of these YOTTERs? Reply to: Helen Frances Caraveo (phone (801) 635-0345) P.O.Box 436, La Verken, Utah 84745
******************************************************
Can anyone provide information about Mary Clendanial YODER(s), her ancestry or descendants. She was b 17 Jan 1832 Fredrickston,PA. Married (as second wife) Andrew Jackson Sanders on 25 Dec 1852 in Amity, Washington Co, PA. Andrew was b 2 Feb 1818 in Amity and d 23 Jan 1917. Mary d 2 Feb 1902. Both d in Powshieck Co, IA. Had children: Lossen Parrot b 3 Jul 1854; Franklin Baldwin b 15 Jul 1856; Charles Edgar b 17 Sep 1857; Harlan Curtis b 13 Oct 1861; Mary Emeline b 1 May 1862; Newton Ellsworth b 8 Dec 1863; Homer Ezra b 4 May 1868 and Horace Wade b 29 Aug 1871 (all b Des Moines Co, IA).
Reply to Shirley Puskas, 13815 W 62, Shawnee, KS 66216
*******************************************************
HELP! Information wanted on my g-g-grandfather JOSEPH S. YODER. Born 5/11/1829 in PA. Married Sallie Sharret on 7/23/1856 in McMinn Co, TN. Died in Washington Co, TN 8/12/1895. Buried at Cherokee Baptist Church outside of Jonesboro, TN. What Yoder line did this Joseph come from? Troy Keese, Rt 2 Box 213, Skyline Dr, Powell, TN 37849 (615) 945-1309.
*******************************************************
Shipshewana Welcomes Home Miss Indiana Shelli Yoder
By DEB STACK
SHIPSHEWANA, Ind.--Thousands of visitors a day have become "business as usual" in the treelined streets of Shipshewana. But Monday, a warm welcome home for the town's own Shelli Yoder--Miss Indiana 1992--made tourism second fiddle for a day as hundreds of local residents turned out to wish the 23-year-old well in her upcoming bid for the Miss America crown. It was her first return home since winning the state title just over a week ago in Michigan City.
Reporters from around the region, including television stations in South Bend and Fort Wayne converged on Shipshe for a glimpse of the smalltown girl's homecoming. Dressed in her white-sequined evening gown from the state competition, Shelli entered the spotlight in classic style, leading a small family parade while seated in a white horses drawn carriage driven by liverymen in toppers and tails.
Though Shelli's been tied up with other commitments since the state pageant, news of her win has the town in a stir. As of this morning, Linda Yoder of Rainbow Travel Agency in Shipshe has two full buses chartered to take local supporters on a two-day trip to attend the Miss America pageant Sept. 19 in Atlantic City. She's also booked four couples to fly out.
Funds are another type of support being offered. A barbecue--with chicken at $5 a half--is set for July 4th at the Shipshewana Auction. Tickets are available at Pierre Moran Mall and at numerous Shipshewana stores.
All proceeds will go to the Shelli Yoder Miss America Account recently set up at Shipshewana State Bank. Anyone wanting to make a direct contribution can do so at any SSB branch.
Carol Bachman, executive director of the Miss Elkhart County pageant and one of Shelli's primary advisers, estimated that more than $30,000 will be needed to finance Shelli's run for the national crown.
Wardrobe, professional coaching for voice and interview skills, and re arrangement of Shelli's music are among numerous expenses. She added that Shelli has taken a leave of absence from her job in order to put all her efforts during the next several weeks into pursuing the dream of becoming Indiana's first Miss America.
As for the immediate future, Shelli will crown her successor Wednesday evening at Elkhart Elks Lodge 425. During a reception from 6 to 8 p.m., Jennifer Mann will be crowned Miss Elkhart County 1992.
Plans are under way for a large farewell reception in late August to wish Shelli well in Atlantic City.
******************************************************
REUNION IN MISSOURI- On June 12 and 13, the descendants of William Brown Yoder and Mary Ladora Artman met in Appleton City, Missouri. Four branches of the family were represented: William Brown Yoder Jr, Florence Miller Nixon, Mary Hammond Yoder West, and Frank Yoder. The descendants of Martha Hill Yoder Duncan and the descendants of Robert Hill Yoder could not attend. The family is searching for descendants of Charles Leroy Yoder who died in 1927. William and Mary migrated to Appleton City in 1876 from White Deer Valley Pennsylvania. Forty-one descendants and spouses were in attendance at the reunion. They visited the family plot in the Appleton City cemetery, the family plot in the Pleasant View Cemetery near Taberville, and the family home in Appleton City, and the Presbyterian Church. Some cousins had brought family pictures from the turn of the century and letters written among to brothers and sisters. Mary Elizabeth Nixon Kenny, 6305 Fort Street, Omaha, Nebraska 68104 was unanimously elected family historian. All of the "cousins" had a wonderful time. (contrib by M. Louis Rainey)
*******************************************************
Paul D Yoder Reunion
As a news note, the descendants of Paul D and Kittie (Huff) Yoder held a reunion on June 7, 1992 in Loug's Park, Lancaster, PA. Approximately 40 descendants and relatives were present. Paul D Yoder was a minister in the Reformed Church, now the United Church of Christ. In 1910 he organized the first congregation of the Reformed Church in Gary, Indiana, staying there for 3 years until moving on to Lisbon, Iowa. Gary was my birthplace.
Now we are looking forward to the reunion of the North Carolina Yoders near Hickory, N.C. on August 9.
With kindest regards-- Paul H Yoder, Lake Lure, NC
*******************************************************
Editors-- I enjoy reading the newsletter from "cover to cover". You missed my Aunt Carrie B Yoder, Greencroft Nursing Center, Goshen in your list of longevities. She was 95 on Sep 3, 1991. Her birthdate is Sep 3, 1895. She is the daughter of Noah J and Fannie King Yoder of Shipshewana, IN. -- Barbara Yoder, Indianapolis, IN
- - - - - - - - - - - - - -
Other folks missed include two of Ben Yoders sisters:
Ruth Yoder Sheininger Gardner- age 93
Lettie Yoder Preistley Moore - age 90
*******************************************************
reprinted with permission from the Apr/May 92 issue of "Country" magazine, (for subscription information write P O Box 3084, Milwaukee, WI 53201)
By Roy Reiman, Editor/Publisher
Most Amish People Sure Know How to Have Fun
MOST PEOPLE who have never met or visited with Amish families may think that these people are quiet and reserved. Well, it's been my experience that the Amish may be far more conservative in the way they live than most folks, but they rarely have any limits on having good, clean fun.
My wife and I personally set up our "Amish Country Tour" in the Holmes County, Ohio area, which has the world's largest concentration of Amish families, and we have escorted that tour several times. Each time we hear tour members say, "I never thought I'd laugh this much. These people really know how to have fun!"
Much of the Amish humor is aimed at laughing at themselves. For example, the late Noah Miller used to ask our tour groups, "Do you know what would happen if all the Yoders left Holmes County? We'd be deYoderized!"
Then there's Maudie Raber, the Amish farm wife who bakes some of the country's best pies (we've offered them as prizes in our "needle in a haystack" contest several times and may do it again, because it's proven to be our most popular prize to date).
Love Homemade Gadgets
Whenever Maudie pens a letter, I push other things on my desk aside and get ready to laugh. She always has something funny to say about life in general, or includes another "gadget" that she or her husband, Andy, has made.
The "three-piece chicken dinner" is one of the homemade gadgets she sent. As the pictures above show, when you open up the little wooden box, there are three kernels of corn inside, implying the dinner was for the chicken, not for the person!
Now, I look forward to the humorous letters that Andy Yoder sends now and then. (He and his wife, Millie, are baking the angel food cakes offered as a prize in this issue's "needle" contest on page 42.)
My correspondence with Andy began shortly after my mother passed away last year. I'd written a column in one of our other magazines, Farm & Ranch Living, reminiscing about Mom and her famous angel food cakes, and how much I was going to miss them.
Shortly after, I received a box in the mail from Andy and Millie. Inside was an angel food cake with a note: "We know this cake isn't as good as your mother used to make, but we hope it might be a good substitute."
Acquainted by Mail
I was really touched. While I've reached the point where I'm hardly amazed by anything our subscribers do (for example, I wonder how many other magazine editors received well over a hundred Christmas cards during the past holiday season from their readers), receiving that cake and note was something special.
I wrote back to thank them, and in subsequent letters, I learned about Andy's family, the farm's bakery and his great sense of humor.
Andy told me that he and Millie grew up outside of Hazelton, Iowa, moved to Rexford, Montana, and then to a 158-acre farm near Oconto, Wisconsin in 1990.
Describing his family, Andy wrote "We have 10 children and they are all boys except for eight." (See what I mean by his humor?)
It was because of all those daughters that Andy and Millie decided to start a bakery right on their farm. "We needed an extra source of income, and the girls said they'd rather bake than milk cows," he explained.
"The womenfolk also do quite a lot of quilting and sell the quilts in the bakery. They put together an Amish cookbook, too, which includes the angel food cake recipe, and we sell a lot of those.
"At this point we only have the bakery open on Friday and Saturday," he continued. "On Wednesday we bake cookies, on Thursday we bake pies, and Friday and Saturday we get up at 3 a.m. to make all kinds of things. I help quite a bit in the bakery, too."
Often, the Amish's way of laughing at themselves surfaces in Andy's letters. For example, on two occasions, he joked about the preponderance of Yoders in each of the Amish communities:
"A fellow came into the bakery recently and commented about all the Yoders in this neighborhood," Andy wrote. "I told him, 'Yes, there are Yoders all over this area. In fact, I come from a family of 14 and every last one of them is a Yoder!'
"And in Indiana," Andy penned, now on a roll, "the area mailman was sick one day and his substitute was delivering mail on the route through the Amish community there. As he found mail for one Yoder after another, he was getting more and more perplexed.
"He kept wondering where all these Yoders came from! finally he drove by a big building with a sign on it that said, 'Yoder Hatchery'. 'Oh,' said the substitute, 'now I'm beginning to understand!"'
This is the kind of fun I find in many letters from Amishmen. It seems that almost every one of those heavy beards hides a broad smile.
*******************************************************
*******************************************************
A tribute to Ben Yoder by Ben's children
Our father, Ben Yoder, was born to Harvey and Laura Yoder in Middlebury, Indiana on October 13, 1913. He was the eighth of nine children. Dad loved to tell stories of his childhood and from those he and his brothers and sisters tell, it was filled with joy and happiness (and many pranks), even though the family was quite poor. The stories were told over and over again whenever the larger family would gather and they seemed to help hold everyone closer together.
When he was still a very young child, Dad's family moved to nearby Goshen where he attended the Eighth Street Mennonite Church and received twelve years of schooling. Many of the friendships Dad made during those years lasted his entire life and he was helping to make plans for his 60th class reunion when he died.
Prior to entering the service in World War II Dad married our mother Nellie (Hoogenboom). At this time he joined the Goshen Christian Reformed Church and became an active member. During the war he served in the Pacific Theater as a radioman with the United States Coast Guard. Upon his return in 1945 he completed his education at Goshen College. He also attended Ball State, Indiana State and Western Michigan University. At WMU he received his Masters in Education.
After having worked most of his adult life in the real estate business, Dad entered the teaching profession at the age of 39. He taught elementary classes for most of his career and also spent ten years as a school principal. He was always fondly thought of by his students and colleagues. All seem to remember his most for the countless gags and tricks he would play in the classroom or in the staff lounge. After his retirement he would occasionally run into former students on the street. His excellent memory always enabled him to recall the student. The students always seemed to remember some humorous incident of long ago that had helped to make their education an enjoyable experience.
Although Dad always seemed to be searching for a simple form of life, he had a wide variety of interests. He held a great love of reading from early childhood and his reading interests ranged from things of a spiritual nature to health, gardening, travel, short stories and novels. His favorite reading over the last ten years was anything related to Yoder family history. Dad was a charter subscriber to "Organic Gardening" and a firm believer in the principles expounded in this magazine. Each summer he would maintain a small backyard vegetable garden and for several years after his retirement worked a few acres of muckland which he had purchased from his brother-in-law. He loved sharing the bounty of his harvest with friends and family.
Many considered Dad a bit eccentric in matters of health. He had little use for doctors and, in fact, until just a few months prior to his death, had not seen a doctor in almost 30 years. He was a firm believer in "nature's way" of keeping the body in good health and relied upon home remedies to pick himself up when feeling something coming on. Many folks smiled at his daily habits of taking assorted vitamins and minerals along with a morning swig of vinegar and honey, but he credited such measures as going a long way in giving him a lifetime of good health. In twenty- five years of teaching he never missed a day.
Dad also enjoyed traveling and he and Mother made several trips to Europe to visit family members and to indulge in his favorite pastime of digging into family history. His travel in the Sates was limited mainly to visiting relatives or in making visits to subscribers and contributors of the Yoder Newsletter. He would talk at length about the people he met through the YNL and these new friendships became some of the most important to him in his final years.
Music also played an important part in Dad's life. For many years he sang in a local choir. A favorite form of relaxation was to sit at the electric organ in the family room and play whatever came to mind. Although he never played the organ in public, he was able to play beautifully. He could not read music but had a wide repertoire of songs he could readily play and seemed able to play anything by ear. His music was enjoyed by all who heard it.
Family was always very important to Dad. He cared for all of his children and made many sacrifices for us during our years of growing up. We all benefited from his practical jokes and many stories. His sense of humor and his unpredictable temper have provided all of us with our own collection of "Ben Yoder" stories. He greatly loved his eight grandchildren and they, too, will have lasting stories of their Grampy.
Without a doubt Dad's most enjoyable hours over the last ten years were those spent working on the YNL. His daily checks at the post office for YNL correspondence were as much a part of his routine as his vinegar and honey and probably did more for his health. He always found interesting things to relate to us from the correspondence. He would always try to reply as soon as possible and questions he couldn't he would turn over to Rachel Kreider who is a deep well of knowledge where Yoder history is concerned. Dad loved the times when he and Rachel and Chris would get together and work on the YNL. His work on the YNL was really a reflection of his generous self. He saw the paper as providing a service to many people and he never wanted to make anything off it. He took tremendous pleasure in all aspects of the paper. As mentioned above the contacts he made through the paper greatly enriched the last years of his life.
We know that the many readers of the YNL will be saddened by the news of Dad's death. Although he never had a chance to meet most of you personally we know he considered all of you his friends. We are thankful not only for the friendship he found in Rachel and Chris but also for the fact that they were so closely involved in the YNL and will be continuing it's publication.
******************************************************-
Dr. Richard Yoder
DALTON--Dr. Richard J. Yoder, 56, of Lake Road, died early Friday morning, Nov. 22, at Saint Thomas Medical Center in Akron, after a short illness.
Memorial services will be Wednesday, Nov. 27, at 11 a.m., at the Oak Grove Mennonite Church near Smithville, with the Rev. Jayne Byler officiating. Private family burial will be at the Oak Grove Cemetery at 9:45 a.m.
The family will receive friends Tuesday from 24 and 7-9 p.m. at Gresser Funeral Home in Orrville.
Memorial contributions may be made to the Central Christian High School, Kldron 44636; or to OrrVilla Inc., 425 OrrVill Drive, Orrville 44667.
Dr. Yoder was born in Orrville In 1925 to Glenn and Ruth (Breneman) Yoder. He was a 1942 graduate of Orrville High School and a 1945 graduate of Goshen College. He enrolled at the Northwestern School of Medicine in Chicago and received a medical degree in 1949. From 1953-55 he served in a medical volunteer serving in Puerto Rico and then served his residency at Akron City Hospital. Dr. Yoder entered a private OB/GYN practice in Barberton and the Barberton Citizens Hospital in 1957, retiring from the medical practice in 1985.
He was a member of the American Medical Association and the Ohio State Medical Assocition. A member and a past president of the Central Christian High Board of Education and a board member of OrrVilla Inc. in Orrville, also a member of the Ohio Inter Mennonite Council on Aging and the Barberton-Norton Peace Studies Group. He was a charter member of the Summit Mennonite Church in Barberton, where he served as church treasurer and a Sunday school teacher.
Dr. Yoder was an active member of the Wayne County and Ohio State Genealogy Societies and was awarded a Direct Descendent of Pioneer Families of Wayne County and the First Families of Ohio. He authored the "Christian and Catherine Bacher Yoder Family Genealogy" book.
A former resident of Barberton and Akron he has lived at Lake Harmony-near Walton for the past 15 years.
Surviving are his wife, the former Rosalie Hooley, and a loving family, Richard and Connie Yoder Jr. of Normal, I11., and Jeremiah Yoder of Dalton. Daughters and son-in-laws, Gretchen and John Christopher of Cobbs Creek, Va., Christina and Vic Buckwalter of Tanzania, East Africa, RoseAnn and Paul Wright of Walnut Creek, Calif., and Amy and Randy Murray of Orrville. His grandchildren, Sarah and Rachel Christopher, Dianna, Rochelle and Reuben Yoder, Benjamin, Niholas, and Molly Buckwalter, Annali and Saralyn Murray and Nigel Wright.
His parents and a brother Charles, died previously.
*******************************************************
Plans Announced At Reunion
HICKORY DAILY RECORD--Mon.August 17, 1992
Plans annouced recently at an area family reunion involve the production of a cookbook and the revision of a history of one of Catawba County oldest and most prominent family.
At the 42nd annual reunion of the Yoder family, which occurred at Zion Evangelical Lutheran Church south of Hickory, approximately 150 members and guests gathered for a covered-dish picnic in the church pariah hall. Dr. J. Larry Yoder of Rhyne College offered the invocation.
During the afternoon business meeting president Rachael Hahn Kenney of Charlotte discussed the proposed release of a Yoder cookbook to showcase the most popular recipes of the mid-18th-century family. The founder of the family in North Carolina was a Swiss immigrant, Conrad Yoder, who settled on the South Fork River in Catawba County approximately seven miles south of Hickory. The patriarch died sometime in the spring of 1790.
The moderator at the reunion later shared groundwork plans that could result in the development of a comprehensive history of the Yoder family. Along with Kennedy, an editorial committee was named which includes Neal D. Wilfong, Michael B. Huffman and Ted M. Yoder. The committee will begin work immediately to collect genealogical information on the various Yoder 1ines with a goal of producing a rewritten and expanded version of the clan's "History of the Yoder Family in North Carolina," published in 1970. The work was primarily the product of the late Dr. Fred Roy Yoder. While considered invaluable, the history traces only part of the descedants of John and David Yoder, who were the first- and third- born sons, respectively, of Yoder. In the intervening 20 years since the release of the history, the family discovered additional data on some of the other children of Conrad Yoder who moved to other states around 1815. The lineage of Jacob Yoder's descendants is now somewhat complete.
Conrad Yoder was also the father of Elizabeth, Elias, Daniel, Catherine and Adam Yoder.Elizabeth died in infancy and Catherine Yoder married into the Baker family. Among their lineal descendants are members are of the Shuford and Blackburn families. Elias and Daniel Yoder moved to Indiana with their older brother, Jacob. The youngest child, Adam, later moved from Catawba County and settled in Tennessee.
The Yoder editorial committee solicits family information from all Yoders, particularly those in the Unifour. Anyone with Yoder connections who believes that they may be descended from Conrad Yoder should contact the Yoder Family in North Carolina, PO Box 10281, Mountain View Station, Hickory, N.C., 28603. People with knowledge of family members who live outside the area should also contact that mailing address.
Members of an instrumental ensemble performing during the afternoon were Fred Lanning, Scott Peterson and Rachel H. Kennedy.
Former president Richard E. Yoder of Hickory recalled how in 1977 he and the late Norman S. Yoder revitalized the Yoder reunion the into the institution it is today.
Secretary Neal Wilfong commented on the family statistics, including 14 births and nine marriages during the last year. Among the 46 deaths noted in the Yoder and Reep lines was that of Ben F. Yoder, 78, of
Goshen, Ind. He was editor of the "Yoder Newsletter."
Displays featuring a variety of photos, news clippings and artifacts were provided by Mary Dellinger
Williams, the Rev. Robert L. Yoder, Neal D. Wilfong, the Rev. and Mrs. L. Clement Hahn and Michael B. Huffman.
Kendall Yoder of Largo, Fla., had traveled the farthest. Mr. and Mrs. Buford Yother of LaFayette, Ga., represented the family of Conrad Yoder's son, Adam.
The oldest members present were Buford Yount, 86, and Alma Baker, 85. Caroline Elizabeth Cook Wilfong, 4 months, was the youngest Yoder guest in attendance.
Special recognition awards went to Richard E. Yoder, Gerald M. Yoder, Helen Yoder Hahn, Neal
Wilfong and Mr. and Mrs Ted (Donna) Yoder.
A monologue given by Ted Yoder portrayed the character of Col. George M. Yoder, a farmer, sur veyor, and public official of the l9th century. A one-time county surveyor and county commissioner, George
M. Yoder died in 192gat the age of 93.
The Rev. and Mrs. L. Clement Hahn of Arden presented to their children, Rachael and Clement Jr., pen-and-ink sketches by Hickory native Jerry Miller. The sketches were of the Yoder Science Building,
which formerly stood on the campus of Lenoir-Rhyne College. Mrs. Hahn said their children were included among the four generations of the Hahn family who have attended the college.
****************************************************
Yothers family Holds Reunion (News Herald- Perkasie, Pa- Wed. Jul.8,1992
The Yothers family from Bucks County held its 69th Annual Reunion June 7 at St John s Evangelical Lutheran Church Picinic Grove Sleepy Hollow Road, Spinnerstown with 53 people present.
Dan Hunsberger, Perkasie president of the Yothers family awarded the following prizes: the oldest person present, Naomi Yothers, Souderton 87; the family with the most members present Garret and Laura (Yothers) Benner, Sellersville, nine.
The lady and man who celebrated their birthdays most recently were Arlene G. Yothers, Souderton, and Jonathan Kiefer, Perkiomenville.
Chad Benner, Perkasie, and Henry R. Atkinson, Quakertown were the winners of the traditional guessing game.
The immigrant of this family was Hans Yoder and 1717 is likely the year in which he settled at the Great Swamp near Coopersburg, Many of his descendants are buried in the Saucon Mennonite Cemetery Ccopersburg.
Garret Benner, Sellersville asked the blessing before the 5 p.m Pennsylvania Dutch meal .
The officers are as follows: President, Dan Hunsberger, Apple Butter Road, Perkasie, Vice President John M. Hunsberger, Smiths School Road, Perkasie; SecretaryTreasurer, Alverna (Yothers) Hunsberger, Apple Butter Road, Perkasie; and Secretary of Historical Records Zenta Benner Shwenksmill Road, Perkasie.
The next family reunion win be held the first Sunday in Jume,1993.
*******************************************************
---
Yoder Newsletter - © Christopher K. Yoder, 1992, 1994