YODER NEWSLETTER - Issue Number 41
P.O. Box 594, Goshen, IN 46527
April 2003

THIS ISSUE Contains:
_ A YODER AND "THE LOST BATTALION"
_ MELCHIOR YODER BREAKTHROUGHS IN GERMANY AND PENNSYLVANIA
_ YODER FAMILY GROWTH IN THE CENSUS
_ AAMG REPRINT AVAILBALE
_ ST. JODER'S DAY CARD CONTEST WINNER!
_ SAMUEL P. YODER FAMILY IN ILLINOIS
_ ANNUAL UPDATE TO YODER HOMEPAGE
_ HOUSE OF YODER NEARS COMPLETION
_ YODER REUNIONS
_ YODER CIVIL WAR DIARY ON INTERNET
_ ABRAHAM YODER FLAG DONATED
_ PHOTO CORNER--YODER PHOTOS WANTED!!!

A YODER AND "THE LOST BATTALION"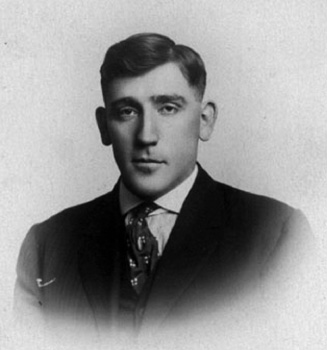 ROBERT S. YODER (1890-1947) (Provided by Jack M. Fosmark)
THE HISTORY AND THE MOVIE:
One of the many heroic tales of WWI is the story of "The Lost Battalion." For five days between October 2-7, 1918, elements of the 308th Infantry and of Company K of the 307th Infantry were trapped in a ravine behind enemy lines in the Argonne Forest, holding off assaults by superior numbers of German forces. On the 4th day, although surrounded by the enemy, out of supplies, and with 50 percent casualties, the major refused a surrender demand from the German commander. On the 8th of October, relief came. The survivors walked out of the ravine (which came to be known as "The Pocket") carrying their sick and wounded.
The Arts and Entertainment (A&E) television channel made a TV movie about this event in 2001, starring Rick Schroeder as the Congressional Medal of Honor winning Major Charles Whittlesey, leader of the American soldiers. One of the featured players is a "Bob Yoder," depicted as a "cowboy from Montana," a simple man who dies courageously during the battle. Last fall, as the YNL 40 was at the printer, we were contacted by historian Robert J. Laplander, author of the forthcoming book "Epic in the Argonne: A Comprehensive History of Charles W. Whittlesey and the Lost Battalion." Mr. Laplander was interested in learning more about "Bob Yoder."
THE HUNT FOR "BOB YODER"
A review of our files found no Bob Yoder, cowboy from Montana, who died during WWI. Mr. Laplander then checked his references further and found that perhaps he had been drafted from Minnesota. We found no Robert Yoder in Minnesota. But we DID find an internet site listing WWI service members from SW Washington state, which says:
"Robert S. Yoder-- enlisted in the service 1 Jul 1918 at Camp Lewis Wa. He was assigned to the 56th Co. 14th Battalion, 166th Dept Brigade, and was sent to Camp Kearney. Here he was transferred to Co. L, 160th Inf. and sent overseas 8 Aug 1918 on the Troopship Nestor. He landed in Liverpool England, and from there was sent to La Harve France. He served one month on M. P. duty, when the 40th Div. was broken up and used as replacements for the 77th Div. Yoder was then transferred to Co. E, 308th Regt. and served throughout the Meuse-Argonne offensive. On the front he acted as stretcher bearer from the front line to the first aid station. He was in action at the Meuse Argonne from 25 Sep to 11 Nov. He remained on duty in France until 19 Apr 1919, when he sailed for home on the U.S.S. American. He was sent to the Presidio where he received his discharge 23 May 1919."
Sounds good, but obviously this fellow didn't die. Mr. Laplander pointed out that he had found many inaccuracies in the TV script, which had been loosely based on a 1938 book by Johnson and Pratt, "The Lost Battalion." A further review of his materials found some evidence that Bob had been only wounded.
Who was the Robert S. Yoder? We quickly directed our speculation on the eldest son of David B. Yoder (YR12a391) and Judith R. Zimmerman, one Robert Stubblefield Yoder, born in Oregon in Nov. 1890. The Oregon Yoders have a very active group of family historians, and quickly we were in touch with Joel Daniels (see YNL 35) and Jim Yoder, and soon Jack M. Fosmark joined the mix with valuable data. His grandmother was the sister of Judith Zimmerman and he had been collecting information about the family. Initially, Jack felt that this Robert WAS NOT the one we searched for. He reported "Robert was a school teacher, probably born on Judith's inherited farm a mile north of Needy, Clackamas County, OR." He also provided the featured portrait from his mother's family materials. Joel Daniel's reported that Robert S. Yoder had been his mother's school teacher at Rural Dell, Clackamas County, Ore. Jack was told that Robert was eventually a principal and teacher in a school somewhere up in Washington state. Jack also had information about the wife and children, and immediately sent off an email query to a daughter Eileen (Yoder) Schneiter of Anchorage. She confirmed that her father had indeed served in WWI, but had NOT been wounded and she and Jack were both unconvinced that Robert S. had anything to do with "Bob" in the movie.
Robert Laplander, and the YNL, however had been convinced. Laplander wrote:
"I did a little research of my own after I received your news that Yoder was not killed. The information I had at first turned out to be exaggerated. He was only wounded, and the man who saw him carried out of the pocket on mid-day October 8th did not think he would make it. He gave the information to the men who did the 1938 book, who then included that he had in fact been killed without researching the story further. Hence his inclusion on the list of the dead."
"As for his daughter saying that he was never wounded or in the hospital, there were a large percentage of men who were in 'the pocket' who were not wounded in the classic sense that were carted out on stretchers the afternoon of October 8th. These men were simply too weak to walk after five days of no food, little water, and strained nerves. R.S. Yoder was originally listed as killed. I have an eyewitness who has him "lightly wounded" (I had to dig back in my records deep after having my memory jogged by Chris Yoder and remembering the quote from somewhere.). A light wound may well have gone unnoticed as far as paperwork is concerned, especially during the messed up affair of the Muese-Argonne."
"Unfortunately, almost all the enlisted men's records from the first world war were held at the St. Louis records center, which suffered a catastrophic fire in 1973 in which nearly everything was destroyed. The government kept no copies of anything, no microfilm, no microfiche, no nothing. All gone... So tracking down a service record is nearly impossible for an enlisted man of WW1. The information you provided is about all we are likely to get."
"I believe he fits my criteria and I can place this man there. Like I said, I was not there to see it with my own two eyes, so I can only go with what I have been left with by the guys who were there. And at least five mention a 'Bob Yoder', while one mentions a 'Bob S. Yoder' and another mentions a 'Rob't S. Yoder'. He was listed on a list I have seen (not the official army list) as 'R. Yoder' and having been killed, while one of the previous mentioned has him as "slightly wounded." He was also in the correct company within the 308th at the correct time. One man in a letter written in the '30s mentions loading rifles for him and another man to shoot with. I am convinced enough to put it in the book."
There things stood from last fall until January 2003 when Jack M. Fosmark received a nine-page hand written diary from Eileen in which Robert described his WWI military service which took him into the "Argonne woods." The circle was closed, and Robert was confirmed as being the man in question. I'd like to thank Jack, and Robert's daughter Eileen, for allowing us to reproduce this information below:
Diary Overseas--by Robert Stubblefield Yoder
Courtesy of his daughter Eileen M. (Yoder) Schneiter, Anchorage, Alaska. (Transcribed by Jack M. Fosmark, Salem, Oregon, January 2003)
We were first members of the 40th Division. Left Camp Kearny July 27, 1918 for Camp Mills New York; left Camp Mills to board the boat, which was our start for France, August 8, 1918.
Thirteen days on the deep blue Atlantic when we landed in Liverpool England around the 22 of August. From here we went to Winchester over King George's wagon road. Here we were allowed to rest two or three days. We visited the village of Winchester, feasting our eyes on the English lassies beauty??
August 24 taken to Southhampton and crowded on the Yale in which we crossed the Channel and landed at La Havres, France on the soil of Lafayette August 25, 1918. Sent to an English rest camp. God bless the English if they can rest in such a place. We did not. We remained over night when that never-to-be-forgotten order was passed down the line "roll your packs and fall in." Oh! Yes, that was a stiff march to and from the rest camp. First peep at the starving French who begged "bully beef."
August 26, 1918 boarded train for somewhere in France. Here we got our first impression of the transportation facilities of our most honored French nation. Box cars. On each one was written or printed 40 Homm 8 Cheveaux.
They dropped us at a God forsaken looking place, I have forgotten the name. We had breakfast in an open field after which we were marched 9 or 10 kilos to San Coius. We stopped here about 20 days and slept in some good Frenchmans cow barn.
We were ordered to Roll Packs and Fall in around the 18 of Sept. 1918. After which we had a forced march to the railroad station and boarded the train for a destination unknown, but which proved to be the front line.
The first boom of the cannon was heard when we unloaded at St (Men-a hold) Forgot how to spell the name of the station. We camped until our escort arrived who was to lead us to the 77th division and the Argonne wood, and so, as was always the case, we took up the march after night and marched and marched, when everyone was all in and could flop in the mud the Command halt was given and it did not have to be issued twice -- we all sank our weary bones in the mud and prayed for the end of the world. In about an hour the officer in command said, "Well, men we stay here tonight. Go into these woods and make yourself comfortable."
We found we were in a swamp and the rain which was falling made it very disagreeable for comfort. The next morning we woke up to the song of cannon balls. We remained here about two days and here we were put in with the 77th Division.
About dark everybody was informed to prepare battle pack and round about nine o'clock we began the march to the land of hell.
On the 26th of Sept. 1918 we went over the top for the first time at about 5 o'clock in the morning. Got lost and fooled around a bit but by 6 o'clock we were in the right trenches and the order was passed back to load and lock your rifle. A little further on the "blood curdling" word came to "fix bayonets." I thot we would just step out of the trench and begin to cut 'em to pieces but we never heard a shot until along about 10:30. From then on it was nothing but rain, mud, thirst, hunger, shoot, and kill until the end came on Nov. 11, 1918.
Immediately the Division was marched back to Orges France a distance of about 175 kilos and there trained, played war, and fretted. Always hopeing for the day that would take us home. The most repeated words were "when do we eat" and "take us home."
The next move was to Avesse and St. Owen. Many were the happy conjectures when we left Orges for we thot we were homeward bound, but slam! they unloaded at Avesse and there we stuck for another month or two. The one happy consolation was that every time we moved it brought us closer to a seaport.
About April 15 they loaded us on lories and took us to some town in France ... Sable ... and shipped us to Brest. On April 19 we boarded the good ship America and was homeward bound for sure. Landed in New York April 28. Went to Camp Mills and was deloused yet that night. Good eats, real eats, and watchful waiting.
April 29, 1/2 of company was given passes to the city of New York.
May 5 had Company picture taken at Camp Mills. Dinner at 11 o'clock. Left Camp Mills for New York - Went to Armory - Left our pack there for the parade.
May 6. Paraded down 5th Avenue New York from 14th to 116th street. Passed about 3,000,000 people. Grandstands on bout sides of street.
May 7. Left the Armory at 9 o'clock, the western boys for Camp Mills and the New York boys for Upton. Packs on our backs most of the time which weighed about 75 pound.
May 8, 1919, Laid around with nothing to do.
May 9. Rolled packs and were separated according to our camps of discharge. Laid around the rest of the day with suspense running high.
May 10 - Nothing doing. Laid around again still waiting for a train - No news. Along toward evening spirits sort of low.
May 11 Sunday - Cursed and waited but on no avail,
May 12 - Laid around and damned the Army.
May 13. Nothing to do but curse until we were black in the face.
May 14, Did nothing but lay around and talk about our hard luck for being attached to the 77th Division.
May 15 Rolled packs -- marched to the Garden City station and boarded train for the Presidio, California.
1. The 77th Division was the first complete drafted division to take over a sector of the front line.
2. They landed on foreign soil April 18, 1918.
[There was no paragraph 3. --Transcriber]
4. They had four replacements as follows: 1st By Casuals 2nd By 40th Division 3d By 76th Division 4th by 34th Division
5. 9611 casualties. 317 officers, 9294 men
69 officers and 1299 men were killed.
10 officers and 188 men died of wounds received in action.
69 officers and 1894 men were severely wounded.
82 officers and 2889 men slightly wounded.
71 officers and 2297 men were gassed.
13 officers and 696 men are missing.
3 officers and 31 men were prisoners in Germany.
They captured 750 prisoners. 13 Germany officers and 737 men of which 630 were taken in the Argonne Woods.
They captured 7600 rifles 18 pieces of Heavy Artillery 14 pieces of light Artillery 46 French mortars 277 machine guns
71 1/2 Kilometers of territory as follows:
On the Vesle-Aisne sector they took 12 Kilo.
On the Argonne sector they took 22 Kilo.
On the Aire-Meuse sector they took 37 _ Kilo.
They were 112 days on four fronts, Namely:
45 days Baccarat sector, a training sector
35 days Vesle sector
20 days in the Argonne drive
12 days in the Aire to Meuse drive
Twenty Division went over the top in the Argonne Sept. 26, 1918.
2750 cannon put over the barrage The Aire to Meuse cost the U.S. Gov. $350,000,000 for a barrage.
Commander of Division
(Divisional Commander) Major Gen. Robert Alexander.
Brigade Commander Gen. Price.
Commander of Regiment Col. N. K. Averill.
Commander of Battalion Major McMurtry.
Company Commander Captain Griffith.
Lieutenants Allen, Smith, and Lancy.

Survivors who emerged from "the Pocket"
The Lost Battalion got in the pocket on Oct. 2 and was rescued Oct. 8, 1918, after suffering from thirst, hunger, and lack of sleep. 550 men went in under the command of Charles Whittlesey (major). At the time of rescue 194 men were able to walk out. (Your dad was in this outfit) /End/
[The parenthetical comment in the last sentence above was apparently added later by an unknown person, perhaps author Robert S. Yoder himself or his wife Gladys Amelia (Bailey) Yoder, and appears to have been directed to their children. --Transcriber]
THE ROBERT S. YODER (YR12a391) FAMILY
Thanks to Jack M. Fosmark, we have some details on this Yoder family. And thanks to the photographs passed on by his mother Grace (Ritter) Fosmark, and some from Eileen (Yoder) Schneiter, we also have a trove of items to illustrate this history. Robert married Gladys Amelia Bailey and they had children: Eileen, Robert [II], and Wilma.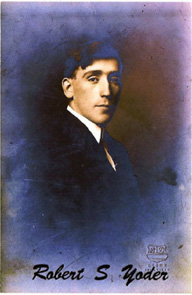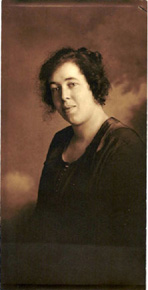 Robert Yoder Gladys Amelia Bailey
Jack writes: "Judy, as Judith [Robert's mother] was known, and her husband David B. Yoder lived on a farm opposite my grandparents Jake & Kate (Zimmerman) Ritter in the north Needy district, Clackamas County, Ore. It is there, one mile north of Needy School (now defunct), that Robert S. Yoder grew up. David was a son of a school teacher, Asa Yoder (1835-1905), first teacher in Evergreen School, forerunner of Yoder School which I attended. (See photo in YNL 35). Robert obviously inherited some of his grandfather's talent, for it is said that Robert ended up as a teacher and principal of a school somewhere in Washington state; I'm still seeking confirmation of that. I believe you will agree that early evidence of his literary talent shows up in his dairy."
"Judy and Kate, and their only brother Rudolph Zimmerman inherited sizeable farms from their parents' estate For the first 11 years of life, I resided near Yoder, about 8 miles distant from Needy, and for a bit over two years, 1939-1941, resided in Kate's house when my mother was caring for Kate who was terminal. During that time, I and my older brother Bob attended the one-room Needy School, the same one I suppose Robert Yoder attended. Two of Judy's grandkids [Dale and Kenneth Yoder], whose father Albert had taken over Judy's farm, walked the mile to Needy School with myself and Bob."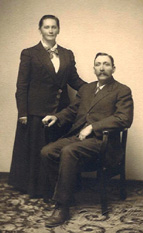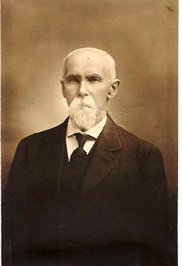 David & Judy Yoder Jonathan Yoder
David B. Yoder (1862-1928), husband of Judith R. Zimmerman (#6). David was a son of Asa J. & Catherine (Frey) Yoder. David's father Asa J. Yoder (1835-1905) was the ninth child and fifth son among the 11 children of Jonathan & Magdalena (Wagner) Yoder. Asa was the first teacher at Evergreen School, precursor of Yoder School, Yoder, Clackamas County, Oregon. David B. Yoder's grave was in 1972 at the instance of his son Clayton C. Yoder, relocated from Zimmerman Cemetery, one mile north of Needy, to a position beside the grave of his wife Judith in the Clayton Yoder Cemetery (old Aurora IOOF Cemetery) on Meridian Road, Clackamas County. Burials in Zimmerman Cemetery had ceased in 1941 (my grandmother Kate, Judy's sister, was the last buried), so Judith, who lived to be age 100, could not be buried there. Judith Ruth "Judy" (Zimmerman) Yoder (1871-1972), wife of David B. Yoder (#1). David and Judith were married on October 9, 1889, in Needy, Clackamas County, Oregon. They had six children in this order: Robert, Albert, Emma, Druce, Albert, Clayton, and Harry. Judith was the daughter of David & Elizabeth (Wolfer) Zimmerman, Jr. Judith's father was founder of the Aurora Colony Tannery and Zimmerman Cemetery, both located on his 1863-established farm one mile north of Needy, Clackamas County, Oregon. [Judy was as sister of my grandmother Catherine M. "Kate" (Zimmerman) Ritter (1862-1941). Kate was the only one of the six Zimmerman children to be born in Bethel, Shelby Co., Missouri; the others were born at Needy. -JMF] Robert's grandfather the Rev. Jonathan Yoder, is highlighted in the YNL 35 article, and thanks to Grace (Ritter) Fosmark we can present this excellent portrait of Rev. Yoder.
References: Jack M. Fosmark, 4578 Sunflower Way NE, Salem, OR 97305-2253. Tel. (503) 390-6196. E-Mail: jfosmark@attbi.com ; Robert Laplander: laplander@earthlink.net ; The TV Movie "The Lost Battalion" can be ordered through Barnes & Noble or other locations on the internet. For more historical data, see: http://www.longwood.k12.ny.us/history/upton/lost.htm or http://www.homestead.com/prosites-johnrcotter/lost_battalion.html
**********************************************************
THE FOLLOING IS ADDED TO THE INTERNET VERSION ONLY OF THIS ARTICLE:
DAVID AND JUDY: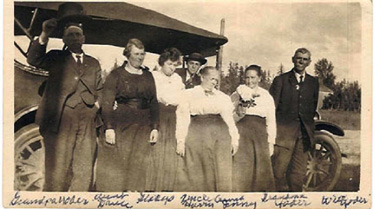 Courtesy of Eileen (Yoder) Schnieter, is a family group photo identified by Jack Fosmark as: "1. David B. Yoder (1862-1928), husband of Judith R. Zimmerman (#6). David was a son of Asa J. & Catherine (Frey) Yoder. David's father Asa J. Yoder (1835-1905) was the ninth child and fifth son among the 11 children of Jonathan & Magdalena (Wagner) Yoder. Asa was the first teacher at Evergreen School, precursor of Yoder School, Yoder, Clackamas County, Oregon. David B. Yoder's grave was in 1972 at the instance of his son Clayton C. Yoder, relocated from Zimmerman Cemetery, one mile north of Needy, to a position beside the grave of his wife Judith in the Clayton Yoder Cemetery (old Aurora IOOF Cemetery) on Meridian Road, Clackamas County. Burials in Zimmerman Cemetery had ceased in 1941 (my grandmother Kate, Judy's sister, was the last buried), so Judith, who lived to be age 100, could not be buried there.
2. Drucilla "Druce" (Yoder) McConnell (1893-1969), daughter of David & Judith. Druce was the wife of "Mac" McConnell, and the mother of Bessie Mae (McConnell) Omeg (1923-2001) and Francis Leroy "Mick" McConnell (1932-). 3. Gladys Amelia (Bailey) Yoder, wife of Robert Stubblefield Yoder. 4. Harry L. Yoder, son of David B. & Judith (Zimmerman) Yoder. Harry, who died December 9, 1975, was the husband of Helen McGee. 5. Jennie (Reagan) Yoder, wife of William H. "Will" Yoder (#7). Jennie and Will were married in February 1888, in Missouri. 6. Judith Ruth "Judy" (Zimmerman) Yoder (1871-1972), wife of David B. Yoder (#1). David and Judith were married on October 9, 1889, in Needy, Clackamas County, Oregon. They had six children in this order: Robert, Albert, Emma, Druce, Albert, Clayton, and Harry. Judith was the daughter of David & Elizabeth (Wolfer) Zimmerman, Jr. Judith's father was founder of the Aurora Colony Tannery and Zimmerman Cemetery, both located on his 1863-established farm one mile north of Needy, Clackamas County, Oregon. [Judy was as sister of my grandmother Catherine M. "Kate" (Zimmerman) Ritter (1862-1941). Kate was the only one of the six Zimmerman children to be born in Bethel, Shelby Co., Missouri; the others were born at Needy. -JMF] 7. William H. "Will" Yoder (1864-1941), brother of David B. Yoder (#1). Will was second born of the nine children of Asa J. Yoder."
**********************************************************
MELCHIOR YODER BREAKTHROUGHS IN GERMANY AND PENNSYLVANIA
JOHANN ALBRECHT JODER BIRTH RECORD
In the last issue, we announced a major breakthrough identifying the birthplace of the immigrant Melchior Yoder. In preparation for his 2002 "Heritage Tour", noted historian Dr. Don Yoder found a copy of a letter in his files from the late family researcher Karl Joder in Germany. This letter had been sent to officials of Weidenthal, and asked about a Joder family there, which included a son "Johann Melchior".
- - - - - - - - - -
The church birth records Karl cited, as corrected by review of LDS microfilm copies, show:
Side 12- 14 Jan 1725 born Johann Albrecht, parents Nickolaus Joder & Anna Catharina, "birth-witness" Albrecht Weilacher.
Side 14- 4 Jan 1728 born Anna Maria Susanna, parents Nickol. Joder and Anna Maria, witnesses Samuel Burkdorfer and wife, Susanna Johanna _____
Side 18- 12 Nov 1730 born Johan Jacob, parents Nickolaus Joder & Anna Catharina, witnesses: Johann Jacob Wittmer, Bestander zu ___ und Anna Maria, wife of Samuel Burkdorfer
Side 21- 15 Aug 1736 born Johann Melchior, parents Nickolaus Joder, Anna Cath., witnesses Johann Melchior Ackermann & Anna Elisabeth
From the confirmation records, we see:
Sheet 102 -On Easter in 1739 became confirmed Johann Albrecht Joder 15 years of age
Sheet 103 ­On Easter 1745 became confirmed Johann Jacob Joder 14 years of age
And on Sheet 108 we see ­ on 15 Apr 1739 dies Nicolaus Joder
- - - - - - - - - -
It is clear that these records refer to our "Melchior Yoder" (M) and his brother "John Jacob" of 18th century Pennsylvania. Can we fit this family into our Steffisburg Joder links? At this point we've found nothing to prove connections, but many things worthy of educated speculations. It is variously recorded, without documentation, in some of the writing of Karl Joder and Ottmar Jotter, that Niclaus Joder born Oct. 5, 1673, the son of Adam Joder and Barbli Ochsenbein, lived in Weidenthal in the Pfalz. It is further claimed that his descendents emigrated to Rumania were they founded the town of Weidenthal on the Black Sea near Constanza. This "Niclaus" would have been the brother of Oley Yoder immigrants, Hans and Jost Yoder. Could he have been the "Nicolaus Joder" who died in Weidenthal in 1739? Yes, and he would have been about 66 years old. Our Oley Hans and Jost Yoder both died in 1741. Would their brother Nicolaus have been a likely parent of the children born between 1725 and 1736? It would have meant that he was 52 at the birth of the first, and 63 at the birth of the last. This would be possible, but you normally would expect the father to have been a generation younger. You might also expect that children of an earlier marriage would show up in the confirmations before Johann Albrecht Joder does in 1739.
ANNA MARIA SUSANNA JODER BIRTH RECORD
c74- Adam Joder m 1/9/1671 Barbli Ochsenbein
c741- Hans b 3/10/1672 (OleyHans)
c742- Niclaus b 10/5/1673
c743- Barbara b 4/9/1676
c744- Jost b 10/5/1679 (OleyYost)
c745- Caspar b 9/9/1683
It is reported by Karl Joder that Adam Joder and his brother, Hans Joder (who married Anna Eicher) lived for a time after emigrating to the Pfalz, in the Branchweilerhof, Lachen-Speyerdorf, Mussbach district. (see map) This is not very far from Weidenthal. The Mussbach link may be VERY significant. During his early times of family research Dr. Don Yoder found an important link. In YNL 5 he writes: "On my first visit to the Berks County Courthouse at Reading I came across that curious German deed of January 31, 1771, dated at Neustadt in the Palatinate, whereby Johannes Jotter, eldest son of Nicolaus Jotter, a brother of Hans and Yost who had remained in Europe, transferred rights to some land in Pennsylvania to his first cousin, Johannes Jotter (Hans Yoder,Jr.) of Oley." "This Palatinate Johannes Jotter lived at Mussbach, now part of Neustadt." (see map). The land involved ("461 English acres") was acquired by Hans' (OH) and on his death came to his son Daniel by his second marriage. Daniel, died in 1747, and in turn left the property for use by his mother and widow during their lives, but after that to his uncle Nickolaus Jotter in Germany. Berks County Deed Book 1B, page 1, contains the transfer document, signed in Germany on Jan. 31, 1771, by which the son of Nickolaus, releases all rights to the property to Hans Yoder Jr (OH1). One of the witnesses to the transfer was "Jacob Jotter" (believed to be OY4, Jacob the 35 year old son of Yost, gone to Europe to arrange the settlement). The sum of 1000 gulden was accepted by "Johannes Jotter living in Mussbach in Upper Region Neustadt above Haardt in Churpfaltz, oldest son of the aforementioned Nickolaus..who 6 years earlier than Daniel Yoder died." This would have meant his father died about 1741.not an exact match to the 1739 date we have in the Weidenthal records, but certainly close enough to raise suspicions. The Weidenthal records show a "Johann Albrecht Joder" as the first son shown in the records, born 1725-and no sign of him in America! Would he, as oldest son, have inherited the bulk of the family property and have stayed in the Pfaltz? Perhaps. Could he have been the nephew of Oley Hans Yoder? It's possible, but the 'fit" is not a very neat one.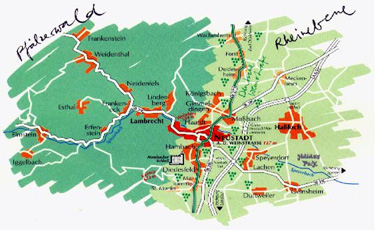 What other records exist for Yoders in Mussbach, and how do they relate? And how do they complicate matters for us? Well, slightly south of there at Lachen, Yost Joder appears in the Mennonite census of 1717. And in Mussbach itself, a Hans Joder is shown in these censuses beginning in 1724 (too early to have been Johann Albrecht Joder) and continuing through 1759 (too late to have been Adam's brother Hans b. 1750). Could he have been the same fellow as the 1771 Mussbach resident? Well, perhaps he disappeared from the Mennonite censuses because he left the Mennonites? Our 1771 fellow was an educated man with his own "seal" with which to stamp the transfer documentDoesn't seem a particularly "plain" kind of thing to do. So you can see that nothing is easy! And we still have many clues to unwind.
MEANWHILE, MORE LINKS ESTABLISHED IN THE US:
In YNL 16, we published the will of Daniel Yoder, written 20 Apr 1783, which establishes him as Melchior's cousin, defines a variety of additional family relationships, and leads to speculation about others. The will reads:
"Daniel Yoder of Upper Hanover (Montgomery Co.), but now of Hereford Twp. in the county of Berks, Batchelor" Heirs include his beloved cousin John George Lahr";"my fathers sister Mary Sturtzmann; Philip Lahr"; "and to Elizabeth, the wife of Davide Schultze" (the surveyor?); "to my beloved Cousins, John Jacob Yoder and Melchoir Yoder and John Herblein (sp); Magdalena Rauchin (sp); and Rosina Shelton (sp)". John George Lahr, executor. It was witnessed by Johannes Roeder and Abraham Mayer. Translation was by diarist David Shultz June 7, 1784. His diary, as you may recall, established a relationship between Melchior and his brother with Conrad Yoder, founder of our North Carolina line.
Our thanks to DelLynn Leavitt for research into the affiliated "Lahr" family which allows us to define all the relationships implied in that document, and to update the chart we made at that time.
. . . . . . . . . . . . . . . . . . ______ Yoder
. . . . . . . . . . . . . . . . . . . . . . . . m. __________
Mary Yoder . . . . . . . . ._____ Yoder . . . . . . .Nicholaus Yoder
m1. Henry Lahr . . . . . . . . . . . . . . . . . . . . . . .m. Anna Catharine ___
m2. Martin Sturtzman
. . . . . . . . . .. . . . . . . . . . .Daniel Yoder . . . .John Jacob . . .Melchior
.. . . . .. . . . .. . . . . . . . . . d. 1784 single .. . . .b. 1730 . . . . . . b. 1736

Mary Yoder's first husband, George Henry Lahr of Hereford Twp, Berks Co., Pa. died in 1739 leaving his widow and 7 children. These were: Barbara b. c1727 m?. Johan Michael Huber; Mary; Catherine; Philip b. c1734 m. Elisabeth Mack; Johan George Lahr b. c1736 m. Catharine Fink; Elisabeth b. 1738 who m. diarist David Schultze; and Magdalena b.c1739 who m. Heinrich Jacob Rauch 18 Dec 1758. By her second husband Martin Sturtzman (m. c1746), Mary has daughter Rosina who married Michael Shell. We now know that Daniel's heirs included his aunt Mary and her children (cousins John George and Peter Lahr, and Elisabeth Shultze, Magdalena Rauch, and Rosina "Shellin"), as well as John Jacob and Melchior Yoder. The one name we haven't identified is cousin "John Herblein (sp?)".
Looking at ages, it seems likely that Mary would have been born in the 1700-1710 period (first child 1727), that Nicholaus might have been a few years older (with first child 1725). You might assume that Daniel's father would have been about that same age, and that he himself would have been born around the 1725-1736 period as his cousins by Nicholaus and Mary Yoder Lahr. There certainly seem to be a generational difficulty in trying to link the Oley family with the Joders of Weidenthal. Perhaps someday we'll make the next step.!
**********************************************************
HOW HAVE WE GROWN? (Number of Families in Census Counts)
Name ......1790 ...1800 ...1810 ...1820 ...1830 ...1840 ...1850 ...1920 ...1930
YODER ...23........ 36....... 56 ........91 .....130...... 152..... 409 ...2652 ...11,719
YOTHER ...............1................................... 2.................... 12 .......66 .......274
YODERS................................................................. 2 ..........8 .......58 .......256
YOTTER ..12 ......................2 .........7 .........6 .........4 ...........5 .......61 .......201
YOTHERS ..................................................1 .........6 ...........7 .......54 .......195
IODER ...................2 ......................................................................16 ........35
YOTER ................................4 .......10......... 4....... 17 ........ 11 .........8 ........23
JODER ...................8 ..........1................................ 1 ............1 .........6 ....... 22
YOUTHER ........................................................................................2 ........21
JOTTER .................................................................................3 ........9 ........14
YODDER ....2 .....................2 .....................5 ......19 ............51.......10 .........8
IOTER........................................................................................................... 1
**********************************************************
The Yoder Newsletter- Founded 1983 by
Ben F Yoder (1913-1992), Chris Yoder & Rachel Kreider
FROM THE EDITORS
Chris Yoder, Editor, Battle Creek, MI; John W. Yoder, Circulation Manager, Middlebury, IN; Rachel Kreider, Senior Contributing Editor, Goshen, IN; Esther E. Yoder, Mail Manager, Goshen, IN; Donald Kauffman, YNL Homepage Webmaster, Edmonton, Alberta, Canada. Other Contributors: Richard H. Yoder, Bechtelsville, PA; Hubert A. Yoder, Charlotte, NC; Dorothy Yoder Coffman, Malvern, PA; Dr. Don Yoder, Devon, PA; Neal D. Wilfong, Cleveland, NC.
********************************************************** SEND YNL CORRESPONDENCE:
- FOR CIRCULATION ISSUES ONLY such as new or renewed subscriptions, changes of address, orders for back issues to: Yoder Newsletter, P.O. Box 594, Goshen, IN 46527-0594.
- ALL OTHER CORRESPONDENCE- Dealing with ancestral queries or contributions for future YNLs or archives (such as reunion notices, letters to the Editor, copies of Bible records or other historical information) to: Chris Yoder, 203 Lakeshire Rd., Battle Creek, MI 49015 (or by electronic mail to "75757.3371@compuserve.com").
**********************************************************
YNL PRICE INFORMATION $$$$ (Price unchanged since 1983!)
-The YNL subscription is on an annual basis-two issues for $3.
-BACK ISSUES of the YNL are $1 per issue.
**********************************************************
HARDBOUND YNL OUT OF STOCK
The last few remaining copies of the hardbound YNL Back-issues are exhausted. BACKORDERS are being taken (without deposits) and when a sufficient volume exists to launch a reprint, you will be contacted and offered a "pre-publication price" to help fund the basic costs of reprint. The Yoder Newsletter Issues 1 Through 25 - bound 240-page volume includes a topical index of major articles, and an "every name index". Send your reserve order to Chris Yoder at the email and regular address above. It may be several years until sufficient orders are assembled to launch a reprint.
********************************************************** YODER DATA ON DISK CHANGE MEDIA: As we have now exceeded 6 disks worth of data, we are changing over to using a CD for the Yoder Information. This will allow the expansion to include additional file types such as pictures and scanned images. The price for our "Yoder Data on Disk" will still be $10 (postage included). A reminder--- Anyone with internet access can get the files AT NO CHARGE by file transfer from the Yoder Newsletter Homepage (see the "ftp" directory at www.yodernewsletter.org)
**********************************************************
ORDER THE YODERS OF NC BOOK: The History of the Yoder Family in North Carolina by Dr. Fred Roy Yoder has been reprinted and is available once more!! Funds raised will be used to restore old Yoder gravestones and up-keep of cemeteries at Churches significant to the Yoder Family and the ancestors of the Author. Price normally $25 (postage included). (Special offer thru December 2002--$20.00 or 6 copies for $100.00 INCLUDING postage. Send checks to : "Yoder Memorial Fund" at: Yoder Family in North Carolina, c/o: Bill Yoder, 2707 Zion Church Rd. Hickory, NC 28602
**********************************************************
**********************************************************
NC YODERS UPDATE PROJECT CONTINUES!!
This multi-year project aims to bring the descendants of Conrad Yoder up to date and add lines from all over the nation. The help of all Conrad family members is needed to assemble current information. Noted historian Dr. Don Yoder has promised a major introduction to this revision on the history of the Yoder family. To help, contact: Bill Yoder, 2707 Zion Church Rd. Hickory, NC 28602 email: byodernc@yahoo.com or Chris Yoder at 203 Lakeshire Rd., Battle Creek, MI 49015. email: cyoder@tds.net .
**********************************************************
Amish and Amish Mennonite Genealogies Reprint
Gingerich, Hugh F., and Rachel W. Kreider. Amish and Amish-Mennonite Genealogies.*** 2d printing. Lancaster, Pa.: Lancaster Mennonite Historical Society, 2003. 858 pp. $70.00 (cloth). For mailed orders outside Pa., add $6.50 postage/handling ($76.50). For mailed orders in Pa., add 6% sales tax ($81.09). Credit cards accepted. E-mail: lmhs@lmhs.org Phone: (717) 393-9745 Fax: (717) 393-8751
**********************************************************
Letters to the Editor-
--Hi Chris, My Aunt Louise Yoder of Kingfisher, Okla. celebrated her 95th birthday Jan. 20, 2003. I am including a photo of her (left) and my mother, Emma (Yoder) Barnum, age 93 (right). The last surviving of the 12 children of Pearl Elliot Yoder (Con31614). ­Keith Barnum.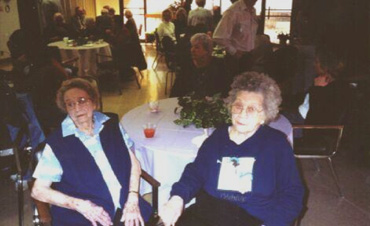 **********************************************************
ABRAHAM YODER FLAG DONATED- June 13, 2002
"Secretary of State Bob Brown anticipated Flag Day Thursday by hosting a reception featuring a 100-year-old American flag that was donated to his office. The flag once stood beside the desk of the man who held Brown's position a century ago. Brown's guests at the reception included Anne Yoder McDonald, the great-niece of Abraham Yoder, who served as Montana secretary of state from 1905 to 1911. McDonald, who lives in Tennessee, sent the flag to the Secretary of State's Office last year. Recognizing its historical significance, Brown had the flag meticulously restored and hung in a specially made case on the wall of his conference room, where the reception was held.
"Yoder, an Ohio native, came to Montana in 1882 and became a prominent Butte businessman. Like Brown, he ran for secretary of state as a Republican. He suffered from poor health and died while in office. Frank Bird Linderman, who served as Yoder's assistant secretary of state before gaining renown as a Montana author and historian, once described Yoder as a "warm friend." (see YNL 31)
" Following the reception, McDonald and her family planned to go to Butte, to visit Yoder's old stomping grounds, and to Kalispell to visit Linderman's grandson and granddaughter, Jack Waller and Sally Hatfield."-copied with permission from Press Release
**********************************************************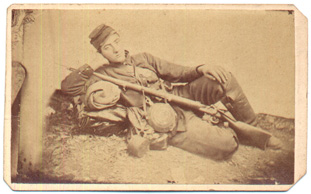 SENECA YODER (OY434a) GAR 128th Reg Co H MIA Chancellorsville 5/3/1863 m by Rev Augustus Herman 9/9/1865 Sarah Ann (Henrietta) Heister (4/4/1845-2/1/1938 St John's Reformed Ch, Kutztown). "A photo of a union soldier in uniform reclining with his rifle, canteen, bedroll, cup and other necessities of the period. Taken by Chas. A. Saylor, S.E. Corner Sixth and Penns Sts., Reading, PA. His wife was Sarah Hiester - Yoder who m. James Keller of Topeka, KS after her first husbands death. Seneca Yoder born Nov. 30, 1848 and died Mar. 17 1872 at 24 yrs old. All this information is written on the back of the photo. Mr. Yoder gave this photo along with a handkerchief and a pin-back button to a lady known as ' Grandma Clauson Jones. "Grandma Clauson-Jones Hanky over About 75 or 80 yrs old. Given to her by a Union Soldier in Civil War for letting him sleep over. Had big bags full of nice things. Some one she knew. "
**********************************************************************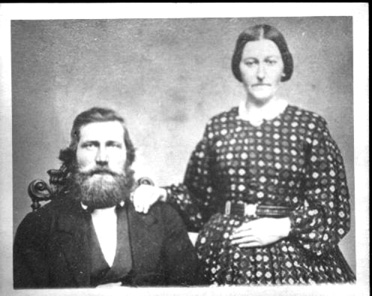 YA14-Andrew Yoder b 10/16/1825 "on the ocean" d 8/18/1918 (8/5/1928 per Mishawaka Enterprise) and his wife Nancy Klingaman who he married in 1849. Nancy went to help neighbors stricken with Diphtheria, caught the disease and died in a single day in 1864-Thanks to Pierre Stephenson Ocean Park, Washington
***********************************************************************
************************************************************
ST. JODER's DAY CARD CONTEST WINNER!
Congratulations to our St. Joder's Day Card contest Angela Ann Yoder (YR2354681151). Her original art will be used for the 2003 St. Joder's Day Card and will be available for download from the Yoder Homepage as both a mailed card, and an "e-mail" version. We'll continue to accept other submittals and may post additional ones for use during August 16th St Joder's Day celebrations. The cards and instructions on how to use them will be available by early summer at the Yoder Homepage ( www.yodernewsletter.org ) .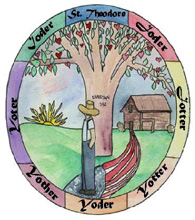 Angela reports "The design was inspired by stained glass, which I have looked at a lot since I am Catholic. I wanted to visually link us all back to that special person we can all trace ourselves to; that at one time he was starting over with his family, and I feel I can relate to that, too. The circle represents all of us as a family, no matter how our last names are spelled. I am reaching back to the past to understand myself, my Amish heritage, starting over, and keeping Faith."
Angela returned to school after working in the food industry for 11 years and graduated in '02, at the age of 35, from The Evergreen State College with her second B.A., in Visual Art. She is working at a local theatre company, Harlequin Productions, as the Props Mistress and have helped in other capacities with set painting and spotlight operation. Her husband Craig Dickson who coaches Cross Country at Evergreen. They moved to Washington in '95 from Colorado. She is descended from Christian Yoder (YR2), "Red Jake" (YR23546), her Grandfather was Jacob N. (YR23546811), and her father is Elmer Jay (YR235468115).
**********************************************************
**********************************************************
THE SAMUEL P. YODER FAMILY IN ILLINOIS
-by Wilda Yoder Kennedy (wkennedy@mtco.com)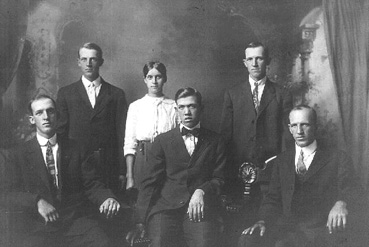 EDWARD, WILLIAM, ELIZABETH, CHRISTIAN, DANIEL, & JOHN
Samuel Peter Yoder (YR23b443) was the first of our family line to be born in Illinois, near Morton in Tazwell Co., in Nov. 3, 1859. He was a son of John B. Yoder who was born in Wayne Co., Oh., on Sep. 11, 1834. John's father was peter, a son of Solomon whose father was Christian Yoder II of Somerset Co, Pa. This Christian, born 1728, was the son of the Christian who came over on the ship Francis and Elizabeth in 1742.
We do not know why John B. decided to move to Illinois, but his parents had died and there was much immigration into the central Illinois area. Shortly after he arrived from Ohio, he married Elizabeth King in 1856. They farmed near Morton but the land was poor and John supplemented their income with carpenter work. Thirteen children were born to this union, one of whom was our grandfather, Samuel Peter Yoder. Many of John's and Elizabeth's descendants have remained in the area, and John and Elizabeth are buried in the cemetery in Morton. The family were Apostolic Christians.
Samuel married Mary Naffziger in 1883 and they lived for a few years on a farm near Morton where their first four children were born. They moved to a farm northeast of Fairbury in 1892 where five more children joined the family. Samuel also did carpentry in addition to farming. In 1916 Sam and Mary moved into a large white house in Fairbury. Their grandchildren loved to visit there and some of them stayed with Grandmother and the two unmarried aunts while attending high school. Katie and Lizzie didn't marry and stayed home with their parents. Samuel and Lydia died in infancy, but John, Will, Dan, Ed and Chris remained close.
Our father, William Yoder, married Marion Goodale in 1915 and in later years farmed near the family fram not far from the Vermilion River in Pleasant Ridge Twp. We have kept in close contact with the cousins in the family. For a number of years we have held the Samuel Yoder Reunion in and around Fairbury.
**********************************************************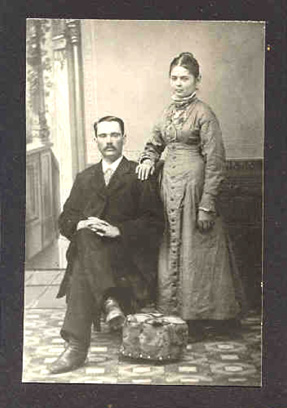 "This is the wedding picture of Jonas H. (1858-1894) and Mary A. (Kauffman) Yoder, my great-grandparents. Jonas was the son of Henry J. (YR234b2) and Mary (Kauffman) Yoder. Jonas died of lung fever at the age of 35 years near Middlebury, IN, leaving his wife with 5 children."-contributed by Elaine Hooley
*******************************************************
**********************************************************
ANNUAL UPDATE TO YODER HOMEPAGE
YNL Webwonder Don Kauffman has completed the annual data updates to the Yoder Homepage. The update includes changes to 38 of our master files made over the past twelve months, a NEW presentation of family descendant charts, and for the first timea section containing PHOTO ESSAYS and collections we'll keep adding more as long as space allows: Misc. Photos from the Amish Yoder Line ; Photo's from the Line of Conrad Yoder of North Carolina ; The John S. Yoder Home opens ; Yoder Family History - Misc Yoder Items ; Yoder Hill Inclined Plane ; Amish Cemetery in Stark County, Ohio ; A Museum of Various Yoder Commercial Products ; Concord Church Cemetery in Knox Co., Tennessee ; The Yoders of Yoder, Oregon and their Amish Mennonite Connections ; and Yoder Heritage Tour to Europe - photos . Visit the "What's New" link from the YNL Homepage: www.yodernewsletter.org .
**********************************************************
House of Yoder Nears Completion
The House of Yoder, a reconstruction of a 1750-era colonial style house in Grantsville, Maryland is nearing completion. The house is dedicated to the preservation of the Yoder family story and heritage for all Yoders. Over the past year the heating has been installed as well as the finishing of the interior walls on the upper two floors. This spring the interior walls on the first floor are being completed. Floors are being finished and lighting options authentic to the time period are being explored. The house is located on the grounds of the Spruce Forest Artisan Village/Penn Alps in Grantsville in the mountains of western Maryland. Hosts are available on Saturdays from late spring through early fall to show the house to visitors. It is open at other times by appointment. The house will be open from July 11-13 during the Grantsville area Summer Festival and then again the second Saturday on November (November 8) for the annual meeting of the House of Yoder. There is an ongoing need for volunteer help and financial support to complete the house and ensure ongoing programming. Information regarding annual memberships and ways that Yoders throughout the world can support this project are available by contacting Lonnie Yoder, 1066 Smith Avenue, Harrisonburg, VA 22802 (phone-540-432-6467 or email ltbyoder@adelphia.net).
**********************************************************
OVER 62,000 VISITS TO THE YODER HOMEPAGE!!!
****************************Queries************************
The YNL will publish Yoder related inquiries or exchanges at no charge. Please limit as possible to include a full return address. All inquiries are checked against our records to see if we can help too. If you receive added info, please share it with the YNL for our files. Send Queries to: Chris Yoder, 203 Lakeshire Rd., Battle Creek,Mi 49015 or email at 75757.3371@compuserve.com.
**********************************************************
Info. wanted on "NANCY YOTTER' b.abt 1853.uk d. 1885. m. 'ARCH NELMS' b.1842 d.1888. All Mayes Co Ok. ARCH & NANCY both died at a young age,there children were put into a Indian orphanage 1888 in Pryor Creek Mayes County Ok. My ggrandmother, Ibbie Nelms, doesn't list a Nancy as a sibling. She list a Na-dy, no sex stated on her Miller Appl. #7506. Drennen Roll, grp # 41,list Oo-ye-tah ; Ol-kenney, w.; Qua-tey d; Rachel d; Anney d; Lewis s; Allen s; Ibbie d; Na-dey s. I have just started on the Nelms side of my family, so not too familiar with it. Contact: Noah Falling, falling@tah-usa.net
**********************************************************
Am interested in contacting the Kathryn Yoder who compiled the "Christian Yoder Record" (Christian Yoder m. Mary Sommers-YR1462). Or are there heirs with access to her genealogy records and willing to help me in researching my family? If so, please contact me at the following: Kenneth Yoder, 7528 Dover Zoar Road NE, Dover, OH 44622 or email address kenjoy_yoder@msn.com.
**********************************************************
ORIGINAL CONRAD YODER CENSUS RECORDS CHECKED
"I have long suspected that the Catharin 'Goder' in the published 1790 Lincoln County, NC census was really Catharina Yoder. I just had a chance to check a scanned image of the handwritten original. Unequivocally, it is Yoder, not Goder. All the uppercase Gs on the same page are very different from the upper case Ys.
---Best Regards, Ray Yount..Oct 2002
**********************************************************
PHOTO CORNER--YODER PHOTOS WANTED!!! We are continuing to collect family photos. Practical limitations on our web server will limit what we can display there, but the capabilities to assemble and include data on a CD ROM are significant. We'd like your help in beginning to build these pictorial files of families. If you have access to scan photos and then email them to me at the following address: 75757.3371@compuserve.com .
For now I'd like to limit things to pre-1920 Yoder family group photos, photos of individual Yoders who may have been born before 1860, or photos of pre-1830 Yoder homestead structures. Include with your photo a short paragraph of narration.
**********************************************************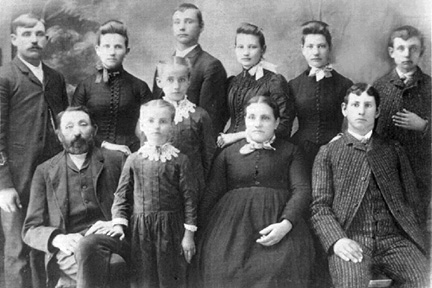 SOLOMON YODER FAMILY (YR23b45) Photo-circa 1880s: Solomon Yoder (1836-1914), Elizabeth Stutzman Yoder (1843-1916), Theodore Yoder (1863-1920), Emma Yoder (1867-1967), Fanny Yoder (1869-1962), Oliver Yoder (1873-1946), Mary Yoder (1874-1962), Frank Yoder (1876-1941), Jonathan Yoder (1878-1964), Addie Yoder (1880-1964), Lulu Yoder (1882-1973).(Two missing children had died.) ---Submitted by Jim Yoder (YR23b45651) Redwood City, CA
**********************************************************
**********************************************************
YODER PASSINGS:
--Rueben Hubert Yount, 96, of Hickory, died Jan. 12, 2003, at his residence. Born July 13, 1906, in Catawba County, he was a son of the late Perry L. and Anna Propst Yount.
--Maynell Burris Yoder, 85, of Hickory, d. Jan. 20, 2003. Survived by husband of 63 years, Gerald M. Yoder, son Ted M. and daughter Joyce Yoder Cockman.
--Frank Yoder (son of OH134149- Frank Yoder) passed away on Dec. 14, 2002. Buried in Owensville MO on Dec. 18, 2002. (His brother Allen Artman Yoder passed away last year.)
--Raymond J. Yoders (M264c3) of Washington, PA, farmer, timber
dealer and highway worker, died 6 Jan. 2003, aged 96 years.
--Irvin Thomas Yoders, Jr. (M252313) former deputy sheriff of Greene County, PA, died 28 Aug. 2002, aged 64 years after a long bout with lung cancer.
--Ruby Hunt Yoders, wife of Marion Martin "Ted" Yoders, (M25249) died 26 Mar. 2002, aged 78 years, in Waynesburg, Greene County, PA.
--Cindy Podaril, 44, gdau. of Fred (Fritz) Yoder (YR23b4468)
--Ivan C. Yoder, 92, died Jan. 31, 2002, Berks Co, Pa (s/o OH14526a)
--Frances V. (Yoder) McDonald, 86, d. May 25, 1902, (OH1452919)
--Glenn F. Yoder, 68, Zionsville, Pa. d. Jul.22, 2002, s/o Roman and Marie (Moyer) Yoder, active member Oley Yoder Heritage Assoc.
--Chester H. Reed, 89, Valley View, Pa., died Jan. 30, 2003, Son of Estella Mae Yoder OH1334215)
**********************************************************
JOHN S. YODER HOME: SUGARCREEK, OHIO FULLY RESTORED. BEGINS IT'S SECOND SEASON "OPEN TO THE PUBLIC" ON THURS. MAY 1, 2003. WILL BE OPEN THURS., FRI., AND SAT. AFTERNOONS FROM 12 P.M. TO 5 P.M. FOR GUIDED TOURS . WE WELCOME BUGGY LOADS, CAR LOADS AND BUS LOADS TO SEE OUR AUTHENTIC 1869 AMISH HOME. ADMISSION IS FREE, DONATIONS APPRECIATED. FIND US ADJACENT TO BEACHY'S CHALET RESTAURANT! AMISH HERITAGE FOUNDATION, BLAINE F. MILLER, SEC./ TREAS.
**********************************************************
REUNIONS
YODER OREGON: Annual reunions at Yoder, OR, began in 1936. This year's reunion is planned for Sunday, Aug. 3, 2003 at Smyrna United Church of Christ, 31119 S. Canby-Marquam Highway, Yoder, Oregon. The reunion starts with pot-luck dinner at 1 pm, followed by a program. Current births, deaths and marriages in the clan are reported and memorabilia shared about past years and generations. Founded by descendants of Bishop Jonathan Yoder [YR12a3}, the reunion always welcomes Yoder descendants from other lines. (point of contact: James Yoder jyoder@telus.net
- - - - - - - -
WINDBER, PA: Yoder Reunion Aug. 2, 2003- Windber, PA Sequoia Paviliion, 160 Recreation Rd Ave., Windber, Pa 15963. For more details contact: Barb Yoder, (814) 467-5132 (email: YODA12374@aol.com) , Ernie Yoder (814) 322-4337, Cathy Yoder (814) 536-8943, or Annette Oaks (814) 539-7085.
- - - - - - - -
HICKORY, NC: The 53rd Annual Reunion of the Conrad Yoder Family of North Carolina will be held on Sunday, August 10, 2003 at Zion Lutheran Church in the Mt. View Area of Hickory, North Carolina. Official details should be forthcoming from President Albert Yoder, Special Assistant to the President Ted Yoder or Secretary Neal Wilfong. The Board of Directors also approved an invitation to host another National Yoder Family Reunion here in August 2005. More information from:; Ted at tedyoder@yahoo.com ; Neal at Ndwilfongoptiker@aol.com ; Bill Yoder: byodernc@yahoo.com
**********************************************************
OLEY YODERS REUNION BERKS CO., PA
Just a note from the Oley Yoders with some information for the Yoder Newsletter. The Oley Yoders will be having their 2003 reunion on Saturday, July 19 at the Oley Fire Company. Registration will begin at 10:00 A.M. with lunch to follow at noon. We will have a program following lunch. We still have the wooden blocks with the silk screened replica of the Pleasantville Bridge for sale. They can be viewed on the listserver. If you would like information about the reunion or the bridges please contact Phyllis Yoder at 9 Yoder Drive, Shoemakersville, Pa. 19555 or at pry884@aol.com.
**********************************************************
YODER CIVIL WAR DIARY ON INTERNET
The Diary of "Jonah Yoder" is included in an internet collection for Franklin County, Pa found at:
http://www.iath.virginia.edu/vshadow2/cwdiariesbrowse.html
Jonah fought in the cavalry of the 16th Pennsylvania Regiment. His diary begins in camp at Potomac Roads and follows his regiment's movement throughout Northern Virginia in 1863. It appears to the YNL that this "Jonah" may have been "Jonas" of Somerset Co., PA who m. Mary Zerfoss (YR2395b- son of Samuel Y and Eliz. Lehman)
**********************************************************
2003 GERMAN HERITAGE TOUR CANCELED!
The 2003 Heritage Tour offered by Dr. Don Yoder has been canceled due to the world situation. Dr. Yoder does plan on scheduling a tour for 2004. It will feature special events and meeting with German and Swiss Joders/Jotters along the way. His tours offer an introduction to the European backgrounds of Pa. German culture. For further info. contact: Dr. Don Yoder, P. O. Box 515, Devon, Pennsylvania 19333 Phone: (610) 688-9185 Fax: (610) 989-0976
** ********************************************************


Abraham Yoder, Montana Secretary of State from 1905 to 1911.
************************************************************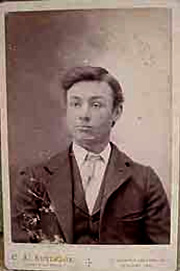 CAN ANYONE IDENTIFY THIS IRA YODER, WHOSE PHOTO WAS TAKEN IN KOKOMO, INDIANA?
---
Yoder Newsletter - © Christopher K. Yoder, 1992, 1994