OREGON MENNONITE HISTORICAL AND GENEALOGICAL SOCIETY, VOL. 15, NO. 1, FEB. 2002,
THE YODERS OF YODER OREGON AND THEIR AMISH MENNONITE CONNECTIONS
The OMHGS Newsletter is published biannually by the Oregon Mennonite Historical and Genealogical Society. General Correspondence to Margaret Shetler, 5326 Briar Knob Loop NE, Scotts Mills, OR, 97375
Part 3 Growing up with Yoder and the Yoders by Muriel Van Veen
INTEREST IS KINDLED
I grew up in the heart of Yoder, in the house where my great-grandfather Lee Yoder spent his last years, and around the corner from the home built for his family when they came to Oregon from Missouri. When their oldest daughter died in childbirth, Lee and Jacobine raised the baby - my mother, Doris. Although the old homestead was out of the family by my day, my sister and I were sometimes allowed to play in the wooded pasture or - best of all - in the wonderful playhouse Mother's father had built for her in the side yard. She gave me "Mahala's Journal" to pass the time when I was 10 or 12 years old, recuperating from some childhood disease, and a few years later I read the materials Perry Yoder had compiled about the early Yoders. Family pictures, letters and diaries, along with Mother's recollections of stories told by her grandparents, aunts and uncles, piqued my interest in Yoder history. Kindred spirits like Jim and Joel have helped to gather and expand this wealth of information from published and anecdotal sources, and to begin combining it into an integrated whole. In May of 2000 I was fortunate enough to be among the group of cousins who visited Missouri and Illinois on a Yoder heritage tour organized and led by Joel.
WEST TO OREGON
The Yoder migration began about 1873, when Elias' younger sister Catherine, with her husband Gideon Lantz, left Missouri and settled in Clackamas County. Over the next 15 years crops in the Midwest were disappointing, nor were the Yoders encouraged by their investigation of land in Nebraska and South Dakota. Early in 1887 Eliasí daughter Mary Schwartz wrote to her aunt, inquiring about opportunities in Oregon. Intrigued by her descriptions, the extended family started looking westward.
That summer Mary's husband, Joe, and her Uncle Asa Yoder's oldest son, Dave, visited the Lantzes. They were so impressed with the area that Joe secured an 80-acre farm and instructed Mary to sell the Missouri farm, pack up, and bring the family out to Oregon. By November, assisted by Asa's son Ed, she was able to make the train trip with her four young daughters (Nancy, not yet two years old). During a layover of several hours in Denver, they took dinner with their cousin "Snip" (Annie), Amos Yoder's daughter. A few weeks later Mary wrote to her brother John back in Illinois, although "Our house is not finished and is real cold with everything open that way,"... "I know I can be well contented here if things grow like they did this season." Dave Yoder also remained in Oregon instead of returning to Missouri. All that winter, letters making their way to Missouri contrasted the fertile Willamette Valley with the barren hardscrabble farms in Dade County. Early in 1888 Asa's son, Will, arrived with his bride, Jennie Reagan. By June, his cousin Jonathan had decided to see this Eden for himself. Borrowing $80 on a lot of feeder hogs, he left Barbara and the children to manage the farm while he spent about four weeks visiting the relatives and inspecting property in Oregon. Although it rained every day that month, Jonathan was not discouraged. He found 80 acres for sale on Cedar Creek, adjoining Joe Schwartz's property. When he returned to Missouri early in July, he instructed Will to purchase the property for him as soon as he could sell the farm in Dade County. That September brother Lee made the move to Oregon with his wife Jacobine, five daughters and three sons -- baby Joseph only two months old. (Their youngest child was born in Oregon, in 1891). They rented while a house was built for them about a quarter mile south of Jonathan's tract. Brother John P., a school principal in Illinois, contracted for land and started making payments about this same time, though he did not make the actual move until five years later. His property was southwest of Lee's, on the community's main north-south road.
The land at that time was largely covered with dense forest and thick brush. The only way through part of Will Yoder's property was on hands and knees. Land sold for about $10 per acre uncleared -- $15 if cultivated or planted to orchards. Men would get together in a "bee," to cut and slash second-growth timber, which was later burned. Mary Schwartz wrote optimistically, "At first I thought there was too much timber here, but I like it better all the time," and described "Fearful" trees, "150 feet high and as straight as an arrow" that were considered more of a problem than an asset. Some logs could be floated down Rock Creek for milling, but thirty acres of fine timber might be burnt to clear a pasture. A pine tree near John P. Yoder's house was felled, and some of the limbs salvaged for firewood, but the log -- 187 feet long, and nearly 6 feet in diameter -- was burned where it lay. "No wagon in the neighborhood could haul the logs, and no sawmill could saw them."
By September Jonathan had sold his Missouri holdings for $2,500 and directed Will to close the deal and begin building a house. Over the winter he chartered a freight car to transport household goods, livestock, wagons, farm machinery and sawmill irons. The emigrant car that left Kansas City in February 1889 was nearly filled by Jonathan and Asa Yoder's extended families. The freight car did have room for a keg of sauerkraut, but the boysí homemade wooden bicycle had to be left behind. They watched with regret as the station agent tossed this favorite toy aside, remarking, "This old ride horse, I schling it as far as I can!"
Jonathan's son Louis had the job of riding with the livestock and caring for them on the 2-week trip. His brother Perry, 13 at the time, later recalled a passenger sitting in the vestibule, blazing away at prairie dogs with a revolver as the train rolled across the plains. As the train slowed for steep grades in the Rocky Mountains, the boys jumped off to jog alongside -- then scrambled wildly to climb aboard again as it gained level ground and picked up speed. Upon reaching Oregon the first week of March 1889, Jonathan moved his family into their partially completed house on the north side of Cedar Creek. As soon as possible, trees were cut on the south side so the sawmill could be erected. By midsummer, powered by a 10 horsepower steam engine, it was producing lumber for the neighborhood. Some of the first timbers were used for a long bridge spanning the creek, replaced many years later by a culvert.
Asa's family stayed with Will until their own house was finished, on the northeast corner of [now] Schneider and Kropf Roads. Lee's home was so close, the family could hear Catherine singing as she did the chores. Before leaving Missouri Asa had sold a team of horses on credit; his descendants finally received payment about 65 years later. But, his favorite Boston Rocker, which was shipped west, never reached Oregon. He often remarked that he hoped someone was enjoying that comfortable seat.
In October 1889 Dave Yoder married Judith Zimmerman, whose grandparents came west in 1845 by wagon train to Dr. William Keil's Aurora Colony. In July 1893 John P. Yoder, his wife Rebecca and their four children left Illinois for Oregon. In the Panic of 1893, with depression abroad, crop failures in the Midwest and falling prices all over the country, John was forced to accept less than he wanted for his Marseille house. "Saving at every corner," they scraped together money enough to finance the trip and tide them over until the farm began producing. To help ends meet, Rebecca took a job teaching the Needy School. By Thanksgiving they were "pretty well supplied with eatables," and entertained more than fifty Yoder relatives of all ages in their "far from finished" house.
Unusually early fall rains in 1893 rotted potatoes in the ground and delayed plowing and sowing. Early the next spring, after record rainfall all winter, John "took cold from working in the wet and sleet." Never robust, he tried to continue working as usual and developed what he thought was pneumonia. The doctor called it "Malarial typhoid." John died June 1, 1894. For two more years Rebecca, who was only 35, stayed on and taught at Needy. Then she sold the farm and moved to Forest Grove where the three older children attended Pacific University. They were living in Oakland, where Jane attended nursing school, during the San Francisco earthquake of 1906.
Mary Yoder Swartz and her family moved from Yoder to the Carver area east of Oregon City in 1908. A letter to her niece Nellie in 1927, when Mary was 73, finds her busy with garden work. "I would rather hoe than mow. Then I had spading and planting to do, worked almost too hard at it for several days. I think that is a trait in our family to try to do too much. I know your father was that way too, and if John had not been so ambitious he might be living yet."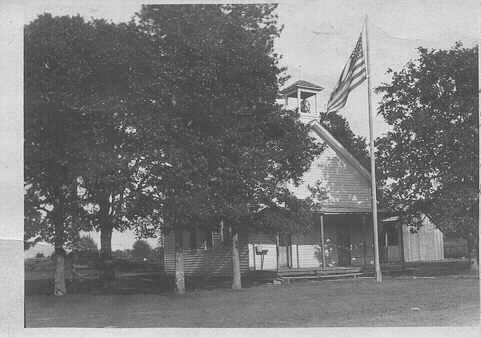 Evergreen School
EDUCATING THE NEXT GENERATION
In 1889 a one-room school was built on a site donated by John P. Yoder, with lumber furnished by Jonathan's mill. It was called the Evergreen school. Classes were held that winter with Asa J. Yoder as schoolmaster. Some of the young Yoders who studied at Evergreen later returned to teach there. In one early photo the teacher is Lee's daughter, Maude Yoder, and two of the students are her cousins Katherine and Florence. Until desks could be purchased, the children sat on benches at plain, home-built tables. Part of the wall was painted black for a chalkboard, and blocks of wood covered with sheepskin served as erasers. Drinking water was brought in a bucket from Will Yoder's farm nearby. An iron box stove in the center of the room provided heat. During February 1899, when eight inches of snow fell and the temperature dropped below zero, school was probably closed until the weather moderated. Lee's granddaughter, Gwendolyn Watson, who graduated from Evergreen in 1919, told of winter days too cold for regular lessons, when pupils huddled close to the stove, perched on large chunks of firewood, and sang to keep warm. All but Gwen, who had to accompany them on the parlor organ, far from the warmth! (Emerson Yoder, who spent his first three years at Evergreen, recalls the stove in his day as seeming far away, at the east or "eighth grade" end of the room).
Fifteen of the 31 pupils listed in an early commemorative booklet from the Evergreen school are members of the Yoder clan, as are the school clerk and two of the three board members. The 42 students in a 1924 school picture include six Yoder descendants -- four from the Rosa Yoder - Jim Watson family. In 1948 ten out of 48 students came from the Yoder line.
District 92 was enlarged in 1923, and the school - now called Yoder - moved into a new building. It was first occupied in January 1924 and served the district for more than 35 years. This was a two-classroom structure with basement, indoor plumbing and a wood-burning furnace. The teachers were responsible for stoking the furnace. As late as the 1940's, when the Yoder mill delivered a load of cordwood, classes might be suspended for an afternoon while youngsters were conscripted to "throw in" wood.
Through the years, school programs, graduations, potlucks and picnics were community events, not necessarily limited to families with children enrolled. Lee Yoder, who lived to the age of 93, enjoyed strolling over to the school, where he might entertain the students by reciting one of the many poems he had memorized. The PTA organized in the late 1940's sponsored a popular Halloween carnival, and a highlight of it's monthly meetings was the ultimate show-and-tell: reading aloud the unexpurgated, student written "Polecat News." A concrete-floored gymnasium was constructed in 1947.
In 1962 the Dryland, Eby, Rural Dell and Yoder schools were consolidated as Rural Dell District 92. For part of a year upper-grade students continued to use the Yoder building, but all students were transported by bus to Rural Dell after facilities there were enlarged. That location, in turn, was absorbed into the larger Molalla River District on July 1, 1993. The Yoder building was purchased by the Seventh-day Adventist Church, which continued to use it as a school.
BUILDING A COMMUNITY
In addition to custom sawing for farmers who brought in logs from their own timber, the Yoder mill initially ground grain every Friday. Most farmers brought their grain to the mill and had it ground on shares. Many times Barbara Yoder had extras for the noon meal if a customer's grinding wasnít finished. In 1887, when lumber prices fell to $5/M and there was little market even at that price. Jonathan acquired Will Yoder's kilns and turned to making bricks. When the mill burned in 1901, Jonathan's son Aaron, who had recently finished school at O.S.C., salvaged parts and helped his father rebuild, working in the old blacksmith shop that had survived the fire. A shingle saw and planer were added when the mill was rebuilt. Aaron took over full management of the mill in 1907, the same year he married Edna Conrad.
Yoder never had its own post office. Beginning in 1855, mail was received weekly at Needy, the logical market center between Yoder and Aurora depot. Anyone taking butter and eggs to "trade," on horseback or afoot, carried a flour sack to bring back mail for all the neighbors. In September 1903 a rural mail route from Hubbard was established, with Fred Palmer as the first carrier. Even when poor roads prevented most people from getting through, Fred never failed to make the trip. Later the Molalla post office sent a route in from the east, turning south at the crossroads and abutting the Hubbard route that extended north and west. Our house was on the Molalla route, but during my childhood occasional pieces of mail still came to a box at the corner, on the Hubbard route. My great-grandfather had retained it in protest, because the Molalla carrier refused to serve a "non-regulation" (house-shaped) box! Those rural carriers provided personalized service, selling stamps and delivering packages (though some were said to read postcards and magazines).
After the steam-powered threshing machine made its appearance about 1890, Asa and Lee Yoder acquired and operated one. Asa Yoder had the first telephone in the neighborhood. In a 1908 letter, my grandmother commented that her niece Dorothy "thoít it great fun" to phone her Grandma Watson. The automobile came to Yoder in 1913, when Ed Porter purchased a secondhand Buick for $185. He also assembled the first radio, a crystal set with earphones, in 1921.
Another fire struck the Yoder mill in April 1915. It was again rebuilt, once more using the original castings. When the mill burned for the third time in 1934, Aaron's son Nolan was ready to join his father in rebuilding the business. The mill switched from steam power to electricity about 1960 and is still in operation today, run by Aaron's youngest son, Russell, and his grandson David.
Together with the mill and the school, the Yoder store helped give the community its identity. When the Willamette Valley Southern Railway from Portland to Mt. Angel was under construction, Jonathan Yoder planned a market center in the area. He erected a store building on his son Albert's property and leased it to the Louis Wrolstad family, who opened their store in June 1915. Terms of the lease included no Sunday business and no punchboards. The store remained closed on Sundays for many years. Chickens, butter and eggs were taken in trade, with aluminum "store money" given if produce exceeded the purchases.
The first electric train came through Yoder in January 1915, providing both passenger and freight service. With five passenger trains running each way daily, residents of Yoder could ride the train to Portland, spend several hours shopping, and be back home around 6:30 PM. Students also took the train to Molalla High School. The Yoder Warehouse Company was formed the same year, to facilitate the handling and shipping of 50-60 carloads of potatoes that left the community each fall. Business prospered, and the warehouse was enlarged several years later. Until sub-zero temperatures in 1919 decimated local orchards, cider apples were also an important crop, with several loaded boxcars shipped to Portland every year.
Early roads were nothing but dust in dry weather and mud when it rained. The Yoder mill had furnished sawdust to fill the mud holes and slabs to form roadside sidewalks, from home to school and church. Now carloads of gravel were received on the railroad siding, and neighbors with teams and special wagons hauled it onto the roads. The first automobile in the area had arrived in 1903. Improved roads led to more travel by car and less reliance on rail passenger service. In a 1994 interview, Jonathan Yoder's grandson Nolan remarked, "The problem with the WVS was it was financially broke when it started and it was broke when it quit." The electric train was discontinued in 1925, and the first paved roads (concrete on one side only, thus going twice as far) were laid in 1925 and 1926. Electric lights were new in 1926, replacing oil lamps or carbide gas.
Ivan Kropf built a sawmill on his farm in 1934, and in 1941 he moved it to a new site on Rock Creek. In 1935 Tom Dybvad began dealing in eggs and poultry, with operations across the road from the store. I recall peering into the semi-darkness with a grade school acquaintance whose mother was one of the egg candlers working there. From such modest beginnings grew today's Willamette Egg Farms! Lorin Wrolstad brought turkey raising to the area in 1937, and other local farmers followed his lead. In 1945 Sanford Wrolstad added a warehouse to the store building and two years later, as postwar prosperity came to Yoder, he remodeled the interior of the store itself and opened another addition with frozen food lockers. That same year Vernon Sinclair opened the Yoder Garage just south of the store.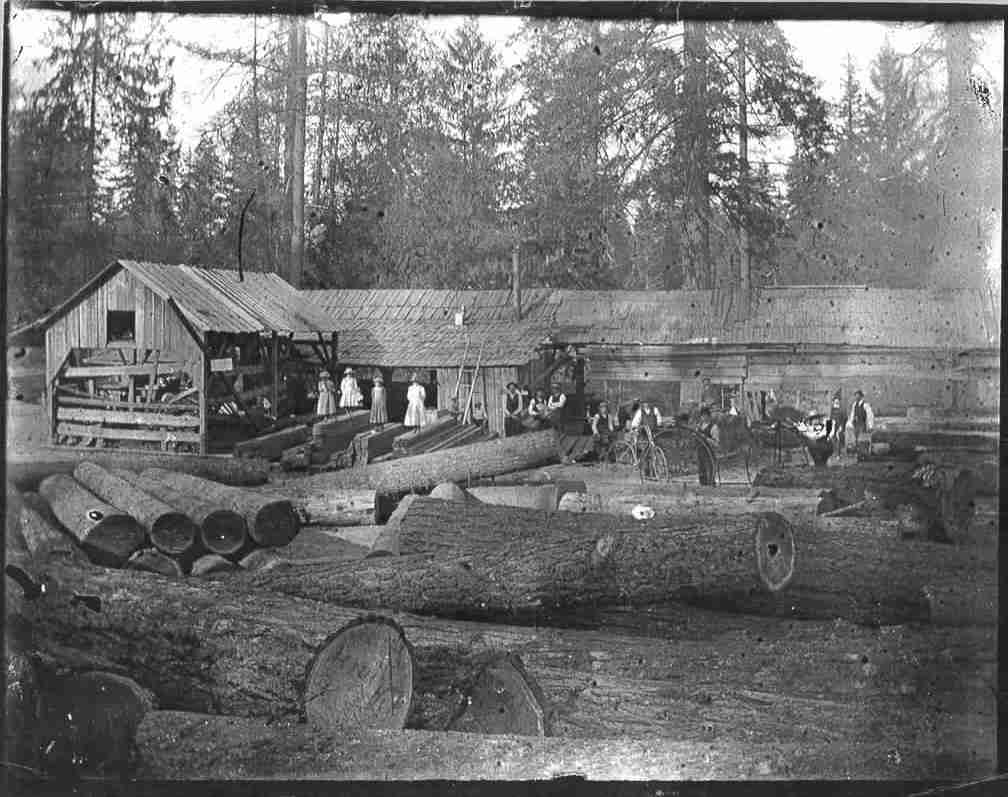 Yoder Mill
Yoder Store
HOUSEHOLD OF FAITH
After Christmas in 1889, a Sunday school was organized at the Evergreen School. Asa Yoder served as superintendent until his death in 1905, when his son, Will, succeeded him, serving until he died in 1941. Soon, plans were underway for a church, and in June 1890 a Presbyterian church was organized with twelve members. The Rev. Frederick W. Parker of the Cumberland Presbyterian Church in Woodburn preached the first Sunday of each month at both the Needy and the Evergreen schoolhouses. The two congregations decided to unite at a central location, and ground at this site was broken on January 31, 1891. In Asa Yoder's words, "The people were poor, but they went to work with a will. They cut the logs, and hauled them to J. S. Yoder's sawmill, then hauled the lumber to the place of building, and with their own hands, put up the building on a piece of land given for that purpose by Bro. Benjamin Rupe [Roop]." The building was sufficiently enclosed for the first service on April 5 of that year. The pews - still in use today - were constructed by "homemade carpenters" Will Yoder and his cousin Iddo Hein, of lumber sawed at the Yoder mill. During the first service, the Rev. Mr. Parker suggested that because the congregation was poor financially, but rich in zeal and spiritual life, it should be known as Smyrna (from The New Testament book of Revelation). Within just a few months, Rev. Parker decided to become a Congregationalist. Wishing to keep him as pastor, and because the Congregationalists were then the only denomination allowing women to hold church office, Smyrna voted to change its affiliation also. With a membership of 47, the church was dedicated December 1, 1892, with Rev. Parker and State Superintendent Rev. Cephas Clapp presiding. Charter members included Mr. and Mrs. L. D. Yoder, Mr. and Mrs. Asa J. Yoder, Mr. and Mrs. Joseph Schwartzentruber and Asa's daughter Mrs. Susan Yoder Henley Richey.
Catherine Yoder Lantz the earliest "Oregon Pioneer" of the Yoder family, was the first person to be buried in the Smyrna cemetery, in 1891.
A Ladiesí Aid Society was soon established to help maintain and support the church and its activities. As early as 1897, donations to the church treasury are recorded often just a few dollars at a time. Donations were also sent to missions in Armenia. During World War I, the society turned its time and effort to Red Cross work. Beginning in 1900 and for some forty years thereafter, Smyrna made a yearly contribution toward the support of an orphan boy or girl in India. In addition to regular church and Sunday school, visiting ministers were sometimes brought in for special evening prayer meetings and young people of the yoked Smyrna, Elliott Prairie and Hubbard churches sometimes held joint Christian Endeavor meetings or ice-cream socials. My grandmother's diary from 1899 mentions her cousin Rosa's departure by train for a Christian Endeavor convention (probably in Portland). Sunday school records show that 86 adults and children were present at Smyrna on Children's Day in 1909.
In the 1940's and 50's volunteers from nearby Mennonite churches held a daily vacation Bible school at the Rural Dell school and community hall, picking us up at home and dropping us off after the morning's activities. Probably none of us realized then that we were continuing a link with the Yoder family's early religious tradition. I do know it gave me a wonderful foundation of memorized Scripture! Most of the extended family was clustered along approximately two miles of what later became Kropf Road, or on nearby side roads, with the Smyrna church at one end, Evergreen school at the other, and the Yoder mill midway. When Asa's older offspring were already beginning to marry and start their own families, Lee and Jacobine and the Swartzes still had children under five.
Despite long hours and few laborsaving devices in those early days, people managed to enjoy life. There was a good deal of entertaining or just "dropping in" for a meal, especially among the young folks - many of them double cousins - living in such close proximity. Cousins Ida, Jane and Margaret were especially close, and a group of the younger girls - Nell, Rebekah, Maude, Nan and Lottie - were known as the "Foolish Five." Even after they married and had children of their own, they continued to correspond and visit one another regularly. Rebekah's daughter Ellen recalled picnics with all the families long after the "Five" were adults.
On rare occasions when there were no guests, Sunday dinners were still special occasions. A birthday, anniversary or holiday might be celebrated with an oyster supper, and little excuse was needed to whip up a batch of homemade ice cream or candy. For young people, "play parties" featuring folk dances such as "Skip to My Lou" or "The Jolly Miller" were popular.
Group singing around the parlor organ or piano highlighted evening get-togethers. Some even studied music by correspondence course. Ed, Wes, Ralph and Nellie Yoder all played the violin; Joe, the cornet. Wesí "graphophone" livened up a Fourth of July celebration along with plenty of fireworks and the ever-present ice cream. Authors, croquet, bean bags, Parcheesi and Krokinole were popular games. A Literary Society was organized at the Evergreen schoolhouse in 1899. Nor were the sciences ignored; a few weeks later, folks "sat up and watched for the meteors but did not see them." School held elaborate "exhibitions," complete with musical presentations and fan or flag drills.
A trip to the beach meant several weeks of camping, eating clams and mussels, collecting shells, fishing and paddling in the ocean. When the Chautauqua movement came to Oregon, family tents were pitched at the Gladstone campgrounds. (Sometimes setting up was easier said than done. In July 1899, after a four-hour trip to Oregon City, my grandmother recorded in her diary, "Our tent was not there... Father went to Portland to see about it. It had been sent. We girls slept in Mrs. Johnson's tent. Aunt Mary had sick headache"). As chores at home allowed, individual family members came and went, attending classes, lectures, gymnastic exhibitions, concerts and baseball games. The Yoders who migrated to Oregon were so closely related already, there was little of the intermarriage common in larger "Pennsylvania Dutch" population centers of the eastern and midwestern states. Asa Yoder's daughter Hattie did marry her first cousin Iddo Hein, the son of Asa's sister Anna. Because of the relationship Asa frowned upon the marriage, but the young couple obtained a license in Hubbard (Marion County), expecting to be married near Yoder. Yoder, however, is in Clackamas County, and the justice of the peace refused to marry them. So Iddo and Hattie took dinner with relatives, saddled horses, and rode back to Marion County for a civil marriage.
Lee's daughter Anna and her cousin Rosa married two of the Watson brothers, creating another generation of "almost double" cousins. In the next generation, Rosa's daughter Edith married a Willis Yoder, descended from the "YR2" family mentioned in Jim's paper. (A neighbor with "other Yoder" connections kept insisting, "If you go back enough generations, youíll find out weíre all cousins somehow." Jim's research seems to indicate that her statement was pretty accurate). On June 24, 1928, the first documented "Yoder reunion" was held in Portland's Laurelhurst Park, occasioned by the visit of I.H. "Ike" Yoder from Lilly, Illinois and C. C. "Kit" Yoder from Cotter, Arkansas. This was probably the last time they were together with their sister Mary Schwartz and brother Lee. For some years after that, and possibly curtailed by travel restrictions of World War II, the family gatherings were irregular, but the 1947 reunion at the Clackamas County fairgrounds in Canby was recorded as the "12th annual" such event. The 66th annual Yoder picnic took place the first Sunday in August 2001, here in Smyrna's Friendship House. Eighteen of the families on the reunion mailing list still live in the community, on Kropf and Schneider roads, although not all still have the Yoder surname. Most are descended from Jonathan Yoder, including great-grandson Paul Yoder, who owns and operates the store.
When I was in grade school, someone discovered Yoder, Oregon was actually listed in the World Book Encyclopedia atlas, with a population of ten. My high school friends from the "metropolis" of Molalla were amused by the single post near the store, with a "Yoder" sign mounted on each side. Current estimate is seventy-five persons, about one third being Yoder descendants. Although I havenít lived in Yoder in more than 40 years, I consider myself fortunate to have grown up here and still feel very much "at home" whenever I return.