YODER NEWSLETTER
ISSUE NUMBER 44 -- P.O. BOX 594, GOSHEN IN 46527
October, 2004
---
NOTE: this online version of YNL44 is broken up into sections, because of the large number of photos used to illustrate some of the stories. Navigation buttons are provided.

---
Click to go to each section ----- | YNL44.1 | YNL44.2 | You are in Section 3 | YNL44.4 |
---
MICHAEL YODER -- A NEW MYSTERY?

Thanks to Beulah Stoudt Follmer, a long-time officer of the Berks County Genealogical Society, we have been presented with a valuable clue to early colonial Yoder history! Ms. Follmer was referred to us by Oley Yoder activist Fay Yoder and sent in the following query to run in the October YNL:
Michael Yoder married Mary Young. They lived in Oley in 1759. Mary was a daughter of John Young of Lancaster County. Mary's sister Barbara was married to Frederick Moyer. Barbara & Frederick Moyer were my 4 X great grandparents. I'd appreciate any information on Michael and Mary Yoder.
This query interested us in several ways. We previously knew of no Michael Yoder among the Oley Yoder line of that time. The ONLY Michael Yoder in our records for the mid 1700s was a son of "Widow Barbara" Yoder. This Michael Yoder (YR16) is estimated to have been born in Europe about 1730. We wrote back telling her what we know of this fellow. We also mentioned that we had long assumed he was the Michael Yoder who is shown in the Oley township Tax lists as follows:
-1767 Mich'l Yoder, g.m. no acres 4 horses 3 cattle 3 sheep Tax 15
-1768 Michael Yoder, miller 1 horse 4 cattle Tax 4
The Amish Michael is known to have later lived in Leacock Twp., Lancaster County as of the 1790 Census, and then moved on to Mifflin County, where he died about 1799. The name of his wife is not known, but the Amish and Amish Mennonite Genealogies shows that his first children were born beginning about 1760.
In response to our quick follow-up Beulah added more information: "Frederick & Barbara (Young) Moyer. lived along the Blue Mountain in what is now Upper Bern Twp. They were out making hay on 6/28/1754 when the Indians rushed out of the woods and killed the father and mother. Injured son Frederick and the baby. The baby later died. The neighbors nursed Frederick back to good health. The Indians took the three oldest children along. Johannes Young, the father of Barbara Moyer and Mary Yoder, declined to be the guardian as he was too old. Michael and Mary Yoder also could not be guardian. Frederick was only two years old when the Indians attacked. Johannes Young lived in Lancaster County. Maybe that is why Michael moved to Lancaster Co., if he is the right Michael." The Upper Bern area was around where the "Widow Barbara" and her children had settled.
The actual court document, 7 Jan 1759, relative to Frederick Jr.'s guardianship says: To James Read Deputy Register for the Probate of Wills and Granting Letters of Administration within the County of Berks.
We John Young, GrandFather, by their mother's side, of the Children of Frederick Meyer late of Bern Township yeoman deceased; and Michael Yoder, who intermarried with Mary Young a sister of the said mother; send Greeting-Whereas the said John Young am too old and infirm to do any Business, and I the said Michael Yoder conceive my self and wife both incapable of taking upon us the Administration of the estate of the said Frederick Meyer's estate; which therefore would be a Burthen to any of us; We therefore hereby renounce all right that either of us the said John Young or Michael Yoder may or ought to have, or which the wife of me the said Michael Yoder may or ought to have to the Administration aforesaid; and do so before that the said Administration may be committed to Peter Pricker of Cocolico Township yeoman, Principal Creditor of the estate aforesaid. Witness our Hans & Seals this tenth Day of January in the Year of Our Lord one Thousand seven hundred and Fifty nine.
Signed: Johannes Jung, Michal Yoder
By a later document of March 1, 1763, John Young of Lancaster, grandfather of Frederick, petitioned the Orphan's Court of Berks County to appoint a guardian for his grandson. Casper Stump of Tulpehocken Township in Berks County was appointed as guardian. Frederick inherited the homestead, grew to manhood, married Catharina Marshall and had at least 9 children as named and recorded in The Berks County Courthouse "Will Book", Vol. 6, p. 435. Will approved 9 Jan. 1830.
Our Oley Yoder historian, Richard Yoder of Bechtelsville, Pa. reports that he has a record of a "Daniel Joder bapt Jul 16, 1766 s/o Michael Joder & wife with Adam Impotte as witness, Oley Hills Church." This is what is presently known as the "Hill Church" in Pike Twp., Berks County. Members of the Oley Yoder line were later connected with that church. He also found an un attributed notation at the Berks County Historical Society which reports a Michael Yoder m. a Mary Young (daughter of John Young) in 1750.
Either we have a new, previously unknown Michael Yoder of the Oley Yoder families who was born before 1739 (he was married as of 1759) and possibly before 1730 (if the 1750 marriage notation was correct) or we have the name of the wife of YR16! At this point, and due to the unattributed data added by Dick Yoder, we'd be inclined to believe we have a new member of the Oley line. In either event a break through. Can some of our Lancaster County experts find proof of the Young - Michael Yoder links in that county?
Beulah Follmer of Shillington, Pa. and her brother started the annual Stoudt Family Reunion 30 years ago, and it's been held ever since.

---
A CLUE TO THE IN-LAWS OF TOM MIX?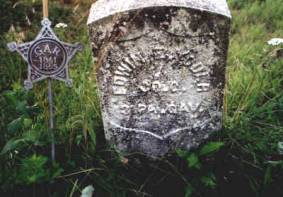 GRAVESTONE OF Pvt. Edwin E. Yoder, Co. C, 3rd Pa Cav,
at the Rumbarger Cemetery, DuBois, Pa.
In YNL 38, we presented the story of a John Yoder, first husband of Emma (Mix) (Yoder) Swartz, sister of the famed cowboy star. The records we had been able to find at that time did not allow us to identify the ancestry of this John Yoder, who died c1916-17.
Recently, some family items belonging to Emma and her mother were auctioned over the internet. Among these items were a number of deeds to local cemetery plots which had been handed down within the family. One such, measuring 14" x 8", grants a half a lot of ground in the cemetery of John Rumbarger and his wife, Eliza, of DuBois Borough, Clearfield Co., PA to "E. E. Yoder" for $10.00 on April 28, 1883. The lot was 12' x 16' (192 square feet).
It would appear reasonable to suspect that there would have been a connection between "Edwin" and "John Yoder" for this particular deed to end up in Emma's estate. So we ordered the civil war information for Edwin to see if it would give any hint of him having a son John. Unfortunately this resulted in nothing of value.
Who was the "Edwin"? A review of the Yoder Pa. census record for 1860 shows an Edwin Yoder as follows:
Joseph----Yoder-----N'mptn----Lower-Nazareth-710-
name-age--occupation-----birth-----cmts
Joseph----61---laborer---Pa---(V)
Elizabeth-55-------------
Edwin-----22---carpenter-
Again, unfortunately, this fellow is known as the son of Joseph Yoder and Anna Elizabeth Beisill, and he himself is known to have been buried in the Hope Cem., Hecktown, PA. The mystery continues.

---
The Yoder Newsletter- Founded 1983 by
Ben F Yoder (1913-1992), Chris Yoder & Rachel Kreider
Chris Yoder, Editor, Battle Creek/Saugatuck, MI; John W. Yoder, Circulation Manager, Middlebury, IN; Rachel Kreider, Editor Emeritus, Goshen, IN; Esther E. Yoder, Mail Manager, Goshen, IN; Donald Kauffman, YNL Homepage Webmaster, Edmonton, Alberta, Canada. Other Contributors: Richard H. Yoder, Bechtelsville, PA; Hubert A. Yoder, Charlotte, NC; Dorothy Yoder Coffman, Malvern, PA; Dr. Don Yoder, Devon, PA; Neal D. Wilfong, Cleveland, NC.
************************************************************
SEND YNL CORRESPONDENCE:
- FOR CIRCULATION ISSUES ONLY such as new or renewed subscriptions, changes of address, orders for back issues to: Yoder Newsletter, P.O. Box 594, Goshen, IN 46527-0594.
- ALL OTHER CORRESPONDENCE- Dealing with ancestral queries or contributions for future YNLs or archives (such as reunion notices, letters to the Editor, copies of Bible records or other historical information) to: Chris Yoder, 551 S. Maple St, Saugatuck, Mi 49453 (or by e-mail to "cyoder@tds.net"). NEW ADDRESSES!
************************************************************
YNL PRICE INFORMATION $$$$ (Price unchanged since 1983!)
-The YNL subscription is on an annual basis-two issues for $3.
-BACK ISSUES of the YNL are $1 per issue.
************************************************************
HARDBOUND YNL OUT OF STOCK- The last few remaining copies of the hardbound YNL Back-issues are exhausted. Send your reserve order to Chris Yoder (address above). It may be several years until sufficient orders are assembled to launch a reprint.
************************************************************
YODER DATA ON DISK: 35.2 MB (541 files) of Yoder data is now available on a CD-ROM. Included back issues of YNL text, census an county records, family group data and pictures and various scanned images. The price for our "Yoder Data on Disk" is $10 (postage included). Send to YNL address in Goshen.
************************************************************
ORDER THE YODERS OF NC BOOK: The History of the Yoder Family in North Carolina by Dr. Fred Roy Yoder has been reprinted and is available once more!! Funds raised will be used to restore old Yoder gravestones and up-keep of cemeteries at Churches significant to the Yoder Family and the ancestors of the Author. Price $25 (postage included). Send checks to: "Yoder Memorial Fund" at: Yoder Family in North Carolina, c/o: Bill Yoder, 2707 Zion Church Rd. Hickory, NC 28602

---
| | | | | |
| --- | --- | --- | --- | --- |
| | | Elijah D. Yoder, photo taken in Lindenville, Oh. He is believed to be YR2611335 (3/30/1866 Charm, OH-3/18/1932) m 3/20/1890 Sarah Miller res. Orrville, OH Mennonite | | Adam M. Yoder (believed YR16265)(1837(?8)WO-1914 EI) m. 1872 Goshen, Ind. Anna Honderich Mennonite |
---
Gene E. Yoder Week in Goshen, Indiana
Mayor Allan Kauffman declared the week beginning 26 June 2004 as "Gene E Yoder Week" in Goshen, Indiana in honor of his retirement as President of the much renowned Greencroft Retirement Community. Thanks to Alpha B. Miller of Goshen for passing along this news!
---
---
Click to go to each section ----- | YNL44.1 | YNL44.2 | You are in Section 3 | YNL44.4 |
---