YODER NEWSLETTER
ISSUE NUMBER 44 -- P.O. BOX 594, GOSHEN IN 46527
October, 2004
---
NOTE: this online version of YNL44 is broken up into sections, because of the large number of photos used to illustrate some of the stories. Navigation buttons are provided.

---
Click to go to each section ----- | YNL44.1 | YNL44.2 | YNL44.3 | You are in Section 4 |
---
LETTERS TO THE EDITOR-
A review of the Yoders Restaurant in Sarasota, Florida "Food is good...especially the pie. Very "homey" atmosphere...I guess what I'd expect. A much more commercial place down the road..."Der Dutchman" also good but kind of fancy compared to Yoders. Both usually have waiting lists to get in.--Donald Trew" trewd@hotmail.com
- - - - - - - - - -
A Yoder Disease- At the age of 19, my Achilles tendons became swollen at various intervals, making walking impossible at times. Later, lumps appeared on the tendons of my knee, elbow, and fingers. During that time, I visited a wide range of physicians, even having the lump on my elbow removed in 1961. In 1974, age 40, I suffered a heart attack. Ten years later, age 50, I had an artery opened with an angioplasty. Worsening angina caused my early retirement, in 1989, and a specialist finally diagnosed my condition as "Sitosterolemia.
My youngest brother died of a heart attack at the age of 17. My father's brother, John A. Yoder (YR2536132), suffered a fatal heart attack at the age of 34. In researching my genealogy, the researchers believe that the defective gene causing Sitosterolemia has come from the Yoder family. My father's (Jacob P. Yoder YR2536131) lineage goes back to the Widow Barbara Yoder, son Christian Yoder (YR2). My mother's grandmother's lineage (Sarah K Yoder YR 146253) goes back to the Widow Barbara's son Jacob (YR14 or "Strong" Jacob Yoder). In addition, my mother's grandfather's lineage (Siever S. Yoder YR26869) goes back to the Widow Barbara's son Christian Yoder (YR2)
For a person to have Sitosterolemia, a defective gene must come from both parents; therefore, it is conceivable that this rare disease was passed down through this genealogy. My mother's grandfather, Siever S. Yoder (YR26869) died at the age of 32. Could he have died of a heart attack and if so, did he have Sitosterolemia? We'll never know.
My reason for giving this information is in case someone else in this genealogy might have this rare disease and be battling high cholesterol without getting the proper treatment. If you or anyone you know has lesions on tendons or premature heart disease, you can receive help by calling Dr. Robert Shamburek at the National Institutes of Health, (301)496-1500 or writing to him at: Dr. Robert Shamburek, Heart, Lung & Lipid Institute National Institutes of Health, Bethesda, MD 20892. He can be reached via email at bob@mdb.nhibi.nih.gov Tell him you are related to Marian Payne and you'll receive immediate attention!! Thanks!--Marian Y. Payne: (I am 72, mother of a son and 4 daughters, grandmother of 9, earned 2 Master's Degrees, and taught elementary school for 20 years. I am enjoying a full, active and happy retirement. 3130 Lake Terrace Court, Richmond VA 23235, jampayne@peoplepe.com )
---

GENETIC DISEASE-DYSTONIA
Research group is conducting a study on a neurological condition called dystonia which may have an increased frequency in the Amish/ Mennonite population. Patients experience uncontrollable twisting, repetitive movements or abnormal postures and positions. This little-known movement disorder can affect any part of the body including the arms, legs, trunk, eyelids and even the vocal cords. Contact: Deborah Raymond, MS, CGC, Beth Israel Medical Center, 10 Union Sq E, Ste 5H, New York, NY 10003, Ph: 212-844-8713/888-228-1688, Fax: 212-844-8710, e-mail: draymond@bethisraelny.org

---

Great Baltimore Fire - Submitted by Donald Honeywell
The Maryland Historical Society in Baltimore City currently has a display commemorating the centennial of the Great Baltimore Fire of 1904 which devastated over 1,500 buildings and left 140 acres of the central business district of the City in ruins. This fire resulted in the national standardization of fire hose and hydrant fittings as many of the fire companies that responded from other towns and cities could not attach to Baltimore's thread patterns.
The display includes letters from various insurance companies,
some of which were bankrupted by the fire. One of these letters is by the American Home Life Insurance Company, 5th & G Streets, NW, Washington, D.C., dated March 1904. The letterhead lists C. T. YODER as Secretary of the Company. (Editors note: Major Charles T. Yoder was the subject of a feature article in YNL 18, Oct. 1991.)
YODER VIDEO NOW AVAILABLE ON DVD
"PILGRIMAGE OF FAITH", the wonderful video which describes the Joder/Yoder history from Switzerland to America is now available on DVD as well as VHS video! Price for either is the same $25 post paid. Order from Virgil Yoder, 110 Northumberland Rd., Irwin, Pa. 15642. PERFECT to show at your next YODER REUNION!
ABE S.YODER (YR257182) REUNION
It was a weekend rich in fellowship with each other and with the Lord. It was a high point for me to have my extended family gathered at a place that has had such a deep spiritual impact on my life through the years. I so appreciated Sanford's sermon on Sunday morning regarding a godly heritage and the importance of confessing secret sins, keeping roots of bitterness out of our families, etc. so that the blessing that this family has had through the years can continue. Rod Glick's testimony on Sunday morning touched my life as well. We truly do have a great heritage. It is incredibly humbling.
Friday evening was spent visiting with each other. Saturday after breakfast we had family introductions and pictures taken by families. We played a fun icebreaker game... Uncle Noah is still a newlywed after 56 years.... even though Aunt Amanda doesn't think so! We've had a few adventuresome people in our family who have gone white water rafting. The one who came the most distance was Glen and Salome Yoder from Phoenix, AZ!
Paul T. Yoder was next coming from Colorado! Saturday after lunch we had an auction that raised $4,100 and some odd dollars. Some items of interest were a friendship quilt done by Aunt Mary Peachey that brought $495 and was bought by her daughter Saloma. Daudy's spitoon, quilts, a bench that was given to Aunt Fronnie by her great-great grandmother ($100) and an antique butter churn. The highlight was the hymn sing after supper. The acoustics in the conference center just pulled the sing right out of a body! We sang for about an hour and then had special music by Uncle Abe and his sons. We also sang 3 songs in German. Sunday morning was special with my brother-in-law leading the service, Titus Yoder leading the singing and Sanford Yoder speaking. It was a great weekend! Many new friendships were forged and old ones strengthened. You don't want to miss the next one at all! When is it? Second Saturday of June, 2006. Thanks to one and all for making this weekend such a memorable occasion!
Rachel Shetterly rshetterly@adelphia.net
---
"A NEW ST. JODER STORY"
Thanks to Ben Yoder, an English teacher and self described "story teller and father of two", we are happy to present a brand new story of St. Joder. Ben cautions "Do not mistake it for anything claiming to be history. I've incorporated some historical details and tried to include some things from the paintings on the walls of St. Joder Kappelle, but it's mostly just my imagination." See the story and references at: http://www.yodernewsletter.org/ycards/storymenu.html You can reach Ben at: <benyoder@comcast.net>
---
NATIONAL YODER REUNION- AT THE HOUSE OF YODER SUMMER 2006. MAKE YOUR PLANS NOW.
---
****************************Queries*************************
The YNL will publish Yoder related inquiries or exchanges at no charge. Please limit as possible to include a full return address. All inquiries are checked against our records to see if we can help too. If you receive added info, please share it with the YNL for our files. Send Queries to: Chris Yoder, 551 S. Maple St., Saugatuck, Mi 49453 or email at cyoder@tds.net .

---
SMITHVILLE, OHIO YODERS??? I Would be interested in corresponding by email or letter with any Yoders in the Wooster-Smithville, OH area. My email address is tsyoder@verizon.net and my mailing address is 10 Hickory Crossing, Argyle, TX 76226

---
Jacob Shartle Yoder Family picture (code B4).. Standing: Ida Yoder Dietrich, Frederick Yoder, Minnie Yoder Wagner,
Amy Yoder Blatt. Seated: Helen Yoder Lesher, Jacob S. Yoder (father), Robert Yoder, Howard J. Yoder, Maria
Fisher Yoder (mother), Sarah M. Yoder.- contributed by Ms. Saranna Miller, Marietta, Pa.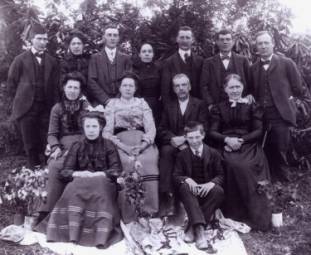 The Jonas Yoder Family of Somerset County, Pa. Jonas Yoder (YR2395b) (6/18/1844-6/17/1917) m 5/3/1866 Mary Zerfoss (.. 1847 P-7/30/1925) both are buried at the Rayman Cem, Church of Brethren. TOP ROW: Hiram; Elizabeth "Lizzie" Pyle; Samuel; Julia Ann Rayman, Cyrus; William, Joseph. MIDDLE ROW: Sarah "Sally or Sadie" Zerfoss; Kathern "Katie" Pile; Jonas (father) Yoder; Mary Zerfoss (mother) Yoder; BOTTOM ROW: Cora Zerfoss, Harry. ­ Contributed by Elwood D. Yoder, Friedens, Pa. (Note: In YNL 41- we ran an item on "YODER CIVIL WAR DIARY ON INTERNET" which described the diary of a "Jonah Yoder" which can be found in an internet collection at: http://www.iath.virginia.edu/vshadow2/cwdiariesbrowse.html . Jonah fought in the cavalry of the 16th Pennsylvania Regiment. His diary begins in camp at Potomac Roads and follows his regiment's movement throughout Northern Virginia in 1863. We speculated that this fellow could have been the Jonas above, but Elwood makes clear that they were two different individuals. "Jonas" of Somerset Co., PA enrolled on 5 Aug 1862 in Co. D. 133rd Regmt of the Pa. Volunteers.
AN UPDATE ON JOYCELYN YODER-YNL 43

(Commenting on the feature article in the last YNL)
My grandfather, Jocelyn Paul Yoder, was something of a character, and he is in the Who's Who for 1950 or so. I haven't been able to access the source to see what it says. He was a newspaperman and publicist. He directed publicity for George Merrick when Merrick was building Coral Gables, Fla., one of the first planned communities, I think. My wife & I took Mom there last year to see the house where they lived in the late 20s. The area is still very upscale. My grandfather was also one of the charter members of the National Press Club in Washington. There is a group picture of him with Harry Truman.
Re the pictures you sent: I knew Bertha as a stern woman. We visited her and her husband, Karl Werthner, a German immigrant somewhat younger than she was, at their home in Washington DC. I'm pretty sure it was the house in which Josh & Phoebe lived when they were alive. Bertha married late, about 50, I think, and lived to be 92. There were no children in that marriage, of course.
Barb Kissell has transcribed many pages of Josh's diaries, pages of his account ledgers and even love letters he wrote to Phoebe, which were found in her mother's effects. Barb's grandmother was the Marion Yoder in the picture I sent you. Josh was apparently born in Berlin, Ohio and was about 12 years younger than Samuel. I suspect that he was raised by siblings or relatives since his father Yost died when he was 2. He taught school in Berlin, according to his diary, then for some reason went to Neosho, Mo., where he met Phoebe. He taught there, worked in a general store and even tried selling sewing machines. His diaries give an interesting view of life in small towns in the 1860s & 70s, I think. I'm hoping that Barb will want to share some of that info. By the way, she is ok with the credits on the picture.
By the way, Barb also has handwritten affidavits affirming that Phoebe's father, David Tallman, was an "approved preacher of the gospel among us, the United Brethren in Christ, so long as his deportment corresponds with the gospel." Dated 20th day of Sep 1851. The U B in C is, I think, a sort of a splinter group of the Amish, though I don't know anything about its background. You probably know a lot more about it. - Paul Sangster, Flagstaff, AZ sangster@direcway.com
---
COVERED BRIDGE DEDICATION

Saturday, June 12 arrived as a gorgeous day and thousands of people turned out to rededicate the Pleasantville Covered bridge which was built on a portion of the original 461-acre land parcel of Hans Yoder, purchased in 1714. The day began with a fishing rodeo for the children at a nearby creek. By 8:00 AM the place was abuzz with many vendors setting up their stands for business. The actual dedication of the bridge was held at 11:00 AM with several local dignitaries in attendance. Helicopter rides over the area were offered and were a big hit Yuengling Brewery (the oldest brewery in the USA) is celebrating their 150th anniversary this year and they had their hitch of Percherons there for photographing.
Richard Yoder gave talks and dousing demonstrations at the Yoder cemetery. He also had his book about the cemetery for sale. Fred Moll sold a book he compiled with dialog and photos of the rebuilding of the bridge week by week. There was a strawberry festival at a nearby church. A wagon was available to take you and bring you back. People were taking the wagon ride long after the strawberry festival was over. They had games, rides and pony rides for the children.
There was a commemorative stamp for the day which was available for purchase. Many food stands and vendors were there. The Oley Yoder Heritage Association (OYHA) had a vending stand and sold the wooden blocks, T-shirts and sweatshirts featuring a picture of the bridge on them. Many nice items were chanced off throughout the day. A group of local church women made a quilt featuring pictures of local places of interest including the bridge on it. Several of the squares were made by one of the OYHA members. It was auctioned in the afternoon and sold for $4,800.00. It was bought by two of the OYHA members. The proceeds went to the Oley High School scholarship fund.
The festivities concluded with a great fireworks display at dark. It was a very busy and rewarding day. We still have some T-shirts and sweat shirts available for sale with a picture of the bridge on them. If interested contact me at my email address for sizes and price. Sincerely, Phyllis Yoder, OYHA, Pry884@aol.com
---

The 54th NC Yoder Reunion

The NC Yoder family celebrated its 54th annual reunion on Sunday, August 8,2004, at Zion Evangelical Lutheran Church south of Hickory. A table blessing and invocation was offered by the host pastor, the Rev. John N. Woodard. An abundant offering of homemade delicacies was set before the 105 guests in me church parish hall. After lunch reunion president Albert F. Yoder of Conover convened the annual business meeting. He recognized first time attendees Mike Sain of Hildebran and the Karl Yoder Shuford family from Christiansburg, VA.
Ovelia Yoder Phelps, 91, of Hickory was the oldest person attending me reunion. MacKenzie Aaron Yoder, 14 months, was the youngest guest He is the son of Frank Lee Yoder, Jr., of Sanford, and the late Amy Davis Yoder. Guests from out of town included Ray Yount of LaVale, MD and Jack and Phyllis Yoder, of Orlando, FL.
President Yoder expressed sadness at the death of the following persons who were especially dear to the local family: Harry 0. Gallimore, Jr., Gerald M. Yoder, Amy D. Yoder, Ruby Yoder Bolick, and Sarah Helen Yoder. The clan secretary submitted a record of more than 150 deaths with pertinence to me Yoder and Reep families nationwide.
Secretary Neal D. Wilfong of Cleveland offered the minutes for the August, 2003 reunion. The report was accepted as given. The treasurer reported that an offering of $367.40 was collected. Thirty dollars ($30.00) resulted from the sale of Yoder crest polo shirts and $75.00 was received in special donations. The current balance in the reunion treasury is $1926.70. The group accepted the report tendered by Benelia Yoder Reese, of Newton.
The hall was decorated with Yoder-related exhibits on loan from Ted M. Yoder, Michael B. Huffman, Regina Yoder Hoyle, Neal D. Wilfong, W. A. "Bill" Yoder, and Ray Yount Also on display was the precious German Bible of family patriarch Conrad Yoder and memorabilia from the late Col. George M. Yoder (1826-1920), Catawba County's first historian.
W.A. "Bill" Yoder of Hickory spoke briefly about the proposed NC Yoder family history revision project Information is still being collected. Chris Yoder of Battle Creek, MI will serve as me general editor. CD Roms with the most current family data are available at no cost. The Yoder book fund account has a balance of $1286.55.
President Yoder thanked Bill Yoder for his continued interest in mowing the Conrad Yoder family cemetery. Neal Wilfong was thanked for conducting the informal worship service on August 7, 2004 at the hilltop burying ground. A selection of scripture from Psalm 128 was read followed by a prayer. Ein Feste Burg was sung in German by Wilfong assisted by Ted Yoder. Fourteen persons attended the evening service.
Ray Yount spoke about the Yoder House project in Grantsville, MD. He detailed how ground was broken for the museum in 1995. The house typical of 17th century European post and beam dwellings is now virtually complete. A modem lighting system remains to be installed. The Yoder House is set to open officially on October 19, 2006 at the next scheduled National Yoder reunion. Yount encouraged me NC group to join the Yoder House Association.
The Rev. J. Larry Yoder of Newton offered a report on the restoration of the Grace Union Church. A legacy of more than $50,000 a number of years ago helped to cover the first phase of the restoration. The windows were extended five courses in height and the original double front entrances were recreated to undo an early 1940's remodeling effort. A sidewalk was built on the south side of the building to protect the foundation from water damage and a ca. 1940 chimney was eliminated to return the historic sanctuary to its 1858 appearance. Interior restoration is yet to occur. Yoder estimated that at least $40,000 is needed to complete the project.
Dr. Larry Yoder invited the public to the annual Homecoming service at Grace Lutheran Church in Newton set for Sunday, August 22.
Jimmy D. Yoder of Newton presented a slate of officers to lead the NC family the next three years. The Board of Directors offered in nomination Phillip Yoder of Newton as president Sarah Yoder Coffey of Hildebran, Neal D. Wilfong of Cleveland, and Benelia Yoder Reese of Newton were proposed for reelection to their posts as ``vice-president, secretary, and treasurer respectively. The reunion voted to elect the slate as offered. W. A. "Bill" Yoder. Regina Yoder Hoyle, and Albert F. Yoder were elected as additional members of the Yoder Board to work with Jimmy Yoder, Larry Yoder, Rachael Hahn Kennedy, and Ted Yoder.
A proposal to hold the Yoder reunion every other year was defeated as well as a suggestion to change the date of the annual reunion to some time other than the second Sunday in August.
Ted Yoder expressed his family's appreciation to me many Yoder cousins who attended the memorial service for his father, the late Gerald M. Yoder, at New Jerusalem Lutheran Church m Hickory m August, 2003 Ted talked about a historical four-wheeling jaunt that he and the clan secretary conducted prior to the Saturday evening memorial service. The duo visited several cemeteries, including the beautifully maintained Thessalonica Baptist cemetery, and several house sites associated with the Wilfong family.
One of those farms is slated for demolition to make way for an expansion to the Catawba County landfill.
A closing prayer was expressed by Dr. J. Larry Yoder. Ted Yoder supervised the cleaning up of the Zion facility.
Respectfully submitted, Neal D. Wilfong, secretary.
---
YODER PASSINGS:
--- Rudolph H. Yoder (YRB171544)- 72, of Springfield Ohio, died in St. John's Center Friday, March 26, 2004 following a lengthy illness. He was born May 9, 1931 in Tedrow, Ohio the son of Rudolph H. and Normal V. (Harden) Yoder, Sr.
--- Norman S. Yoder, 81, of Cumberland, died suddenly, at the Pinto Mennonite Church with all his family on Saturday, Aug., 14, 2004.
Born Jan. 11, 1923, in Cumberland, he was the son of the late Norman S. Yoder Sr. (YR121736) and the late Anna (Yoder) Yoder.
--- Henry Edward Yoder (YR2611924c), age 85, of Goshen, Ind. died June 16, 2004 at home. Beloved husband of YNL staff member Esther, Henry was born on Aug. 13, 1918, in Grantsville, Md., to Ed M. and Anna (Beachy) Yoder.
---

CORRECTION ON IRA YODER ID.
Thanks to Alan Adrianson (AAdrianson@aol.com) for correcting our identification of Ira Yoder's photo. We ran the photo in YNL41
and an identity was reported in YNL43. "he was my great grandmother Cora Ellen (Yoder) Harper-Dawson's, (YR2354461),
brother. I am writing to correct the info of his parents, listed in the article. Ira Yoder, (YR2354462), was the son of Moses Yoder, (YR235446), and Rebecca Eash, and his father died when he was about a year old, and his mother married Noah Schrock, her second
husband.."
---
THANKS FOR YOUR SUPPORT OF
THE YODER NEWSLETTER
VISIT THE YODER HOMEPAGE AT:
WWW.YODERNEWSLETTER.ORG

---
MABEL YODER TURNS 100
Mabel Yoder, who was born Aug. 7, 1904, celebrated her 100th birthday in a party held in the the nursing wing at the Mennonite Home, Albany, Oregon. Mabel is the daughter of Daniel D. Yoder (YR1253525) & Drusilla Miller. A big fan of Mickey Mouse, she was born 24 years before Mickey made his 1928 debut. About three years ago she finally got to meet Mickey at his home in Anaheim. Yoder, has lived for the past 19 years at the Mennonite Home. The assisted living facility, along with the Oregon Alliance of Senior and Health Services and an organization called Second Wind Dreams, worked together to send Yoder and two companions to Disneyland. An article published at that time in Albany Herald described her as "The Mennonite Mouseketter" and quotes her as saying "It was a dream come true," Yoder said. "I didn't think I would ever get to go."
Born in Iowa and raised in Kansas, Yoder came to Oregon with her family when she was 16, settling in McMinnville.
"My dad loved the West; he loved Oregon," she said. "My father was always interested in the future. He was an Amish man but he was too future-minded for them so we became Mennonite." Yoder's formal education had ended after the eighth grade. She never married or had children and spent her working life as a nanny and housekeeper.
---
GOSHEN NEWS FEATURES YNL EDITOR
| | |
| --- | --- |
| News Photo by Tara Kitchen | The May 2, 2004 issue of the Goshen News featured our Editor Emeritus Rachel Kreider, 94 years young. Rachel's genealogical work and co-authorship of the classic Amish and Amish Mennonite Genealogies (AAMG) were highlighted. "I think when I started with genealogy it was connected to an interest about my family," Kreider said. "As I got older, it became more like solving a puzzle." |
---
---
Click to go to each section ----- | YNL44.1 | YNL44.2 | YNL44.3 | You are in Section 4 |
---