The Yoder Store
The Yoder Store is intended to publicize Yoder related items for sale.
In each case you'll have to order and send a check to the addresses indicated.
Nothing can be ordered through this web-site.
If you know of additional items (or Yoder Books) which are available but aren't listed here, please send the information along to Chris Yoder for inclusion.
Thanks!
[[[ NOTE: these listings are at least 10 years old. They may be out-of-date, prices may be different, etc. Hopefully, we will check and update this page soon. (ddk, Oct. 2012)]]]
---
I am a Smooth Jazz artist (as well as working at JPL in Pasadena) & would love to advertise my new CD - Dreamin' on your website.

From: "Paul Yoder"
http://www.paulthomasyoder.com
when you arrive at the website, click on "Music", and then select the name of a CD to hear samples of Pauls's music)
---
From: Catherine Kurchinski <cathy_kski@yahoo.com>
Date: 2005/01/10 Mon PM 03:42:23 CST
To: cyoder@tds.net
Subject: request
Hi Chris,
Thank you so much for letting the Yoder's know about my children's book, "Hurray for the Yoder Barn!" Several Yoder's have purchased my book. Would you add my link, www.moonpiepress.net to your gift shop? Thank you for considering my request.
Kind regards,
Cathy Kurchinski
---
Yoder Newsletter Items and Prices:
Annual Subscription to the YNL- $3 for two issues (April and October)
Hardbound set of Back Issues (1-25)- $25 plus $3 Postage & Handling.
Back Issues $1 each.
(Order from: Yoder Newsletter, P.O.Box 594, Goshen, IN 46527)
Subscribe to the Yoder Newsletter - paper version - 2 issues per year. Click here to order
---
YODERBOOKS.COM - ((http://www.yoderbooks.com/) ---- Announcing the grand opening of YoderBooks.com, the official homepage of author James D. Yoder's books. On this site, you can find information on the various historical, western, romance, and religious books Mr. Yoder has published, as well as order his books online.
---
YODER VIDEO IS NOW AVAILABLE!!!
"PILGRIMAGE OF FAITH:
THE YODERS IN SWITZERLAND AND AMERICA FROM ST. JODER TO YOST YODER AND BEYOND"
Virgil Yoder's slide show and its inspiring story of our Yoder Heritage have been a centerpiece at national Yoder gatherings since 1994. We are pleased to announce that this approximately 45 minute long story has now been reproduced and is available on video. Hold your own Yoder family reunion, large or small, anyplace around the world and make the video the cornerstone for your program.
At the recent reunion in North Carolina, the initial 40 copies he brought were snapped up in a matter of hours.
Get your own copy of this family treasure for $25 (post paid). Order from :
Virgil E. Yoder
110 Northumberland Rd.
Irwin, Pa. 15642.
If you have any questions, write Virgil at: VEYoder@aol.com .
---
NEW -- YODERS OF NORTH CAROLINA ----- BOOK REPRINTED
The History of the Yoder Family in North Carolina by Dr. Fred Roy Yoder has been reprinted and is available once more!! The family of Dr. Yoder arranged for this reprint to be done, just in time for the National Yoder Reunion in Hickory, North Carolina . The book was formally rededicated during this gathering. Funds raised from sale of the book will be used to restore old Yoder gravestones.
Price is $25 (postage included). Checks should be made out to :
"Yoder Memorial Fund"
and mailed to:
Yoder Family in North Carolina, c/o: Bill Yoder,
2707 Zion Church Rd.Hickory, NC 28602

SEE ALSO: "Yoders of North Carolina" - book update project
---
Pleasantville Union Cemetery- A Photographic Review
$6 plus $1 postage.
(Order from: Richard H. Yoder, 47 Bause Rd., Bechtelsville, PA 19505)
---
Reuben Yoder Family and Its Ancestry, 1983 by Chris Yoder
Descendant directory with photos of the family of Reuben Yoder (YR2337a) son of Bishop Christian Yoder Jr. of the Glades, Somerset Co. Includes a 30 pages of historical data.
(Order from Chris Yoder, 203 Lakeshire Rd., Battle Creek, MI 49015)
---
Yoder Name Items:
---
From "The Yoder Store", Canby, Oregon -- (undated May 27, 2000)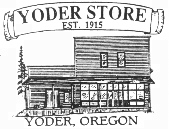 This is the picture on the clothing and the mugs.
(On colors...please state your preference and another acceptable choice)
T- shirts in sizes:
Adult- S-M-L---- $9.95 each
Adult- XL---------$10.95 each
Adult- XXL------$11.95 each
(colors available- Black, Purple, Green, Blue, Burgandy)
Youth-S (8)-M (10-12)- L (12-14)- $6.95 each
(colors available- Blue, Black, Green)
Long Sleeve T- Shirt---NO LONGER AVAILABLE
Sweatshirts in sizes:
Adult S----------$15.95 each (Lt. Blue, Pink)
Adult M----------$15.95 each (Lt. Blue, Green)
Adult L----------$15.95 each (Navy)
Adult XL----------$20.95 each (Navy, Purple)
Adult XXL--------$20.95 each (Purple, Red)
Youth S--M - L -- $11.95 each (Grey, Lt. Blue, Pink)
Toddler S-M-L----$9.95 (Pink, Lt. Blue)
Coffee Mugs handcrafted by a local potter (dishwasher and microwave safe): Mugs- $5 each
ADD FOR SHIPPING $3.50 in continental US for one item, add $1.50 for each additional
item shipped
in the same package.
(Order from: TheYoder Store, 32441 S. Kropf Rd., Canby, OR 97013-9573)
---
SKETCHES OF THE OLEY YODER HERITAGE
Talented area sketch artist Lynn Lorah created a number of original works to commemorate the Oley Valley "Heritage Tour". These beautiful sketches are still available. The following themes and prices apply:
11x14 prints -- the 11x14s are $16:
Hans Yoder Homestead (sample shown above)
Hans Yoder Jr. Homestead
Griesemer's Covered Bridge
Lobachsville Mill
--------------
8x10 prints -- the 8x10 are $12
Jacob and Marie Yoder Homestead
Sawmill at Hans Yoder Homestead
Pigpen at Hans Yoder Homestead
Note Cards -- $8 for set of 8 cards plus envelopes
Hans Yoder Homestead Note Cards (four different designs/eight cards total)
Lobachsville Mill Note Cards (four different designs/eight cards total)
All prints are unframed. Add $2.50 postage and handling for one print (or card order). Add $1 for each additional.
Order from:
Lynn Lorah,
RD2, Box 144,
Oley, Pa 19547. Phone (610) 987-6175.
---